Wearing a teep is my choice
The teep was an accessory in this region's dress-up culture and I believe culture and religion are two different contexts, thus it was prevalent among women of all faiths and classes.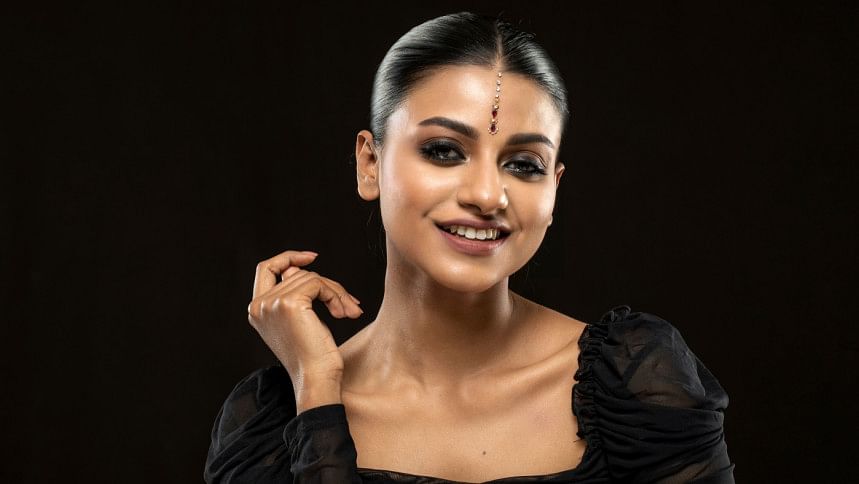 Five decades after independence, it's irrelevant, even undesirable to talk about how women should dress up or carry themselves. There is a push to box people's dress-up, style, movement, and eating habits within some set bounds with the use of various theories.
Recently, the attention has even shifted to a very personal accessory – the teep (a colourful fashion add-on pasted on the forehead also known as bindi). The incident of a police constable questioning the age-old right of women to don a teep in April 2022, is when progressiveness stopped in its tracks. This questionable act by the constable surprised everyone, and waves of protest arose from all quarters.
It raised protests across generations and countries. Some have written on social media; some have uploaded their photos of wearing a teep on Facebook; others have come out onto the streets. Some men have put on teeps themselves and stood with women. These are the languages of protest. Those who have criticised boys wearing the teep do not understand the language of a protest. I don't think this needs any further explanation.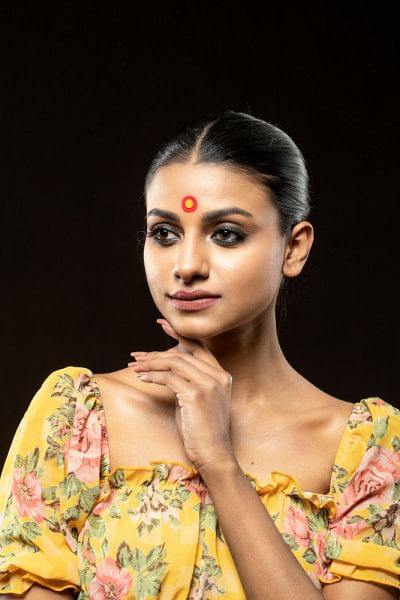 As a Bengali woman, donning a teep is part of one's culture and tradition. I had seen my mother use the teep as a part of her look in the '60s and '70s. It was not just my mother; many in my family wear the teep. I wear them every day myself, and in my opinion, it has nothing to do with the plight of my piety.
When I went to university in the 1980s, almost all the girls wore teeps with saris. We would dress up in saris, teeps, kajal, and bangles, put flowers in our hair, put henna on our hands, and alta on our feet. We did the same in college. But suddenly, the teep became a matter of shame. There is a rumbling that wearing teeps would lead to dishonour but those who regularly wear the teep think of it as their stylistic statement.
The teep was an accessory in this region's dress-up culture and I believe culture and religion are two different contexts, thus it was prevalent among women of all faiths and classes. I have seen my mother and aunt use gura teep or powdered ones or in pastes called kumkum er teep.
Once upon a time, red teep was drawn with vermillion powder. They would use kajal made from soot to draw teep as well. Then came the velvet leaves with glue on the back, and that is the trend up until now. We have glittering teep with gemstones, designer teeps made out of pieces of cloth, and other materials like wood, glass, or even terracotta are also in vogue now. 
Sirajul Islam, a member of the Asiatic Society of Bangladesh and a former professor of the Department of History at Dhaka University, told the BBC, "Women in many countries of the world have been wearing the teep for millennia. It has never been particular to Bengalis or followers of the Hindu faith. In the 19th century, the use of teep became commonplace. Women used the teep in India, Sri Lanka, Nepal, Burma, the Philippines, and Indonesia especially." 
During trips overseas, my colourful forehead ornament drew the attention of foreigners first and was a pleasant conversation starter.
The teep originates from the Indian sub-continent. This is a part of Bengali culture. There is no connection between this and anti-religiosity. However, Ziaul Huq, a noted researched, mentioned in his book, Itihaser Oligoli, that once upon a time, the teep was used to differentiate between class and caste in the Indian subcontinent. He stated, "The teep on the forehead has become an inseparable part of the daily life of the modern Bengali woman."
Those who want to pollute society, who want to destroy harmony, want to exploit women and build a regressive society — are the ones creating the debate around the teep in Bangladesh. Everyone should realise that national culture and religious culture are completely different. And the teep is a part of Bengali culture.
Translated by Azmin Azran
Model: Simmi
Styling: Sonia Yeasmin Isha
Hair & Makeup:  Sumon Rahat