The well-crafted balcony garden
Gardening does not have to be limited to spacious lawns, roomy rooftops or terraces. Balconies can easily be transformed into a lush patch of greenery, regardless of its size. They require exponentially less upkeep and care, warrant fewer pest threats, and are the most convenient access to nature you can get after a long and exhausting day.
Here is our guide to the perfect balcony garden.
Check the draining
If you plan on housing numerous plants on your balcony, you will have to deal with regular water leakage from plant containers. Without proper draining, outdoor rugs, deck tiles and artificial turf may have to take on water damage beyond their capacity.
Flooring and turfing
Not only do additions of artificial turf and deck tiles significantly elevate the appearance of balconies, they are a sensory delight for your feet on crisp sunny days. For a beachy look, opt for wooden deck tiles in lighter shades of brown. If you would rather recreate a park, go for darker coloured artificial turf and contrast with white river stones.
Personalise your plant collection
We all have unique tastes and your balcony should reflect that with your choices in plants. If you want to add more colour, try adding poinsettias, inch plants or caladiums. If you are fond of unique textures, try getting your hands on plumosa ferns or foxtail ferns. If homesteading is something you always wanted to try, grow herbs like mint, holy basil or coriander if your balcony has adequate sunlight.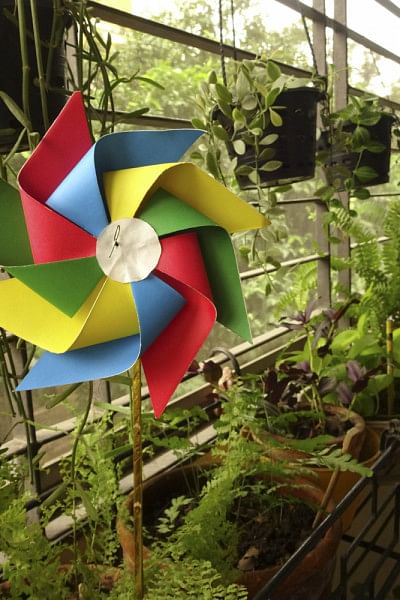 Go vertical
Most balconies in urban Bangladesh tend to be confined, limiting the number of plants you can introduce to them. If this is the case for you, use hanging pots, wall planters or ladder shelves which will allow you to utilise limited space efficiently. For a rustic cottage look, trellis screens which support climbers like devil's ivy, Bengal clock vine or bougainvillea are a good option.
Add night lights
Adding lamps and string lights can make your balcony garden more inviting at night. To make your balcony more farmhouse chic, you can add some Edison style string lights. Bamboo and wicker floor lamps are ideal if you want a boho look. You can even make DIY lamps by placing some fairy lights in a mason jar.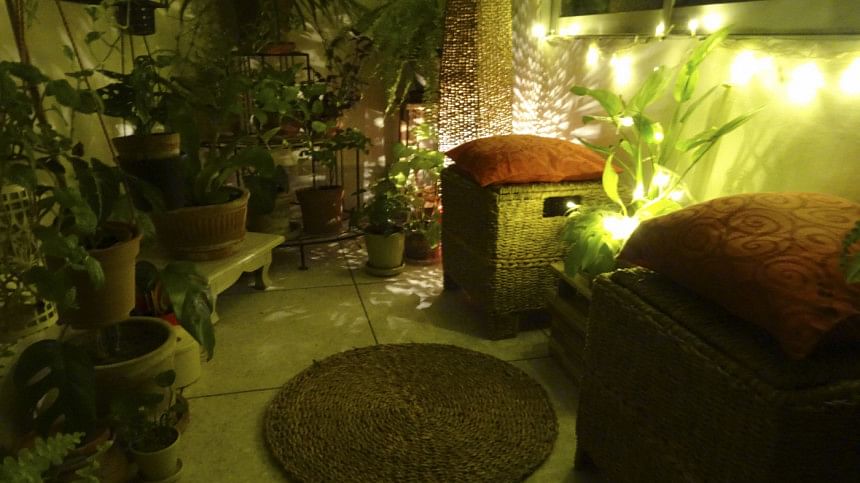 Max the comfort
If space allows for it, add seating so you can unwind and enjoy your mini oasis. You can add an outdoor rug and some water resistant pillows if you want to feel extra grounded, or a suspended basket pod if you feel nostalgic for swings. If space is a bit too restrictive, find a small wooden bench to line a wall or railing.