The power of a cup of tea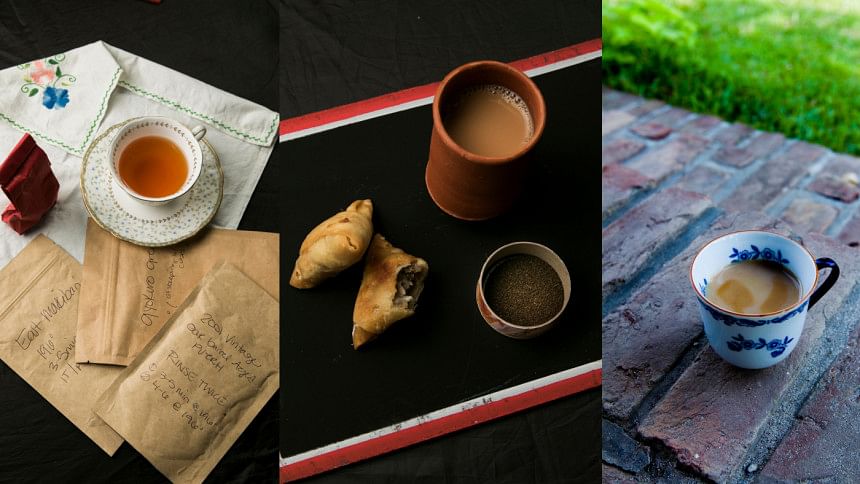 A steaming cup of strongly-brewed tea, boosted with milk and sugar, is sometimes all you need to unwind. For a few minutes, you do not want to think of anything else but the cup right in front of you. In the steam that rises from the cup, your stress and fatigue mix and evaporate. 
Every morning, a cuppa prepared in deshi-style is what most Bengalis crave no matter what part of the world they live in. In a Bengali kitchen, the first thing that often sits on the stove in the morning is a saucepan or a kettle to brew breakfast tea. Why? Because a Bengali tea lover's morning without tea makes them unproductive, fatigued, and irritable! 
A cup of tea prepared with milk and sugar is what we love in the morning and evening, although many are now switching to plain tea for health reasons. Our undying love for tea, whether it is plain tea, lemon tea, masala tea, or milk tea, bind us together; our love for tea transcends all our differences. 
To us, tea is more than just a caffeinated beverage, tea is an emotion. Tea has a sentimental value in our culture. A cup of tea when offered to someone symbolises hospitality. Bengalis' social gatherings are incomplete without tea. Does not our love for tea make us innately Bengali? 
The clatter of teacups and saucers and the clinking of teaspoons stirring milk and sugar in teacups are music to the ears of Bengali tea enthusiasts. The aroma of tea induces in us Bengalis feelings of warmth, comfort, and belongingness. 
Although coffee is rapidly gaining popularity and cafés have sprouted all over Dhaka city and beyond, our love for tea is not to be lost. A steaming cup of tea will always bring back fond memories, ease stress, erase fatigue, and give life to a social gathering. After all, tea transcends our social, cultural, political, regional, and religious differences; tea brings Bengalis closer.  
Almond tea latte
Just for tea-fanatics we have added in a recipe just in case they want to try something different and yet flavourful enough to evoke strong memories.
Ingredients
1 cup almond milk – any brand
2 tbsp vanilla cream
1 cup water
¼ cup brown sugar
½ tsp ground cinnamon
½ tsp ground ginger
¼ tsp cardamom
2 black tea bags
Ice cubes, as needed
2 shots espresso, cooled
Method
Take a saucepan and combine water, brown sugar, cinnamon, ginger, and cardamom. Bring to a boil, then turn off heat and add tea bags. Allow to steep for about 5 minutes.
Strain tea mixture into 2 ice filled glasses, then add espresso shots. Pour almond milk and the creamer, into the glasses.