Price hike: Is this the new normal?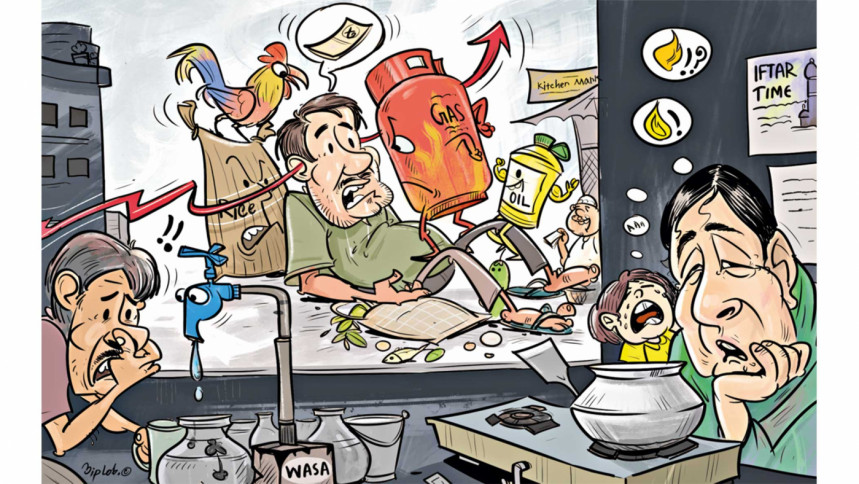 Price hike has been an alarming concern lately and it is not one to be taken lightly. From edible oils to rice and daily essentials, every section of our daily livelihood has been suffering lately due to inflation. What's even more concerning than the price hike itself is how people are reacting to it. And interestingly — their reaction has been rather submissive, in contrast to the staggering rise of prices of essential products. This begs the question: Have we just accepted the price hike? Is this the new normal?
What the common people think about the price hike
Md Khokon is a pedlar who sells tea and biscuit on the streets of Dhaka. People like Khokon are among those who are most severely affected by the price hike. Yet, they remain indifferent to this radical change.
"It's not like I can do much about it," he said plainly. "Whom am I going to protest to? Who is going to listen to my words? Nobody cares about what happens to us."
Khokon further added, "The high price is already bad enough, if I stop my business for one day we are surely going to suffer. If I go to protest then who is going to earn my livelihood and who is going to feed my family?"
The price hike has put on financial constraints on every class of people and the lower class and middle class are the ones who are suffering the most. The additional cost of daily essentials is creating a discrepancy against people's income and even though the price has increased, the income has remained the same. As a result, most people are forced to make compromises one way or another.
Anwar Hossain, who works as a senior officer at a government bank was speaking about the changes in his lifestyle to manage the inflation.
 "Previously I used to cover small distances by rickshaw. Now, I have turned to public buses and if the distance is somewhat reasonable, I go by foot," he said.
Hossain further added, "But the most compromise I had to make was in terms of protein consumption. We used to have beef a few times a month, now we have cut down on the protein. Sometimes leftovers are good enough these days, which was not the case even a few months ago."
Abdullah al Mamun, a graduate student from University of Dhaka, who lives in a dorm shared his feelings about the recent price hikes.
"A while back, it was possible to survive a month with as little as Tk 4000 but lately I have been struggling with even Tk 6000. And while the spending has increased, the remuneration from tuition has not increased. Only now I have to pay extra fares on the road as well," he lamented.
What specialists have to say on the inflation
Md Khalilur Rahman Sajal, Executive Director of Voluntary Consumers Training and Awareness Society (VOCTA) shared some insightful thoughts concerning the matter.
"It's like a silent famine amongst the people but there's this feeling of 'we accept it' amongst them. There's a misunderstanding about the protests. Whenever someone protests against issues such as the price hike, they are immediately given a political label and it turns into something else."
He added, "But this protest is not against the government, and it should not be confused with an anti-government protest. This is a protest about people's rights. I think because these protests have been condemned as anti-government protest so many times and treated harshly so often that people are now unwilling to say anything about it."
The farmers are getting very little and the consumers are paying very high, which can only mean that the middle men are taking this chance to hoard rice and create an artificial shortage in the market to push the price higher.
Explaining the reason for the current increase in prices of essential commodities, Md Khalilur Rahman Sajal from VOCTA said, "We have learned from previous experiences and we know that the hoarding is one of the main reasons behind the price hike. Even the prime minister herself has ordered to take immediate action against rice hoarders. The middle men are using a number of issues to push their agendas and justify their actions as they attempt the push the price but it's not justified at all."
Md Khalilur Rahman Sajal added, "I think the upcoming budget should mainly focus on handling the price hike and bringing economical stability in the country. The pattern in our country is that once the price goes up, it is very difficult to bring it down and that is an ominous sign for our economy."