Inkpot a reminiscent of the past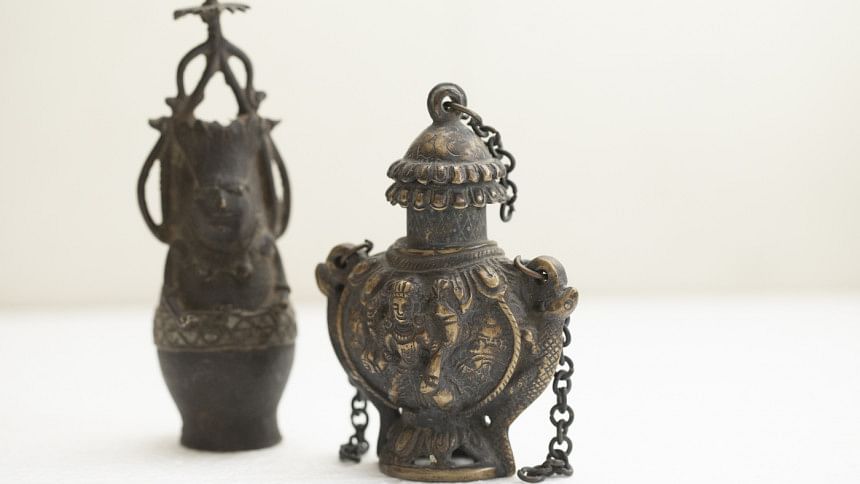 In this day and age, these are hard to imagine. Picture this: school desks once upon a time had small pits on them to hold ink; acquaintances used to gift ink bottles to their loved ones who scored good results in exams, or even during weddings and other such life events; inkpots could also reflect the social status of a family.
These are some of the forgotten stories of the past that Nazmul Haque Montu narrated when I went to see his collection of inkpots. His home has a room, especially reserved for collectibles, aptly named 'dowatbari,' meaning the house of inkpots.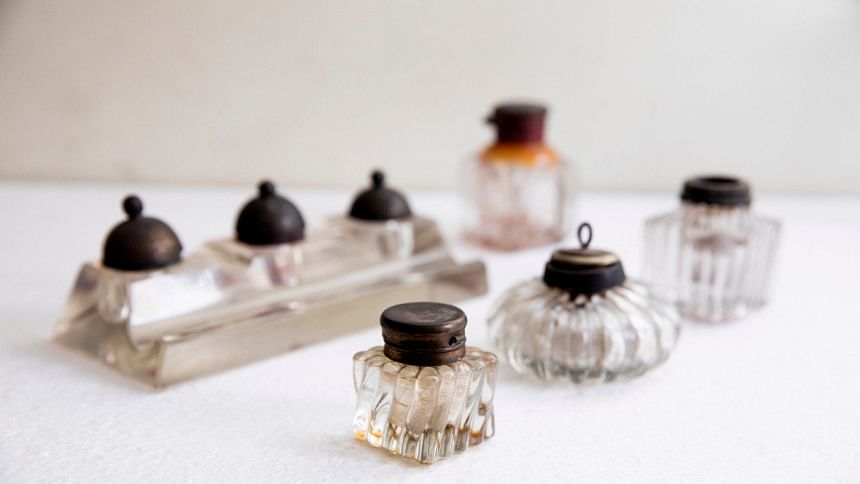 The hobby of collecting inkpots is arguably unique. We all know of the hobby surrounding stamps or currencies, for example, but have you heard of someone doing the same with inkpots?
Well, now you have, about Nazmul, a businessman by profession, who is a collector of inkpots (among other items). From the showcases and cabinets of Dowatbari, he showed us one inkpot after another.
The sheer variety is mindboggling. There are inkpots of all shapes and sizes imaginable, featuring a plethora of themes and motifs.
There are animal-shaped inkpots, so you have your fish, rabbit, elephant, peacock, and so on. Many others are inspired by the flora, so you have your flowers and leaves and so on.
Nazmul also has in his collection several inkpots themed on religion. To illustrate, a vintage inkpot has idols of deities on both sides. There are also inkpots where the shapes will remind you of temples and pagodas.
Another fascinating inkpot is the one that looks like a building. With designs of doorways and pillars, it is an embodiment of elegance. This inkpot is made of bronze.
Usage of a wide range of materials can be seen in inkpots — clay, brass, copper, stone, silver, bronze, glass, crystal, etc.
There are clay inkpots of antiquity, which were found in various regions such as Pabna, Cumilla, and Bogra. These are small and simple enough, but even in their simplicity, they radiate beauty, like the one shaped like a 'motka.'  
As he groups together the clay inkpots, your eye may catch a curious feature found in some of them: tiny rings. Nazmul explained, "Not just those made of clay, many inkpots indeed come with three rings on their sides, most likely serving the purpose of hanging them with threads."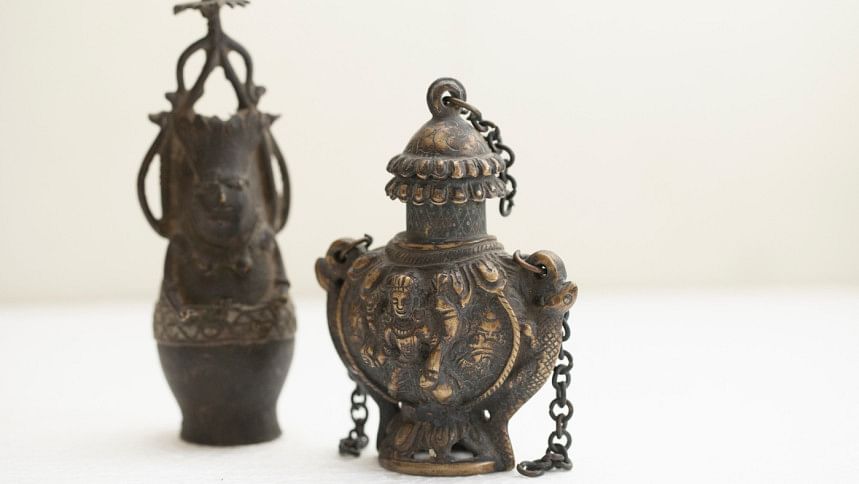 It is yet another picture that is hard to imagine today!
"Some of the oldest inkpots found in our country were discovered in the Buddhist-bihars," Nazmul said. Dowatbari is also home to a Mughal-era inkpot that features exquisite bidri work, the art of engraving and inlaying.
But surely, not everyone in the olden times owned an inkpot, let alone an intricate one. Well, you have to consider the literacy rate. We cannot take writing as an ordinary activity the way we do now. And even in households where at least little or some writing was done, they had to take into account affordability and other such practical issues.
Nazmul offered cheaper substitutes. To my surprise, he brought out a kotbel!
"Whenever I meet elderly people, despite their level of education or income, I always ask them what kind of inkpots they saw or used in their childhood. That is how I came to know that back in the day some people even made their inkpots with whatever came in handy.
"They took things like coconut shells and shells of kotbels, made a hole in them, and poured ink made out of vegetation and other everyday things," he explained. "And so, I have modelled out replicas based on research. If I hold an exhibition, these will be helpful to raise awareness on how diverse the world of inkpots is."
The other side of the story is of course opulence. Those who could afford went for fancier options.
In his collection, there are inkpots with names engraved on them: Nitai, Nimai, and so on.
"These represent how cherished inkpots were to people. After purchasing an inkpot, they might ask an artisan to engrave their name or a name of their choice," he said.
Clearly, there was much fervour surrounding this item. "From about 1950s to around 1970s, there were approximately 60 inkpot companies in Bangladesh (erstwhile East Pakistan) alone," he informed.
Dowatbari has inkpots from many regions of the world; France, England, China, Thailand, Iran, etc. And there are special inkpots for calligraphers too, with wider openings. His collection extends to various inkpot-related objects as well, like bottles of ink and containers capable of holding larger quantities of fluid.
If all of this sparks too much of an interest, the question comes, how can you become a collector?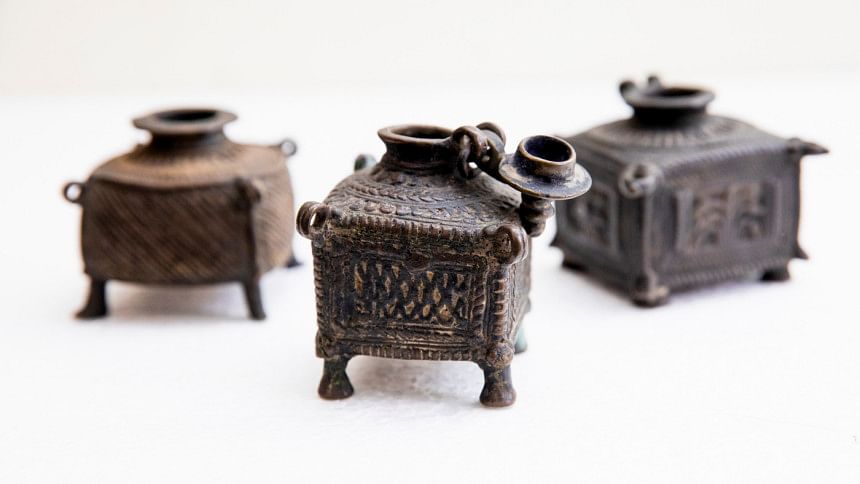 "You do not need to buy expensive items in the beginning. You can start by trying to collect the more common inkpots of different countries," Nazmul advises. "You can even try out New Market. It is also important to gain knowledge about various metals and other materials."
Dowatbari did not happen overnight.
Nazmul was born in Pabna. His journey in this field began in 1983. He eventually settled in Dhaka in around 1989. Visits to 'bhangarir dokan' and crafts and antique shops, approaching hawkers, building credibility among stakeholders -- he has done it all, the reflection of which is today's Dowatbari, housing many rare specimens.
Did you know that ink was even sold in mediums of powders and tablets?
Take for example a tiny paper-wrapper by the brand Sulekha Kali, of Sulekha Works Dhaka. One side of the pack contains these names and a simple visual that show things like inkpot and pen. On the other, instructions for the user -- essentially you have to mix the powder in a water-filled inkpot -- along with a few words of caution that one should wash out any leftover ink from the pot before doing this procedure.        
We can only imagine those days!
There were varied tastes, preferences, and trends companies catered to. Perhaps no example could be better to convey this than the so-called Maradona Ink, with a crude visual of the football legend on the packet, probably made in 1980s.
The '80s most likely saw the last dominant blobs from the inkpot. The '90s generation dabbled in it too, but arguably since then, it took a dip.
How times have changed! Today, the inkpot can still be found in some stationery stores, catering to a niche. It is now a charm of the bygone times, a reminiscent of the past, holding tales very few amongst us can imagine.
Photo: Sazzad Ibne Sayed, from the collection of Nazmul Haque Montu