How to share daily chores as a newlywed?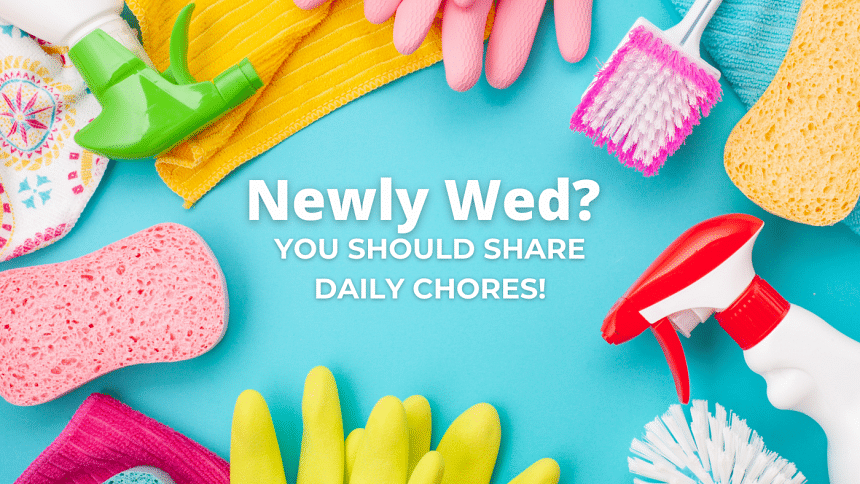 Moving in with your newlywed spouse is a big step in any relationship. It's time to start a life together, share experiences, and learn more about one another. However, like with any major shift, difficulties may be overcome. One of the most typical reasons for contention for newlyweds who move in together is determining how to split up everyday responsibilities. At first glance, it may be a minor issue. What difference does it make who washes the dishes or takes out the trash? However, small things may mount up over time, and resentment can develop if one person believes they are doing more than their fair share. That is why it is critical to have a strategy in place from the beginning. Here are some pointers for sharing everyday responsibilities with your new spouse.
Be clear about your expectations
Before you move in together, sit down and discuss what you both anticipate from home tasks. Is there anything in particular that one of you despises and would want to avoid? Is there anything else that one of you is extremely enthusiastic about and would like to take on? By discussing these issues in advance, you may set reasonable expectations and avoid unpleasant shocks later on.
Divide and conquer
After you've defined your expectations, it's time to assign duties. There are several approaches you may take here. You might divide the duties 50/50 or according to each person's talents and preferences. For instance, if one of you is a superior cook, they may do the majority of the cooking. If the other person is more organised, they may clean and pick up after themselves.
Be flexible
It's critical to be adaptable no matter how you decide to split up the responsibilities. Life is unpredictable, and there can be times when you are busier than the other or dealing with a personal crisis that makes keeping up with your commitments tough. When this occurs, be ready to jump in and assist wherever feasible.  Remember that you're now a team and are all in this together.
Communicate openly
Finally, it's critical to express yourself clearly and honestly about how you're feeling. Speak out if you believe you are performing more than your fair share of the duties. Allow resentment to grow up only when it becomes a bigger problem than it needs to be. You can work together to find a solution that works for both of you if you communicate freely and politely.
Set up a schedule
Creating a timetable or pattern for everyday activities can be beneficial, especially if you have a hectic schedule or various work hours. This can assist guarantee that everything is completed on time and that neither individual feel like they are always completing duties at inconvenient times. You may rotate who does what on various days, or you can set up particular periods of the day or week for specific jobs. Sharing everyday duties might feel more doable and less stressful when you have a timetable in place.
Moving in with your new spouse is an exciting yet hard moment. You may set yourself up for a successful and happy living environment if you follow these ideas for dividing everyday duties. Remember that communication and flexibility are essential, and with a little work and understanding, you can turn this new chapter of your life into a pleasant and satisfying one.