How Gareth Bale became the first '100 million' man in football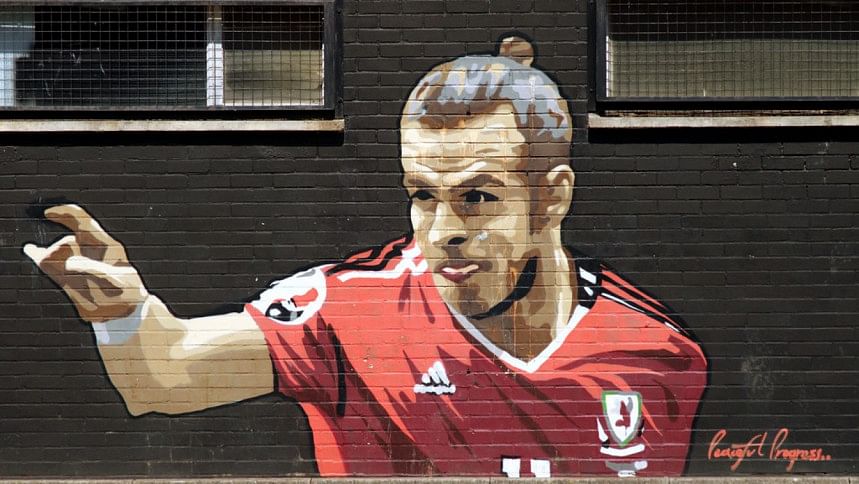 Transfer fees for football players in European Club Football often involve astronomical figures of over 100 million Euros, given the hype surrounding any talented player. This was not the case even a decade ago. At that time, it seemed unreal that any club will shell out close to 100 million, but Gareth Bale of Wales, whose transfer to Spanish giants Real Madrid kicked off the 100 million plus transfer era way back in 2013.
With Gareth Bale set to appear for the Wales national team in FIFA World Cup 2022; we look back at the saga of the first player worth 100 million.
Evolution of Gareth Bale
Gareth Bale began his professional playing career in 2006 for the English club, Southampton but it was not until 2007 that he moved to Tottenham Spurs and transformed into an attacking player. He broke into the limelight in a 2010 UEFA Champions League match, scoring a hat trick against the then champions Italian side Inter Milan, marking his arrival as a young talent.  
One of the fastest footballers at his peak, Bale used his speed, strength, and stamina with good technique and ball control to score amazing goals, contributing to his club's win and winning personal accolades like Young Player and Football Writer's Association Footballer of the Year awards. By 2013, Gareth Bale had become arguably the best player in England's Premier League.
The move to Real Madrid
The previous world record fee stood at 94 million Euros, paid by Real Madrid for Cristiano Ronaldo. Real Madrid's president Florentino Perez has made a name for himself for collecting 'Galacticos', buying stars like Zidane, Beckham, and Figo before, and Gareth Bale was his next target.
There was a lot of drama before the anticipated move happened as Tottenham did not want to sell Bale so easily. Ultimately, the club sold him to Real Madrid, where the fee was undisclosed but it was widely reported in the British and Spanish media that Real Madrid broke the world record and bought him for 100 million Euro, details which were confirmed later.
Reaction to the move
"I think at that time the deal was maybe a bit too much as Madrid did it with a record fee. It was not surprising that Real Madrid broke the bank for arguably the best player of English Premier League at that time, and as a Madrid fan I was excited very much at the prospect of Ronaldo and Bale, two speedsters bolting through both wings!" said Abrar Ulsy, a Real Madrid fan.
While the fans were excited to see Bale, many rival fans thought Bale just was not worth the hype and would inevitably flop. Many football experts pointed out how injury-prone he was and that he was destined to fail given his price tag.
How Gareth Bale responded
Despite mounting pressure over his transfer fee, and injuries preventing him to give his best all the time, Bale had a stellar first season. He scored in his very first match for Madrid, was crucial in most of the big games of the season, and to top off a successful season he helped Madrid win two trophies, the Spanish Copa Del Rey and the Champions League, scoring in both finals.
"Gareth Bale's first four years as a Madrid player was amazing. He stepped up in big matches becoming Madrid's leading man in attack with Cristiano Ronaldo. Even though his later antics like loss of form and desire and injury issues made it seem like his best days were over, ultimately, he did more than enough to cement his place as a Madrid legend," Abrar Ulsy remarked on Bale's legacy at Real Madrid.