Fashion Design Council of Bangladesh (FDCB) presents Bangladesh Fashion Week 2023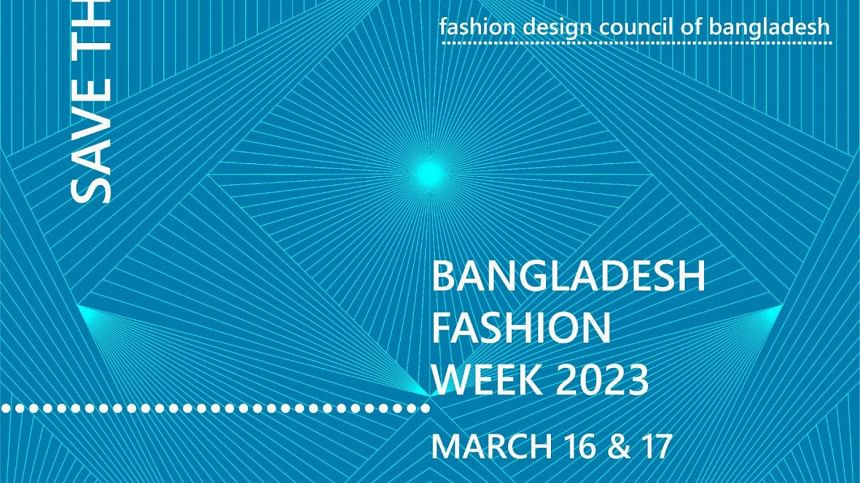 The Fashion Design Council of Bangladesh (FDCB) is organising FDCB Bangladesh Fashion Week 2023 on 16 and 17 March, 2023 at Aloki, Tejgaon. The theme for this year's event is "Wear clothes that tell a real story of people and planet".
As the most prestigious fashion event of the country, Bangladesh Fashion Week 2023 will highlight spectacular collections from 18 FDCB members and feature 6 visiting designers from India. The show will bring together fashion designers, retailers, and luxury stakeholders in one platform.
Here's a quick glimpse of the international designers who are showcasing their work this year.
Paromita Banerjee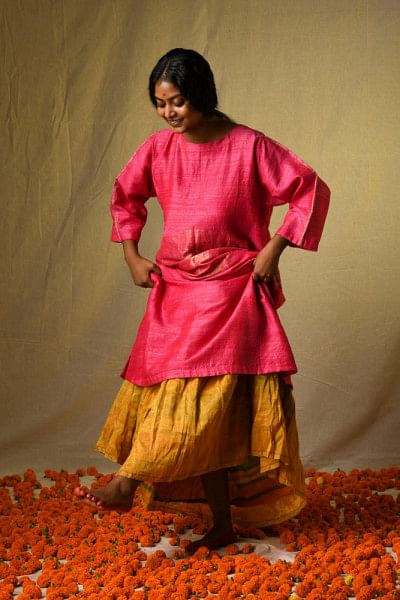 Hailing from Kolkata, India Paromita began her fashion career in 2009 with her eponymous brand turning her passion into her profession. With over 20 years of experience in the field of craft and design, she specialises in textile design and works with craft clusters, weavers, and fabrics on the loom. For Paromita, such fabric design first starts on paper as a sketch and then becomes a yardage on cloth. A process she still finds thrilling after all these years and is passionate about.
Being a member of the Fashion Design Council of India since 2009 and being invited this year to Bangladesh, the fashion showcase is an ode to the colour red, with significant use of "shada-laal", the auspicious white with a red border in saris, which is the colour of festivities during the Durga Puja in Kolkata. This theme resonates with Paromita as a Bengali and her cultural roots. Her colour palette for her line is ivory, ecru, beige, red, and woven gold. With each garment passing through the hands of multiple artisans and weavers and reaching wearers in any part of the world.
Chenkual Lalthlenmawia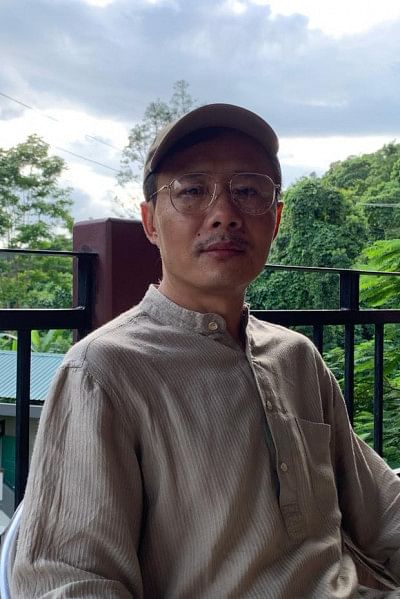 Fashion and design are things that Chenkual was fascinated by at a young age. He would often sit by his mother cutting fabrics and making clothes for family and neighbours. Growing up, he would cut his grandmother's handwoven fabrics and stitch them to make clothes for himself and friends.
Gaining inspiration from the people around him, his culture, and surroundings, he learned about Mizo tribal weaving techniques from his grandmother as he would often help her prepare her looms. The theme of his collection this year is The Village Artisan — 2.
His collection mainly features slow and sustainable fashion as a replacement for fast fashion. Being aware of global warming and environmental degradation by human wastes and pollution, Chenkual feels the need to put the concept of 'Less is More' in people's consciousness through his work. His designs are simple yet versatile. The fabrics are handcrafted in cotton in three villages where he worked with a group of local women to create sustainable income for them.
Rimi Nayak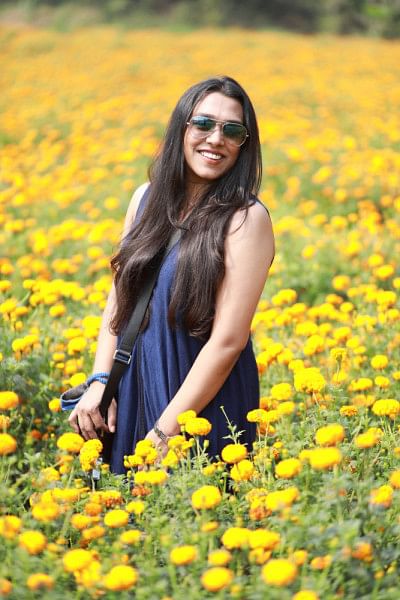 Rimi Nayak has been a member of the Fashion Design Council of India since 2010. She completed her graduation from the National Institute of Fashion Technology and worked with renowned designer, Sabyasachi for a brief period before starting her label.
Nayak's first collection was showcased at the Gen Next platform at the prestigious Lakme Fashion Week, India in 2008 and she continued participating every consecutive year until 2016. From then onwards, Nayak took to international shows.
The "Botanics" summer/resort 2023 collection by Nayak this time, is greatly influenced by mother nature's brilliant and colourful blossoms as well as its many distinctive flora and fauna. Bold flower patterns with embroidery accents in a variety of vibrant colours pay homage to nature at its most resilient and effervescent. To represent the opposites that occur in nature, such as the change of seasons, the riot of colours is balanced with contrasting neutral tints.
The collection's standout feature is that it was made with natural, eco-friendly, and 100 per cent plant-based materials from LIVA. Each outfit is incredibly comfortable, breathable, and soft and delivers a flawless drape with a natural flow thanks to Liva's fabric with modal technology. The collection is therefore "responsibly and sustainably trendy," not just fashionable.
Iba Mallai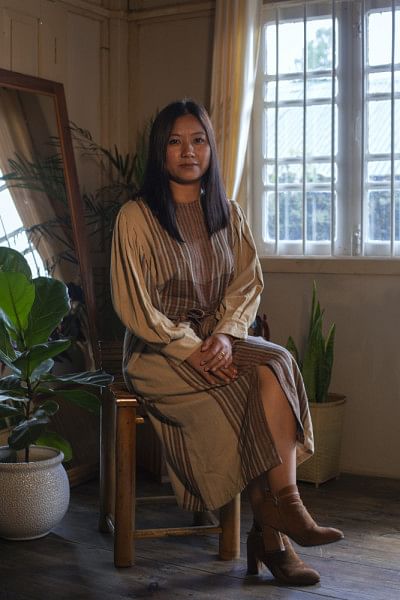 Iba Mallai, a designer hailing from Meghalaya's Ribhoi district, has always felt a strong attraction to the rich culture of folktales that have been embedded in her community for centuries. Growing up in an environment where people knew how to weave and colour their fabric, gave her the ultimate sense of freedom when it came to exploring the designer in herself.
Although Mallai initially started her career working a corporate job, she soon found herself unhappy with her choice of profession. She decided to take a fashion design course at the JD Institute of Fashion and Technology Bangalore and eventually created her label KINIHO in 2016.
KINIHO was built with an aim to combine heritage and trends with sustainable ethics. In her latest collection, Mallai has worked with women weavers of Northeast India, effortlessly incorporating traditional hand weave fabrics into minimal, simple, and soothing silhouettes while working to uphold tradition above all. Dyeing their yarns from leaves, roots, and flowers have helped this brand not only to create beautiful and unique combination in dresses but also to take eco-friendly fashion reach a new dimension.
Gunjan Jain
Gunjan Jain was introduced to the art of saris from a very early age. Her mother was an artist who would exclusively wear different types of handloom saris and take her through the journey of each of these saris. So, the idea of a profession in fashion design came rather naturally to Jain.
Jain first started working with textile houses but soon felt a form of disconnect between makers and consumers. The mass collection, although widely popular, lacked the personal touch that she had grown fond of. This is what led her to create her label, Vrikish designs, which has an element of belonging and worked as a form of communication between customers and makers.  
Her latest line, Flamingo Tribe, is a collection of saris highlighting the very skilled weaving traditions of India's Jala (extra weft) and Ikat (resist tie n' dye) techniques. The saris feature the luxury texture of local tussar and mulberry silk.
Keeping up with her mantra of 'creativity through conservation' this collection explores the lesser-known world of slow and sustainable fashion. Flamingo Tribe also depicts the distinctiveness of womanhood. Encouraging women to bring forth their best self and authenticity, this collection celebrates the diverse aspects of feminity including humour, confidence, nurturing, fun, and sensitivity creating an air of pride and admiration.
Soumitra Mondol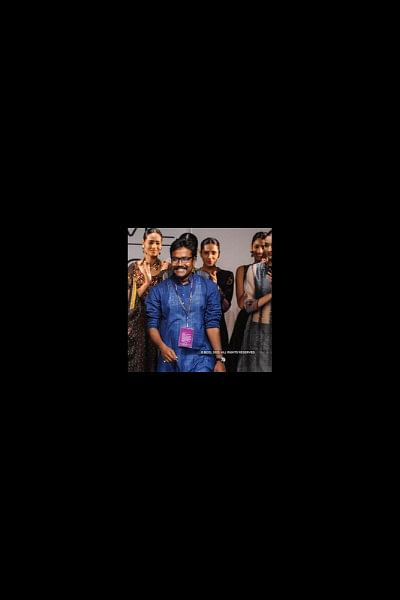 At the Bangladesh Fashion Week 2023, Mondol's collection is called 'Musafir', meaning traveller. Soumitra's collection is all about the modern-day traveller who loves the contemporary look, yet keeps her history intact and lives her life in a very present way. This very woman is also a romantic, who lets her be noticed by the world with her simple style.
His designs are inspired by landscapes across the globe and include scenes of lush greenery, earthy browns, and the natural shades of the blue sky. Straight lines have been a major component taken from the backdrop of straight roads and road crossings have also been included in the recent collections as main design elements. The saris and fabrics for the entire collection are specially developed in handloom in fine yarns.