Breaking down the fashion calendar: Suiting up for Spring 2023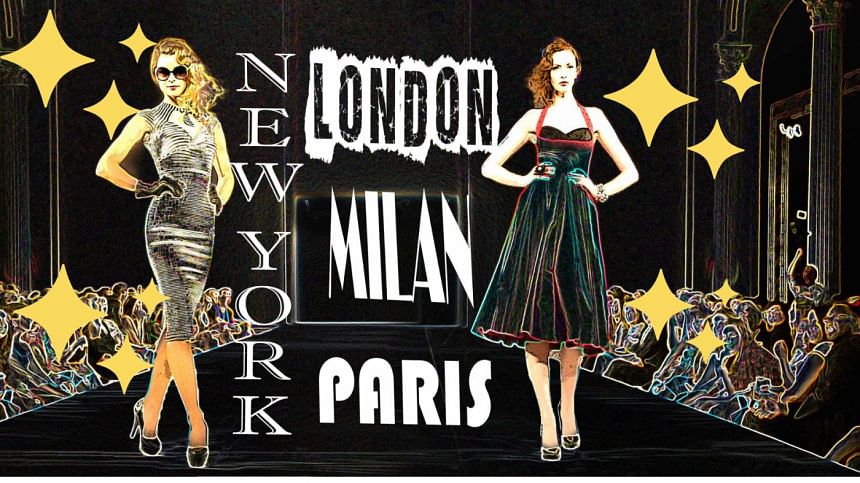 The month of September is beloved by fashion lovers and fashionistas worldwide as fashion weeks take place around the world. This year, the Spring/Summer 2023 season fashion weeks started in New York City with the New York Fashion Week on 9 September, 2022. But, if you are wondering why Spring shows are taking place in September, the month we transition to fall, then you are not alone. The fashion calendar can be confusing so read ahead as we demystify it for you.
What is Fashion Week?
Fashion week is an industry event lasting approximately 1 week, where fashion designers, brands, or houses display their latest collections in runway fashion shows to buyers and the media. These events influence trends for the current and upcoming seasons.
While there are many fashion weeks around the world, there are 4 major ones held every year – The New York Fashion Week (NYFW), London Fashion Week (LFW), Milan Fashion Week (MFW), and Paris Fashion Week (PFW). Some other notable fashion weeks include Copenhagen fashion week, Lakme Fashion Week in Mumbai, and many more. Bangladesh has also hosted a few fashion weeks over the past 20 years.
Who Goes to Fashion Shows?
Buyers are the most important people who attend these shows. Buyers are the people who decide on what to stock up on in high-end department stores such as Selfridges and Harvey Nichols in the UK, Bloomingdales, Saks Fifth Avenue, Nordstrom, etc. in the US, and many more around the world. These buyers will see a show on the runway, decide what they like, go to a showroom to get a closer look and feel for the products and then place an order at their stores.
Fashion editors from top fashion magazines like Vogue, Elle, Harper's Bazaar, The New York Times Style Section, etc. also attend these events as these shows require great press coverage to boost sales.
Other people in attendance include celebrities, friends and family of designers and creative directors, big celebrity stylists, and VIP customers — customers who frequently spend thousands of dollars on these brands and become loyal customers.
The Fashion Capitals
New York City, London, Milan, and Paris are considered the fashion capitals of the world. These cities are aesthetically very different.
All the big brands go to Paris. Paris is considered the epitome of luxury fashion and craftsmanship. The biggest brands such as Chanel, Dior, Balenciaga, Valentino, Saint Laurent etc. showcase in Paris.
Milan is known for outlandish maximalist collections. They are also known for exquisite craftsmanship. Brands showing in Milan Fashion Week include Dolce and Gabbana, Versace, Giorgio Armani, Prada, etc.
London is the youngest of all the fashion weeks and is home to emerging talent. London is at the forefront from an artistic standpoint, having more experimental than commercial designs. Established brands such as Burberry, Vivienne Westwood, Victoria Beckham, Simone Rocha, alongside budding talents like Richard Quin, Charles Jeffrey Loverboy, and Molly Goddard, etc. hold their shows in London.
New York is very eclectic when it comes to fashion. Popular brands showing in New York Fashion Week include Ralph Lauren. Tommy Hilfiger, Tom Ford, Michael Kors, Coach, Carolina Herrera etc.
The Seasons and Timing of the Fashion Shows
There are two main seasons for the ready-to-wear (RTW) collections — Spring/Summer (aka SS) and Fall/Winter (also called Autumn-Winter, FW, AW). The Spring shows take place during the Fall season in the west, in the month of September, while the Fall shows take place during the spring season in the West. So, in September 2022 (the beginning of fall), the Spring/Summer 2023 shows are taking place, while the Fall-Winter collections for 2022 have been presented during February of this year. So, the collections are shown 6 months before they hit stores. But why?
This calendar is based on a century-old system. The designers back then used to showcase their collections to their customers around 6 months early, wherein customers can see them, place orders for them for the upcoming season, and brands would manufacture within that time frame. It still operates 6 months ahead as brands require 6 to 9 months to fulfill orders from buyers and send collections to the stores.
Fashion week is normally a 4-week circuit. Most times, fashion week starts in New York, followed by London, Milan, and finally Paris. Sometimes, the dates for New York and London might change, but Milan is always second to last and Paris is shown the last, as it is deemed the most important of the fashion weeks.
So, the Fall/Winter shows would start in the 1st or 2nd week of February in New York City and end in Paris during the 1st week of March. These collections will start to trickle down in stores in August but really fully hit in September and October and by November, have usually all trickled in.
The Spring/Summer season kicks off in New York usually the Thursday or Friday after Labor Day (the 1st Monday of September) in the United States and ends the first week of October in Paris. These collections will start to go in stores in the following year's February and be in full force during March and April and trickle through May.
Menswear and Haute Couture
The menswear collections are held in January for the Fall/Winter season while the Spring/Summer shows are held in June.
The Haute Couture shows are shown exclusively in Paris, without any 6-month lead time. So, the Spring couture shows take place in January while Fall couture shows take place in July.
Other Transitional Seasons
Bigger brands will have more seasons and offerings in between. Resort/Cruise/Pre-Spring collections mean the same thing. Big brands like Louis Vuitton, Valentino, Burberry, etc. showcase these collections during the months of May, June, and July with the collections hitting stores in December, January, and February.
Brands also have Pre-Fall collections, which are shown throughout the year, with dates differing for different brands. These are more commercial and smaller in nature.
Resort and cruise collections are called as such, as they were intended to cater to rich people who used to go on cruises in warmer countries to escape winter. Now, in modern times, these global brands cater to customers hailing from different parts of the world, which don't necessarily have the same weather calendar as the Western world. So, by using these transitional collections, they cater to that customer base while also creating an experience by flying out customers to exquisite locations for the presentation of the collection.
A lot of these transitional collections are shown through presentations and lookbooks instead of fashion shows.
There is an ongoing discourse about the fashion calendar and seasons with many calling it redundant. COVID-19 has paved the way for more brands to break the rules and show in their own time and convenience. However, the majority of the brands still follow this calendar and showcase accordingly, meaning the fashion calendar is not going away anytime soon.