Is Bangladesh friendly enough for startups? An analysis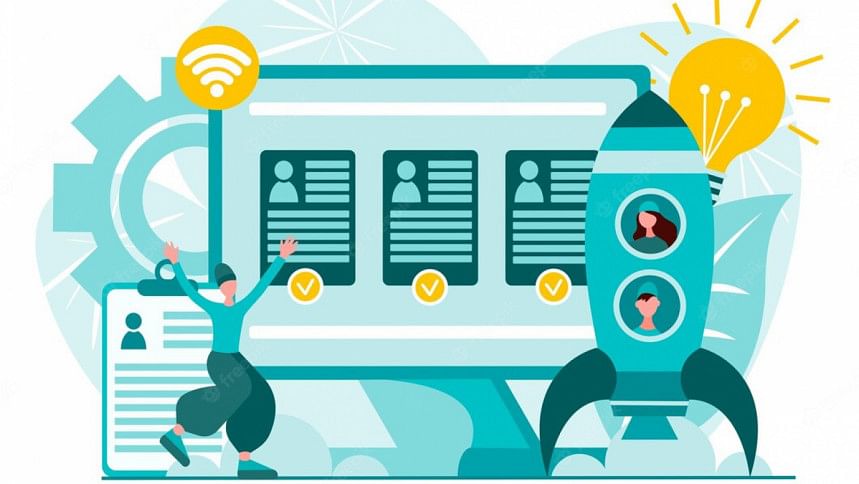 Startups! You probably come across this word everywhere, whether on television, in newspapers, or on the Internet. Thanks to the power of globalisation, the air of startup culture has reached Bangladesh as well. But is the business environment in Bangladesh hospitable enough to start and push a startup towards success? Do the start-up founders and their respective teams have a good support system to help them thrive?
We explain below.
What is a startup and why are they so important?
Before we begin our main topic of discussion, let's get our knowledge refreshed.
A startup is a highly scalable company in its initial stages of business focused on a tech-based solution to a local or a global problem for which there is a demand. These companies start with high costs and low revenue. Hence, they look for capital from several sources such as venture capitalists (VC). For example, many of today's successful global companies such as Microsoft, Apple, and Meta (previously Facebook) began as startups before becoming publicly traded companies.
Startups are important for a multitude of reasons. In contrast to older or incumbent companies, startups focus on newer technology and cutting-edge innovation to deliver more efficient solutions and products to customers. This gives startups the power to open new markets or completely transform existing ones, creating more employment along the way. Due to their agility and lack of multi-layered corporate bureaucracy, startups can act quickly on ideas and produce more efficient outcomes for the consumers, thus becoming growth engines for the local economy.
The startup scenario in Bangladesh
Startups in Bangladesh came into prominence with the establishment of Bkash, a mobile financial services provider (MFS) which revolutionised the financial system of Bangladesh, bringing the unbanked into the formal economy.
Bkash was the 1st company in Bangladesh to reach a billion-dollar valuation, making it the country's first unicorn. Some other notable startups in Bangladesh include Pathao, the ridesharing service, Chaldal, the largest online grocery delivery system in Bangladesh, Shohoz, Daraz, 10 Minute School, etc.
According to the "Bangladesh Startup Ecosystem" report by Lightcastle Partners, there are currently more than 1000 active startups in Bangladesh with 200 startups starting every year. Dhaka, Chattogram, and Sylhet are the major cities active in the startup ecosystem.
In 2019, the popular growth sectors for startups included fintech (financial technology), ride-sharing, and logistics. These homegrown startups have raised $200 million in venture capital funds in the past decade. We currently have more than 200 active angel investors and more than 20 accelerators and incubators.
The startup ecosystem has created more than 1.5 million employment opportunities across the country and has ranked 93rd out of 100 countries in the Global Startup Ecosystem Index in 2022.
Is it easy to create and sustain a startup in Bangladesh?
While the government has been taking steps to ensure that the business environment becomes more friendly for startups, large hindrances remain that pose a threat to the potential success of a startup. In 2019, Bangladesh ranked 168th among 200 countries in the "Ease of Doing Business" ranking published by The World Bank. The overall ecosystem has been plagued by several issues.
In broad terms, the biggest issues faced by startup entrepreneurs are difficulties in raising funds, finding the right talent and team to further the cause, and the overall slow adoption of technology.
Lack of startup-friendly policies, taxation issues, and overall compliance difficulty with tax regulations combined, not to mention the bureaucratic complexities makes it difficult for startups to be compliant and successful.
The Startup Ecosystem Assessment Report (SEAR) for Bangladesh was published in 2022 as a collaboration between The United Nations Economic and Social Commission for Asia and the Pacific (ESCAP) and the Bangladesh High Tech Park Authority under the ICT division deep dives into these issues.
In addition, a survey conducted by Lightcastle partners of over 100 startup owners found that the top problems faced by startup founders are finding the right talent, accessing funds, cash management, government support, and legal and regulatory affairs.
There is a lack of proper guidelines and framework for establishing a startup along with the existence of uncoordinated strategies and inconsistencies between ministries. Hence businesses falling under multiple categories struggle to get established and get clearance from concerned ministries.
A health tech may require clearance from the Ministry of Health which might not have the sufficient policy framework in place to process such requests. On top of that, the lengthy bureaucratic process of registering a business remains a top issue.
Newer startups fail to scale up and make their business profitable due to not having the right team in place. This is because, despite churning out thousands of graduates every year, these graduates are simply not equipped with the right skill set, particularly entrepreneurship-focused skill set for the industry.
A lack of industry-academia collaboration can be blamed for it. Moreover, there is no support system in place, especially for students hailing from rural areas to upskill themselves aligning with the industry demands. More incubators and accelerators are needed.
Another barrier to people upskilling themselves and becoming more digitally literate is the digital divide. Particularly, the lack of availability and affordability of the Internet is a major issue in rural areas, especially for women. Moreover, the quality of the Internet is inconsistent across different parts of the country. Intellectual property is also not protected in the country which can cause harm to the startup founders.
Due to carrying a much higher burden of risk, startups usually cannot access traditional sources of funding like loans from banks and other financial institutions. Not enough angel investors and venture capitalists exist in our ecosystem compared to our neighbouring countries. Funding for startups in Bangladesh as part of GDP is very low, only 0.04 percent. In comparison, China and India's funding are respectively 0.74 percent and 0.51 percent of their respective GDPs.
The scarcity of international financing for local startups can be attributed to several different causes, one of which is the perception of Bangladesh on the global stage. Bangladesh is still seen as a place for obtaining cheap labour and good, not as a place for tech-enabled economic growth. Foreign investors are also discouraged due to a lack of proper business supporting infrastructure, bureaucratic red tape, layers of taxation, and corruption.
Speaking of corruption, according to the "Bangladesh Business Environment Survey 2021" by the Centre for Policy Dialogue (CPD), 68 percent of respondents complained about corruption and bribery being the top problem in conducting business in Bangladesh. Corruption across institutions becomes a disincentive to start and conduct business.
From a cultural perspective, entrepreneurship and startups are heavily discouraged due to their higher risk compared to landing a secure job in government departments or private firms. Families and society, in general, want students to undertake a job over business and entrepreneurship. This conditioning and persuasion over a lifetime discourage many with potential and resources to materialise their ideas. This cultural and perception barrier needs to be broken down.
The final word
Although many problems exist, the important thing is to keep working to solve each of these problems. The government has already taken some steps to ensure newer startups have a fighting chance to survive and succeed. The national budget for 2022-2023 has introduced certain tax benefits for startups. The government has also established high-tech parks across the country. The most important thing that needs to be done is to enhance our image in the global arena as a nation brimming with ideas, capable enough to carry them out and succeed.