Appreciating art on a budget
Appreciating art and collecting art is often considered to be a high end luxury only a specific upper class can indulge in. The misconception lies in the understanding that one can only support the arts by emptying their pockets into buying lavish art pieces. There is no doubt that such expensive art masterpieces are worth the price and artists should be compensated for their hard work. However, for those living on a budget yet wanting to consume and support the art, there are multiple other ways to do so.
Spread the word
Supporting the arts does not need to start from afar. There are many among us, friends, family and acquaintances, who might be trying to explore their creativity through art. Some might do oil paintings, some might do face art. Whatever the genre or canvas might be, amateur artists should be supported so that they can blossom into their full potential. With social media being the most widespread platform today, if your artist buddy is promoting their work on social media, it might give them a boost to share their work online even if you cannot buy anything from them.
Support local artists and student artists
Small, local artists often lack the finances to keep their work sustainable. Despite having the passion and talent, they might lack the resources. Similarly, student artists often try to get their work out by independently selling their work.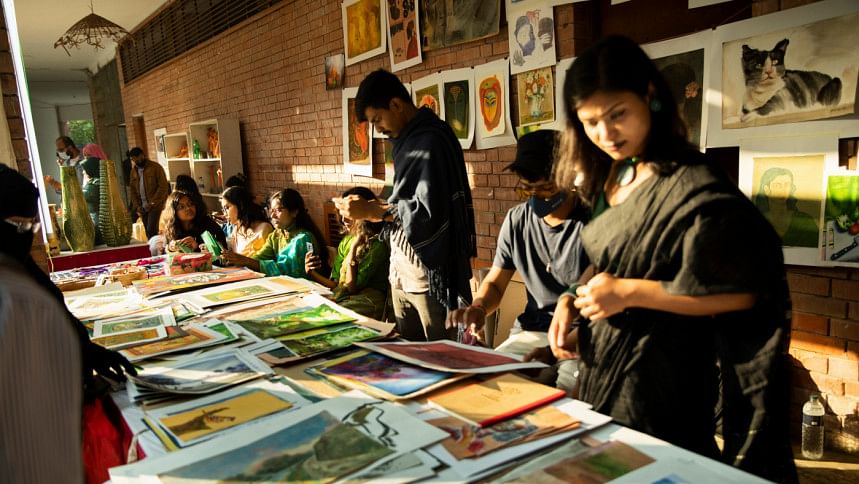 As an art supporter or connoisseur on a budget, buying from these artists not only opens a pathway to consume interesting art, but also funds these artists. Students from Charukala often sell their paintings and photography at exhibitions and for moderate rates. Students from University of Development Alternative (UODA) can be seen selling their work around Dhanmondi Lake. These prices do not leave a hole in the wallet, as the students are looking to understand if their work is worth buying and how far they have progressed as artists. So, supporting students and local artists would provide a chance to get the early works of possible future artists, be introduced to a plethora of experimental art and keep the art scene dynamic.
Free art galleries
Appreciating the art does not only mean directly engaging with artists. For self-satisfaction and exposure to different kinds of creativity, going to art galleries is a great way to enhance one's understanding of art. Exhibitions held at places like Bangladesh Shilpakala Academy and Zainul Gallery often highlight a unique array of art styles. Starting from local productions and sometimes, bringing in the work of expatriates, these galleries make artists' creativity cinematic and filled with movement and stories. Buying artwork from these galleries might be a little expensive, however, the artistic exposure these places offer is essential to expanding and diversifying one's tastes in the creative world.
Rickshaw art
Another way to indulge in artwork unique to the Bengali heritage is by supporting what is now known as Rickshaw art. The Facebook page Rickshaw Paint/Art of Bangladesh makes cards, portraits and paintings on clay pots. The style of this work is like that of what we see on rickshaws and on cinema posters before digital posters came into being. This art style is not only unique but also a great way for an art enthusiast to dig deeper into the local and traditional art scene.
Posters and replicas
Posters are quite popular nowadays. These posters often replicate music album covers, iconic figures from pop culture and almost anything else. Sometimes, posters can also replicate artwork which has gained mainstream popularity. For example, Van Gogh's "Starry Night," Hokusai's "The Great Wave off Kanagawa," Vermeer's "Girl with a Pearl Earring," and Da Vinci's "Mona Lisa," are some of the most commonly replicated famous artwork. These works are used on posters, bags, shoes and other merchandise quite often. Now, whether or not replicas can be considered a true form of art depends on one's own perceptions. To answer this, having exposure to numerous kinds of art styles and being an advocate for local artists might provide some insight.
All in all, art is for everyone to enjoy. The creations of this field cannot be limited to one group of people. The misconception that to support the creative field, one needs a hefty amount of money is quite flawed, as being an advocate or connoisseur for the arts does not only entail buying art but also understanding and perceiving art.