5 reasons why Croatia are unstoppable at the World Cup 2022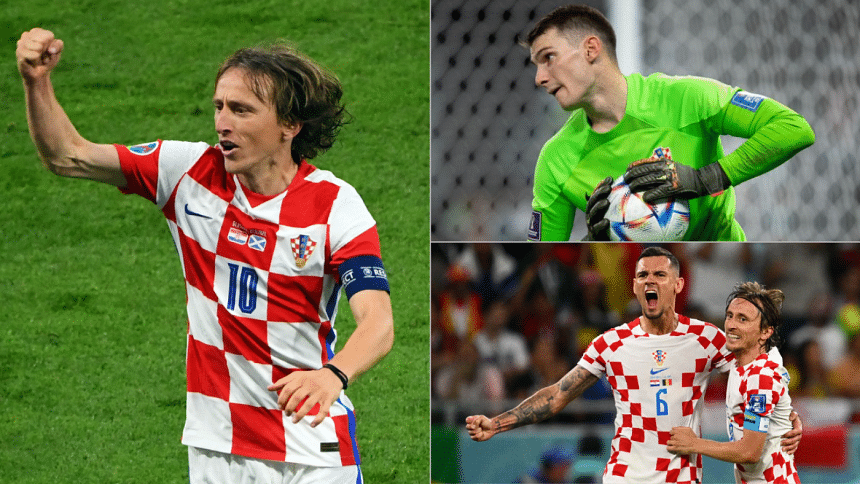 Win and you have a seat at the finals. Lose and you go home. In this high-risk and high-reward situation, we have only four teams left at the FIFA World Cup 2022 and Croatia amongst them have earned our respect a while ago. They have dismantled some big teams on their way to the road to the final.
Here are 5 reasons why Croatia is a force to be reckoned with.
Luka Modric, the Magician
The midfielder is presently 37 years old and still playing 90 to 120 mins a match like he's barely 20. He is part of the present Champions League trophy-holder club, Real Madrid. In a team as talented as Real Madrid, Luka Modric has the nickname: The Magician. That should be enough to convince everyone about his abilities. Any team that has Modric in their squad is already getting an advantage and this time that advantage goes to Croatia.
An extraordinary goalkeeper
Sure, Modric is amazing without a doubt but Croatia has another asset that many teams are missing in this tournament and that is an extraordinary goalkeeper. With so many matches going into penalty shootouts, it is imperative to have a goalkeeper that can keep his nerve in this situation and Croatia has just the right man for the job.
Goalkeeper, Dominik Livakovic has already produced a hattrick of saves against Japan and added to that tally in the game against Brazil. Which eventually caused Brazil to fall behind and the result, as you can see is that they are in the semi-finals.
They have an ambitious team
Players with individual talents and personalities are important and they can be great when your team needs that 'one moment of magic' for a win. What is better is when you have a team that plays as a team and can properly function as a team. Croatia have found themselves a squad that fit together smoothly as a team and this team is ambitious. From asking 'What if we don't qualify?' to 'We're fighting for the trophy', you can imagine the aspiration it takes to come this far.
They have done it before
Some people have this notion that Croatia is in the semi-finals because of luck. They do not deserve to be here and many think that they are like a bad case of flu — comes and goes with the wind. That is hardly the case.
Croatia is a European team that exudes European football flavour in their playing style. Since 1998, they have appeared in all the World Cups so far except 2010. (Note that Croatia became an independent nation only as recently as 1991). Not only are they qualifying regularly, they are also beating big names. They played in the finals against France in 2018 and this year, they have already beaten the big favourites Brazil to reach the semi-finals. So, they are not new to this stage, they have done this before and they know how to get it done.
They are serious about tactics
There are so many tactics to adopt in a football match but quite often we find that when the game gets difficult and pacey in the second half, the teams abandon their tactics or fail to apply their tactics properly due to the high speed of the game. For Croatia, this is not the case. In every match, it is evident they have a game plan. When they are on the pitch, they already know what they want to do and why. So far, their tactics (some people might not like their defensive tactics sometimes) have worked well. Brazil got them shaken up a bit but even the samba boys had to concede to Croatia's tactics. With such a clear game plan in every match, Croatia should be the new favourites.
Say what you will about Croatia but being led by someone like Modric and with a tremendous amount of self-belief, they have progressed this far and it should not be a surprise to anyone if they end up as the winners of this tournament.