Cheat code recipe for chowder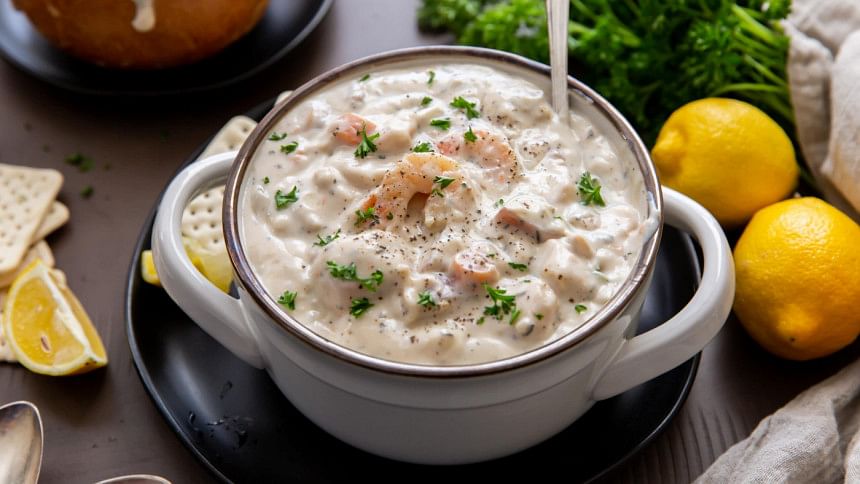 Traditionally, seafood did not suit the deshi palate. We were more accustomed to having freshwater delicacies. Time, however, is changing and we now enjoy delightful, seafood dishes. The following is a recipe of a popular seafood dish, with added cheat codes that make it easier to make.
Seafood chowder
A spoonful of creamy chowder on chilly evenings is bliss. While soups can be thin and light, a chowder is usually thicker, somewhat like a stew, with the base being a mixture of mainly potatoes, onions, and celery.
Ingredients
1 tbsp butter
2 stalks celery, chopped 
1 onion, chopped
1 bay leaf
1 tsp dried dill or dried thyme
Salt and pepper, to taste
2 large potatoes, peeled and diced
2 cups water or fish stock
1/3 cup all-purpose flour
1 cup milk
2 cups chopped raw skinless fish fillets, cooked seafood, or a combination
2 tbsp lemon juice
Method
In a large pot, melt butter over medium heat; sauté celery, onion, bay leaf, dill, salt, and pepper for about 5 minutes or until the onions start to brown. Stir in potatoes; sauté for 2 minutes. Increase heat to medium-high; stir in water or fish stock (you can make your own stock by boiling a piece of fish, shrimp heads garlic onions) and bring to a boil. Cover, reduce heat to medium, and boil for about 5 minutes or until the potatoes are almost tender. Whisk flour into milk and stir into the pot; bring to a simmer, stirring often.
At this point, you can blend the broth for a smooth consistency. Stir in fish or seafood. Let it simmer until the fish is opaque and flakes easily with a fork or seafood is hot. Discard bay leaf. Stir in lemon juice and season to taste with salt and pepper. Serve hot with crackers.