Shohel Mondol: An actor is born
Shohel Mondol — an award winner at the Blender's Choice-The Daily Star OTT & Digital Content Awards 2021 gets nostalgic as we were discussing how he developed his penchant for acting. 
Mondol claims that he used to be an "introvert" while growing up in the beautiful pastoral set-up of Dhunat, an upazila in Bogura, a major district in Rajshahi division in northern Bangladesh. His ancestral village is situated in that upazila. While he considers himself to be blessed to have grown up in an extended family, he was not too keen in mingling with his boisterous gang of cousins. To stay away from all the hullabaloo, he would often resort to books.
"Books for me were the ultimate saviour as they used to transport me to a different world, a world full of fantasy! I used to immerse myself in those books' pages and embark on a journey," says Shohel Mondol.  
Sitting inside the makeup room of a studio, there is no power and the newly bought generator at the studio building is not functioning. The room has no window to allow any daylight. There is this eerie darkness all around us with the torchlight of my mobile phone being the only source of light.
"It never crossed my mind that someday I too can become an actor. I just wanted to read and set on a journey with the characters depicted in those stories. As I grow up, besides books, watching movies in a nearby cinema hall started to become my favourite pastime," Shohel continues.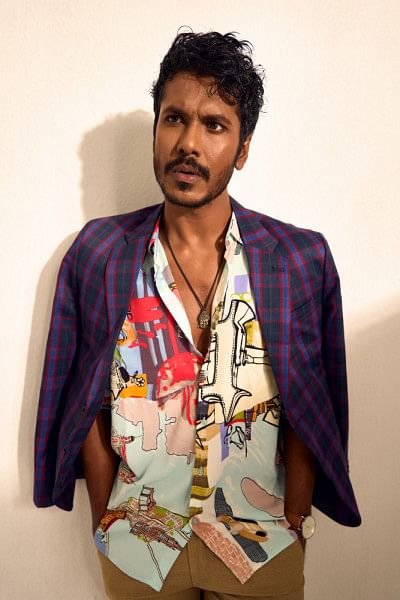 He was one of those lucky 90s kids who would frequent cinema halls to watch movies of late heroes like Salman Shah or Manna.
"The social drama and action of those heroes fascinated me; although I never wanted to be like them. It was purely for entertainment purposes," he clarifies. 
After moving to Dhaka, Shohel met with a new bunch of friends. There too, he started having that feeling of not fitting well. He could not resonate with the topics his friends were discussing. He was looking for an escape route.
The bookstalls of Nilkhet saved him from the ultimate boredom. He started buying books and reading those to feed his soul that was hungry to go on expeditions with various characters.
"I don't remember who actually introduced me to the idea of watching a stage performance. I started attending theatre shows. Eventually I developed an urge to meet the actors face to face. I even used to stand at the gate of FDC to have a glimpse of the heroes and heroines," Shohel chuckles and gives me a look as if I was going to judge him for doing so.
He absolutely loved the performances in theatres and one day he discovered that he could join the troops and learn acting.
"My ultimate intention was to see the performers up close. So, I joined 'Nagorik Natyongon Institute of Drama', where I was trained and got the opportunity to work at Nagorik Natyangan for two years. After that I joined Prachyanat School of Acting & Design for further schooling. I have been working with them for the last 12-13 years."
"So, theatre helped you overcome the shyness?" I asked.
"Oh yes, big time. I owe it to my teachers, co-performers and friends for my ultimate metamorphosis in all these years and I am grateful to Prachyanat," he says. 
As our chit chat continues, I keep looking at my watch as the studio owner said the loadshedding in Niketan usually continues for 10-15 minutes. It has been half an hour and we both are sweating profusely. I am relieved that Shohel did not get fussy at all sitting in that condition. As I keep apologising for the situation, Shohel assures me that he is ok.
"I think having a more considerate approach to situations we face in everyday life makes our living easier. I can adapt very easily with any situation; which probably also helped me in acting," Mondol adds.
The young actor has already received much accolades for the different types of characters he has portrayed on screen so far. So, is there any character that he is yearning to portray at present? Shohel says, "I would love to do a so-called masala film, the ones I grew up watching. This kind of films has a mass appeal and they are needed for the industry to sustain. Having said that, the new breed of directors is making us hopeful and I am grateful to be a part of this momentum."
At that point of our discussion, the power comes back. The lights are on, so is the aircon. Shohel sits for his makeup and our conversation continues.
"Are you always this easy going," I ask him, directly. With his signature heart-warming smile Shohel says that he always appreciates honesty and transparency in every situation.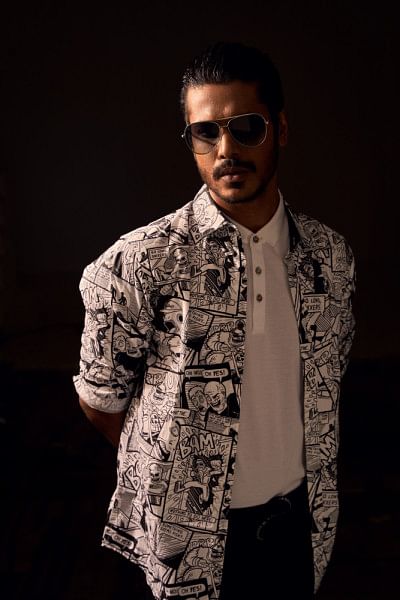 "I can sense if someone is being dishonest with me; I am definitely not going to be cooperative in those situations. However, if I am having a mood swing, I try to stay aloof and reflect on the situation or the role I am going to play. I definitely put much effort to understand the character on the script," the versatile actor elaborates.
So, would you call yourself moody? When asked, Shohel replies: "I give a lot of preference to my mood. What many audiences don't  know is that I worked as a full-time video editor for several renowned projects. My mood at the time of editing certainly reflected on the colour corrections of the footages."
We are almost at the end of our interview. The set is ready. Our makeup man Hossain too does a decent job in hiding Shohel's grey hairs which will somehow conflict with the look and get up we thought for him on the mood board. Before we start the shoot, I throw my last question to him — "Any big plans this year?"
"See, I don't plan that much. I am going to do this new web series which will be featured on an international OTT platform. One of my earlier work, Mayar Janjal which I did with Aupee Karim, my most favourite actor gets released this year. This makes me happy. Earlier I didn't have much choice, but now since people are recognising my work, I am getting to choose the roles, particularly which are more contemporary or challenging in nature to portray. That's all," he concludes with his charming smile.
Model: Shohel Mondol
Styling: Tawhidur Rashid
Wardrobe: Ecstasy
Hair & Makeup: Hossain
Location: Pel Studio