Munzereen Shahid's 'soft glam' akhd look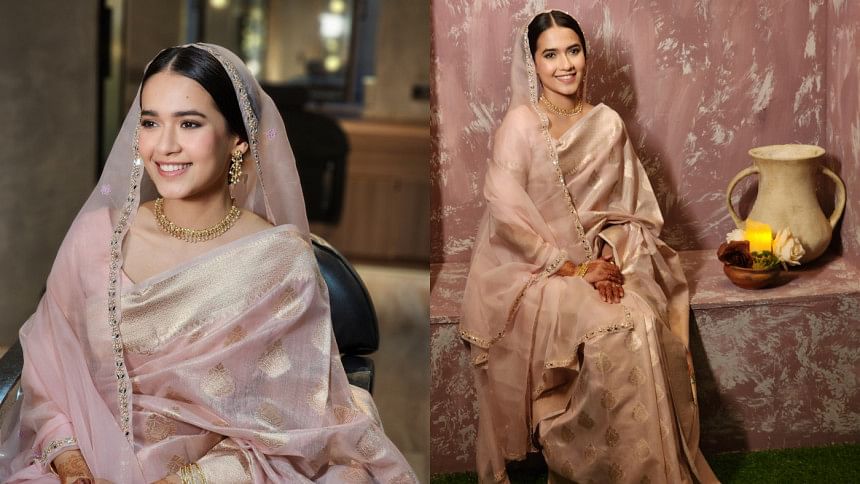 On her big day, Munzereen Shahid, the Chief Instructor and English Trainer at the 10 Minute School, opted for a no-makeup-look on her akhd ceremony. As pictures went viral, many a fashion enthusiast gushed over the fresh, dreamy, and supremely natural look that Gala Makeover Studio and Salon was able to put together for her.
Keeping in mind her simple, fresh personality, Navin Ahmed, makeup artist and owner at Gala, opted to keep things light. "When I first met Munzereen, I knew right away that she would not be wanting a lot of products on her face." True enough, Munzereen asked to keep things as minimal as possible, and Navin was happy to oblige.
The no-makeup-look allows brides to showcase their natural beauty, adding elegance to their bridal glow. "As Munzereen is naturally beautiful and gifted with healthy, glowing skin, we didn't have to use foundation on her," said Navin. "There was minimal use of primer, only where absolutely necessary. We made sure to scrub and moisturise her skin well before her makeup to prevent oxidisation or oiliness of any kind, and used a setting spray twice, for the same reason."
Navin knew that the akhd was to take place in a masjid and she wanted her bride to have a soft, resplendent look to match the serenity and peace of the venue. The bride was wearing a light pink sari and Navin did her lips in a similar berry tone to bring out a natural flush. "It was not even a lipstick but a thin lip tint, to keep things as natural as possible."
Munzereen would not wear faux lashes or even eyeliner. "To create some depth and make her lash line pop, I used a neutral brown shadow, just a shade or two lighter than her own skin tone, and some softly blended gold shimmer."
In the first few pictures that have come out, Munzereen appears flushed and happy. While most of it is her own happiness spilling onto her skin, some credit for the radiance can also be attributed to Navin Ahmed's expertly applied blush. "It was nothing but her lip stain, that I blended onto her cheeks. No blush, no highlighter!" says a jubilant Navin, happy with her work.
Munzereen is an out-and-out Gala bride and will be seen done up in more of Navin Ahmed's artistic finesse for her next events, so stay tuned!