Eid Fashion: Styling Monipuri saris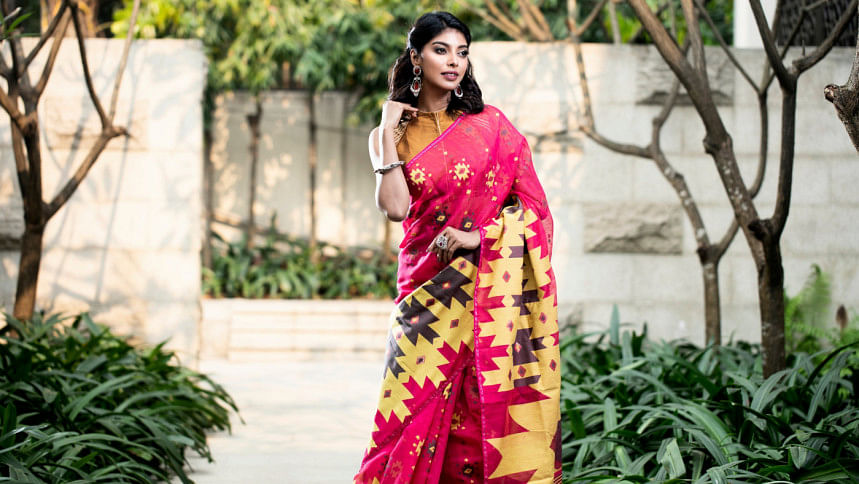 As the festive season approaches, excitement about new fashion trends becomes evident. With social media influencers and fashion bloggers showcasing the latest trends, you cannot help but fall in love with the hype. While everyone is obsessed with the latest saris and exquisite gold jewellery collection, it is easy to overlook the beauty and elegance of something as traditional as a Monipuri sari, which actually deserves all the recognition in the fashion world.
Originating from Sylhet, Bangladesh these saris are characterised by bright colours and intricate designs. Often called the 'dancing saris', these exquisite pieces are made from lightweight cotton and are perfect for summer events.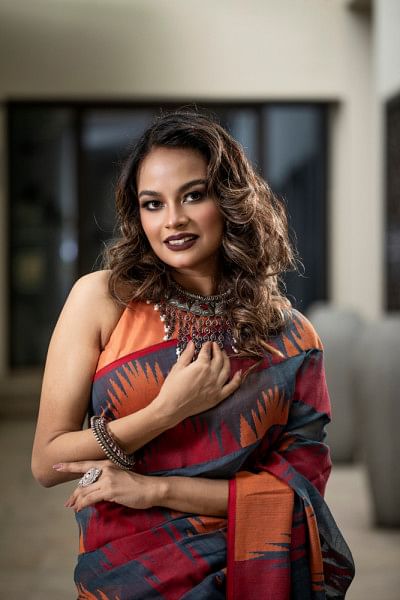 The saris are a symbol of our cultural heritage and pride. Enchanting colours and handmade designs make the 'beautiful' saris your best fashion solution for any festive occasion. It is not only elegant but also comfortable to wear, making it practical for Eid celebrations during summer. In recent times, traditional saris have become a popular choice among fashion lovers and the ever-gorgeous Monipuri saris are the best bet to stand out amongst the crowd. 
When it comes to accessorising these saris, silver jewellery can be a great choice. From intricate necklaces to delicate bangles, silver jewellery complements any look, from deshi to western. The cool silver tone will match any colour scheme and add a sophisticated element to your style.
There are many ways to accessorise a Monipuri sari, especially with silver jewellery. A delicate silver chain with a small pendant is a sophisticated touch to a simple sari. A pair of silver earrings, on the other hand, can make a statement without overwhelming the outfit.
Silver bangles and bracelets are also a perfect match for your Eid look. The gentle shine of the bangles adds flair to the outfit, making it perfect for dawats.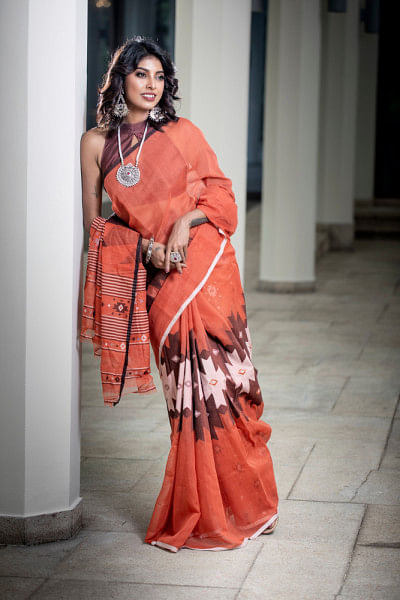 When it comes to shoes, there are many options to choose from. For those who want to keep their style traditional, juttis are the perfect complement to a Monipuri sari. And if you are planning to add a modern touch to your outfit, a pair of strappy heels will give the sari a more contemporary look.
When it comes to makeup, a subtle look is a perfect partner for styling. A bright pink or red lip and nude smoky eyes complement the sari without overpowering the look. It is important to remember that the sari is the centrepiece of the outfit and accessories and makeup should complement it rather than overwhelm it.
Model: Mashiat, Arnira
Styling: Sonia Yeasmin Isha
Makeup: Piyash
Wardrobe: Aarong
Location: InterContinental Dhaka