Does Dhaka need more fashion shows?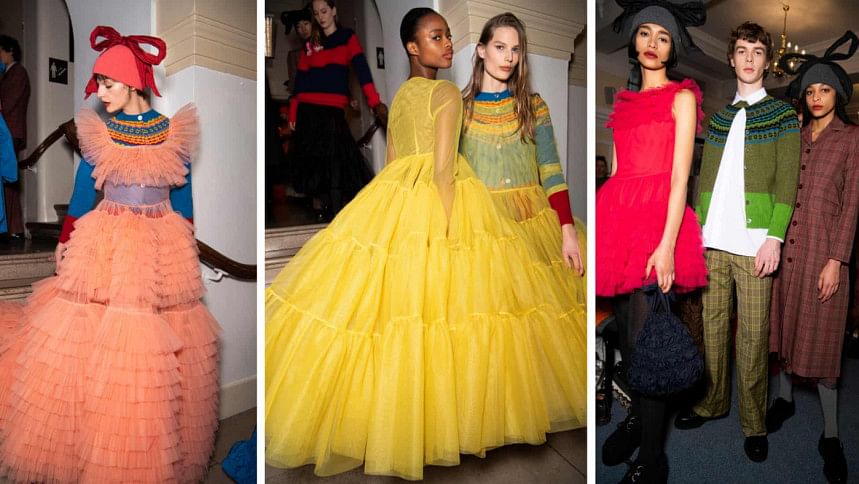 Fashion shows have always been a great platform for fashion designers to promote their couture houses. We often see glamorous international fashion shows on television or social media, but how often do our local fashion designers get the right podium? From an economic perspective if designers in Dhaka city offer more fashion shows it will generate a huge amount of revenue for our fashion industry. Fashion shows create numerous opportunities for brands, designers, models, photographers, editors, influencers, and celebrities. 
If we look into international fashion shows, nowadays, they are less open to the public and are generally organised by the brands or the authorised fashion bodies. Previously, fashion designers unveiled their latest collections via runway shows for their potential buyers and editors, but since 1993 when the New York Fashion Show took place, it has taken the international fashion industry to the next level. New York, Paris, Milan, and London all the famous fashion cities now offer fashion weeks. They bring out four different seasonal collections each year. Indian fashion designers also get to showcase their work via Lakme Fashion Week twice a year. Many fashion influencers visit these series of fashion events; it is a great way for purchasing haute couture and building your network within the industry.
Bangladesh has a broad collection of quality handloom fabrics used by many well-established local designers. Our heritage designs and patterns are rich, sophisticated, sustainable, and most importantly handmade. Most fabrics are made from natural dyes, keeping in mind the environment, culture, and religion. The traditional Jamdani and Benaroshi saris are a huge part of our handloom woven culture, and if we as a fashion industry offer more fashion shows we will be able to promote our legacy even further. 
Many artisans work more than 180 hours behind each hand-embroidered sari or shalwar kameez. The practice of traditional motifs, nakshi kanthas, and block prints are all narrating beautiful stories about the history of Bangladeshi fashion, most of which are fading away due to the lack of exposure.
Bangladeshi fashion designers who make handcrafted leather footwear and timeless jute bags could use the fashion shows to highlight their quality work to become global. Through this process, the long-lived tradition of handmade embroidery will stay alive. 
I believe it is always important to remember our brown roots and acknowledge our diverse bridal couture collections. Indian and Pakistani bridal collections are outstanding, but what if we have our own Bangladeshi bridal couture week? 
Now that is something to talk about and of course, it will help our customers to wear something made in Bangladesh for their special day. The rich heritage of Bangladeshi fabric can only grow through more fashion shows, digital media, and an eco-friendly environment. 
Fashion shows can be a tool for public awareness, they can create enthusiasm among the audience to purchase sustainable and reusable masterpieces. As our industry always battles against fast fashion and tries to create earth-friendly designer products. Fashion shows can help designers to reach out to more people and educate them to buy fewer but more valuable outfits. The moment you wear your grandmother's traditional sari at your university convocation, you are not only remembering her but also carrying the family heritage of being a brown child. It is like what Coco Chanel once said, "Every day is a fashion show and the world is your runway"
In recent years Instagram has been one of the biggest game changers for the fashion industry, many brands go live during their fashion shows to reach out to their followers directly. 
According to Forbes magazine, "Social media provides all relevant guidance for the fashion shows nowadays, each post shared by celebrities creates a big impact on the designer's new collection." 
In a recent Fendi fashion show they used throne to live telecast the entire show on social media. We have also seen Givenchy experience their fashion show with all plus-size models to grab the full attention of Gen Z. 
If we have more frequent fashion shows in Dhaka and promote them through Instagram, it will be a great source of constant connection between the designers and the customers. 
The shows can invite fashion experts and bloggers to associate with the global fashion market. It can provide a great place to meet new creative people who share the same passion, enabling a chance to view the hard work of our local fashion designers.
In modern times fashion shows have become a piece of art, they work on the theme, stage, and choreography and hire a huge team for the production. If Dhaka offers more fashion shows there will be room for so many new job opportunities for creative younger graduates. 
Bangladeshi fashion industry deserves to be globally recognised and I believe more fashion shows will help us focus on our trademark designs, craftsmanship, and sustainability.