"Blood Sweat and Tears": Sami Alam's ode to fashion's unsung heroes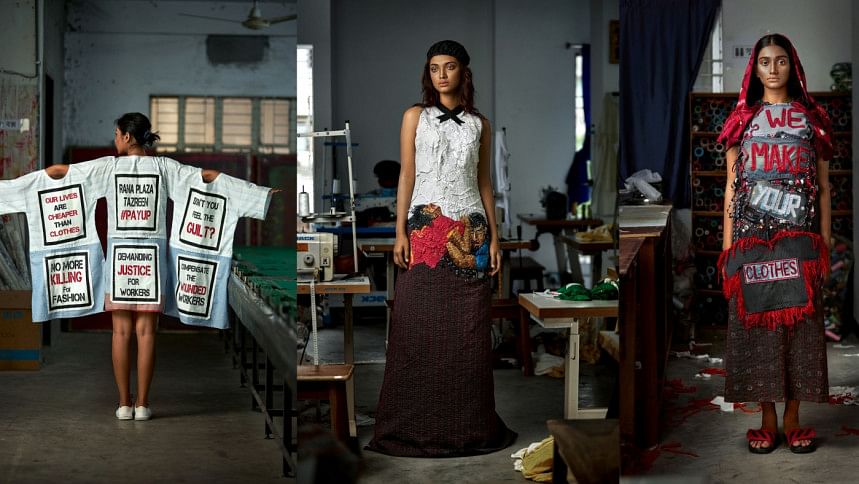 The fashion world is viewed as exclusively luxurious and glamorous by the masses. But there's more than meets the eye. The US $1.53 trillion industry has a larger share of workers whose working and living conditions are far from the onscreen glamour.
Bangladesh is the second largest garment exporter in the world. Our RMG workers have served global fashion needs at the cost of little to no benefits in their lives. They are regularly exploited with poor salaries that do not match the rising cost and inflation in the economy, the lack of employee benefits, the dearth of security, and many more.
Sami Alam, an aspiring fashion designer, decided to use his penchant for fashion to tell the story of these workers and highlight their unacknowledged labour. He designed the thought-provoking collection "Blood, Sweat and Tears" for his Master's graduation at International Fashion Academy (IFA) in Paris, France.
Who is Sami Alam?
Sami Alam, the fashion designer, started his career in 2016 at Aarong — the biggest and most influential fashion house in Bangladesh. He worked as a designer for the export department of Aarong before designing for Aarong's upscale and high-end sub-brand HERSTORY starting in 2017.
Becoming a fashion designer
"From my childhood, I really loved to draw and paint, but it was never explored academically and remained more of a hobby," said Sami. While pursuing a Bachelor of Business Administration (BBA) at United International University (UIU), he started learning French at Alliance Francaise de Dhaka. Out of curiosity, he participated in the creative blog writing and design competition "Allons en France (Let's Go to France).
After winning the competition in 2010 and going on a cultural exposure trip to France, Alam came back home and with the blessings of his family, left UIU and pursued a Bachelor of Fashion Design Technology at Shanto Mariam University, graduating in 2015.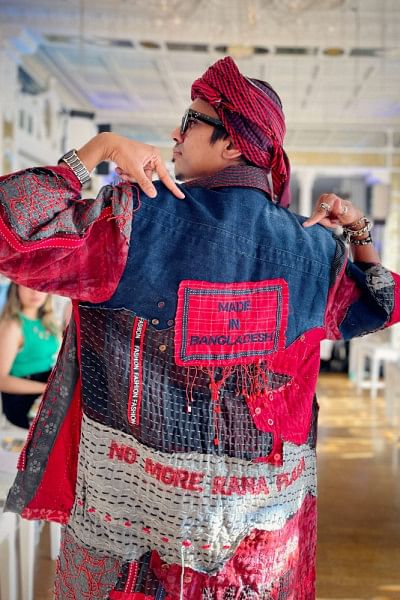 Afterwards, in 2022, he went on to receive a Master's in Contemporary Fashion Design from International Fashion Academy (IFA) in Paris. He completed a semester on exchange at Istituto Lorenzo de' Medici in Italy, studying courses on Fashion Styling, Fashion Cross Culture and Fashion Business.
His academic zeal took him to one of the most prestigious fashion schools in the world, Central Saint Martins, which boasts alumni such as Alexander McQueen and John Galliano. Sami completed two short courses on Fashion Creative Direction and Fashion Film at this esteemed institution.
"Blood, Sweat and Tears"
As part of his Master's programme, Sami had to design a graduation collection. He wanted to reflect on the history of garment manufacturing in our country. "We serve as a manufacturer of these clothes which is something to be proud of. Looking back at the history, I found this process hasn't been fair to us. People got injured, suffered, and died. We paid for fashion with blood, sweat, and tears," noted Sami.
Hence, his collection perpetuated the notion of a safe and fair working environment through sustainability, to all the workers involved in the global fashion supply chain, both at home and abroad.
In his words, "It is not a disregard towards the improvements that have taken place in the past few years, but rather a push towards better working conditions and a reminder that we still have a long way to go."
It is an exploration of the concept of showing the fashion industry through the lens of an RMG worker. As stated by Sami, "No human life should be cheaper than clothes. No one in the world should suffer, be injured, or die for fashion."
Sami brought his message to life and motion by creating three acts within the collection. The acts, Confrontation, Tragedy, and Aftermath work in harmony to create a flow of the story. Confrontation evokes the acuity of the factory workers. The opening look starts with the slogan on the outfit 'We make your clothes.'
The second act, Tragedy, recalls the dreadful memories of the Tazreen Fashion fire in 2012 and the Rana Plaza collapse of 2013. The clothes portrayed the post-catastrophic visuals as a symbolic interpretation of the grim reality and the true cost of the clothes we wear. The final act, Aftermath, concludes the collection with the message 'No more death for fashion.'
The collection has 17 looks featuring an array of dresses; some hooded, along with skirts, tops, jackets, shirts, crop tops, shorts, high-waisted bottoms, and a sari. The clothes have been emblazoned with slogans that resonate, such as "Fashion kills", "Inhumane working environment", "Our lives are cheaper than clothes", and many more.
The colour scheme heavily features red, synonymous with the blood of the garment workers lost to tragedies. Various shades of denim bind the collection with cameo appearances of white and black.
The collection was shown on the runway at Le Salon des Miroirs in Paris.
Keeping sustainability at the forefront, the entire collection has been constructed using upcycled materials. Sami made excellent use of recycled saris, denim pants, end of roll fabrics from Aarong, alongside factory waste trims and accessories.
Regarding the techniques used, Sami said, "I explored many experimental techniques to create the design language I wanted, including contemporising traditional Bangladeshi kantha stitch to create the blood vein texture, burning denim and compiling them together with single taaga stitches, typography using different textiles, using twill-tapes to create a fabric, utilising waste trims and accessories to create a picture on the garment and many more."
Looking forward to the future
When asked about the future, Sami expressed his desire to keep working for Aarong. "I consider my schooling of Bangladeshi heritage and culture rooted here (Aarong) and it guided me to be the designer I always wanted to be," stated Sami. He also plans to work in fashion education in Bangladesh. His ultimate dream is to bring all the stakeholders of the industry in Bangladesh to unified excellence on the world map by sharing education and knowledge.