Iconic fashion moments of Queen Elizabeth II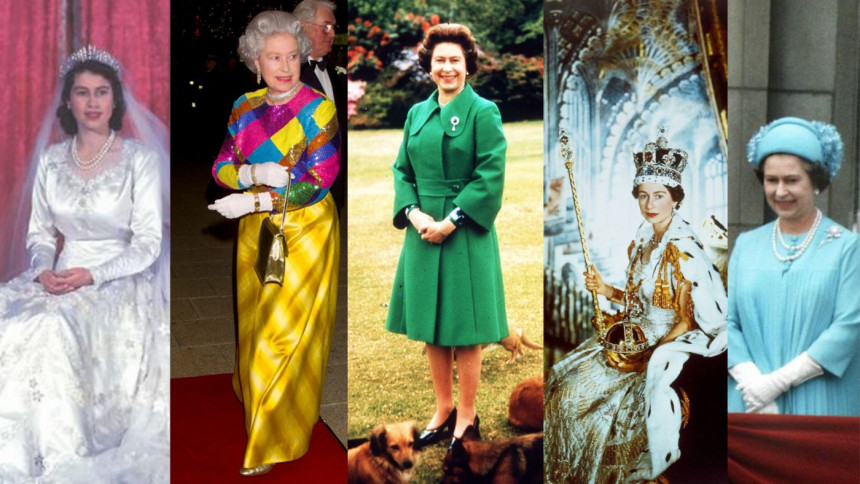 The longest watch in the history of monarchy ended with Queen Elizabeth II, on September 8, 2022. Over her 70 years of reign, the sovereign gave us aeons of fashion statements that are worth remembering and conversing about. All through these years, we have seen the queen be regal, modest and yet modern at the same time. Throughout her reign, Elizabeth remained loyal to British designers, Norman Hartnell and Stewart Parvin. Today, in this article we will be looking at the 5 iconic fashion outfits of the queen.
In 1947, Elizabeth had a stylish wedding with the naval officer, Prince Philip. She was only 21 years old and still a princess at that time. Her extraordinary wedding dress was designed by British couturier Norman Hartnell and it was called 'The Gown'. The designer was inspired by the famous Italian artist Sandora Botticelli's painting 'Primavera'. According to royal sources, the specific wedding dress was made within only three months of mandate. More than 350 women worked to complete the embroidery, within that short period of time. The dress was made purely of Chinese silk and decorated with 10,000 American pearls. It is said that Elizabeth, did not try- out her wedding dress until the very day of her wedding.
In 1953, she wore a white satin gown and red velvet ropes at her coronation, which took place at the Westminster Abbey. The iconic coronation dress was also designed by Norman Hartnell in 1952, after nine trial designs, which were rejected by the 'soon-to-be-queen'. All the materials of the 'coronation dress' were produced in Britain, the silk was made in Kent and later woven in Essex.
The queen, often dressed in the same colour, from head to toe, eventually gave birth to the monochrome look, which became one of her most famous 'signature looks'. In 1999, at a particular royal event, Elizabeth wore a multicoloured, sequin dress and the paparazzi couldn't stop clicking her pictures. That very dress made the headlines the next day and is still considered one of her most controversial dresses of all time.
At Prince Charles and Lady Diana's wedding, the queen wore a three-quarter-length beautiful turquoise dress and a coordinated hat. She completed her look with her traditional pearl neckpieces and a trademark brooch. It was considered the next big royal wedding after her own.
On many regular occasions we have witnessed the queen, dress casually with the same easy elegance. Most of the time, she was seen in quintessential English leisure wear, especially while driving her favourite car or riding horses. The queen flaunted this comfortable look along with her wellington boots, floral headscarves and quilted outerwear.