Third certificate course on genocide and justice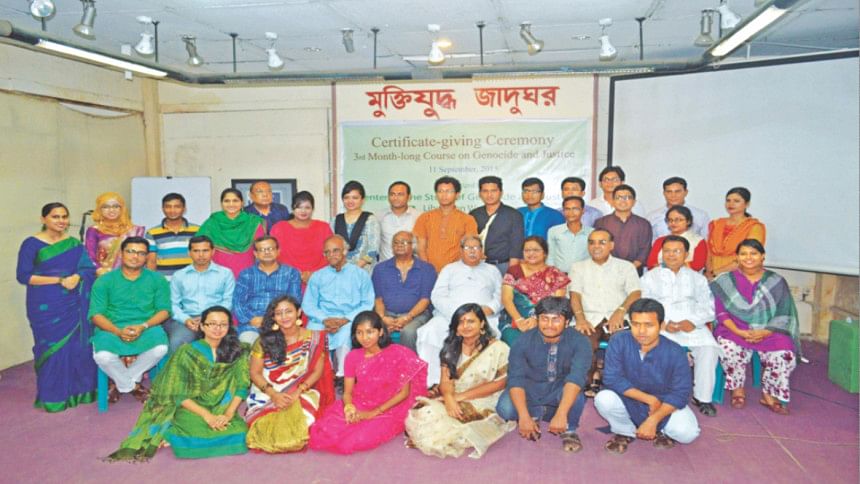 On September 11, 2015, the Center for the Study of Genocide and Justice (CSGJ), Liberation War Museum arranged the certificate giving ceremony for the completion of its third Certificate Course on Genocide and Justice.
On behalf of the Liberation War Museum, the trustee, Mr. Ziauddin Tariq Ali welcomed the guests and participants in the closing ceremony and also congratulated the participants on their successful completion of this course. Ms. Umme Wara, Lecturer at the Criminology department, University of Dhaka, and Coordinator of CSGJ, briefed the audience about the mission and vision of CSGJ, while the volunteers of this center, shared their views.
"My aim of joining this course was to enrich my knowledge regarding this crucial issue that is Genocide; not only observing the legal aspects but also learning other criteria that acknowledge the crimes as genocide. At the completion of this course, now I succeeded in gathering vast ideas on Genocide and the process of ensuring justice to a greater extent", said Nusrat Jahan, a participant of this course and a law student from Dhaka University.
The Chief Guest of the ceremony as well as the Director of CSGJ, Professor Emeritus Anisuzzaman, along with Mr. Mofidul Hoque, trustee of the museum and the Director of CSGJ handed over the certificates to the participants. Md. Mahboob Sobhani was awarded as the Best Participant.
A number of 26 participants attended this month-long course including university students and teachers, Special Judicial Magistrate, journalist, researcher, officials from the civil aviation and the air force. Professors, prosecutors, researchers etc, the resource persons of this course, were also present in this occasion.
The event was covered by Naureen Rahim, Masters Student at the Department of Criminology, University of Dhaka.