Redress against domestic violence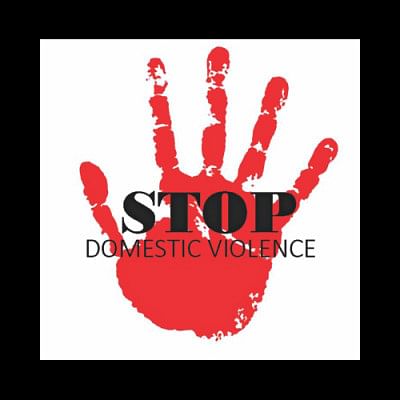 Few days ago, I came across this video in Facebook where a middle-aged man hits his wife repeatedly on a train. It was, arguably, in India. Though the voice was inaudible, it was apparent that the woman got beaten because of disobeying her husband's order. From the swollen eyes of that woman, you do not have to be Sherlock Holmes to figure out that this was not the first time she had been hit. Although the incident took place in India, it is undeniable that the same does not happen in most households of Bangladesh. Despite rampant campaigns, articles written, books published, movies made and what not, the problem persists.
Women face all kinds of violence ranging from dowry killings, marital rape, sexual harassment, acid attacks, trafficking etc. Quite shockingly, these are often committed by their husband, brother, in-laws or other close relatives. This is why the bruises hurt more, more than if the perpetrator was a stranger. According to Ain O Shalish Kendro, in 2016 alone, 191 women have been murdered by their husbands.
If we remember Rumana Manzur, who was a teacher of Dhaka University became blind after her husband, Syeed Hasan, allegedly gouged her eyes out with his fingers and chewed part of her nose off in front of their young daughter, as young as five years old, during a bitter argument over her education in 2011. Girls who witness violence against their mothers either end up being psychologically distorted or accept violence as a natural consequence of marriage.
The fact that domestic violence is illegal is known to more people today than it was even a few years ago. Even then the women are scared to lodge complaints. Some even defend their husbands and consider the matter as 'private'. Women who seek legal redress either end up reaching a family negotiation or get frustrated by the legal intricacies.
Bangladesh enacted the Domestic Violence (Prevention and Protection) Act in 2010 to address this issue. The Act has defined 'domestic violence' as 'physical abuse, sexual abuse or economic abuse against a woman or a child of a family by any other person of that family with whom the victim is, or has been, in a family relationship'. It does not only contain physical and sexual sufferings but it goes on to include economic and psychological sufferings too.
This means depriving the victim of any economic or financial property/resources (e.g. dowry, alimony, movable or immovable assets) to which the victim is entitled by virtue of any law, custom, family relationship etc shall constitute domestic violence. On the other hand, verbal abuse, harassment and even controlling behavior such as putting restrictions on movement, communication or self-expression also do amount to violence of domestic nature.
As soon as the police receive a complaint of domestic violence, it is under a statutory duty to inform the victim of her rights and ensure her safe custody. The victim may file a complaint straightaway, obtain medical services, free legal support as well as have access to a shelter home. 
The 2010 Act empowers the Courts to issue a wide variety of orders including an interim protection order, protection order, residence order, compensation order and custody order. Upon filing an application with the Court, the Court may issue an interim protection order along with a show-cause notice against the culprit. The interim order can be obtained even in the absence of the suspect or the alleged criminal. Interim protection order is a temporary order valid for a limited period of time, usually, till the hearing of the case. Once the Court has determined that domestic violence has indeed taken place, it can issue a protection order which restrains the defendant/attacker from committing any further act of domestic violence, from entering the victim's place of work/business, from making any kind of contact with the victim etc. Breach of protection order can lead to imprisonment extending up to six months or fine up to Taka 10,000 or both and repetition is punishable with imprisonment up to two years or fine up to Taka 100,000 or both. 
The Court can even issue a residence order in favor of the victim in which case the defendant will be restrained from staying in the same place where the victim resides, or direct the respondent to arrange alternative accommodation for the victim. Further, if there is any personal injury or financial loss or trauma or psychological damage or damage to movable or immovable property belonging to the victim or in which she is entitled to, the Court can pass a compensation order against the defendant. The Court may, as well, pass an order against the defendant for the maintenance of the victim and her children (if any). With regards to custody orders, the Court may grant a temporary custody of any child or children of the victim to the victim. However, it is particularly important to note that any false complainant is liable to be punished under the same law.     
Women need to be aware of their rights protected by the law. Many might blame the legal system, but it is mostly our attitude that requires change. Next time you face or come across anyone who has faced or is facing domestic violence, dial 10921. It is a 24/7 helpline for Violence Against Women and Children in Bangladesh. Various legal and other rehabilitation services are provided by the helpline, including rescuing victims in case of emergency through law enforcement agencies. Law can only provide assistance when sought. If you regard the problem to be 'private', you will regret when it continues in 'public'.
The writer is a practising Barrister.