Law Event
University of Dhaka, the national champion of Jessup 2019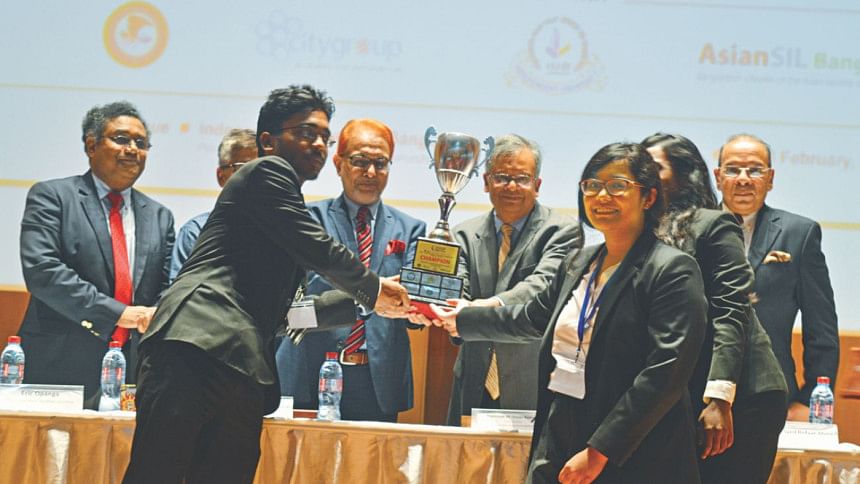 From the 31 participating teams, University of Dhaka emerged as the champion of Jessup Bangladesh 2019, and Eastern University as the runner-up team.
Jessup Bangladesh is the national round of the Philip C. Jessup International Law Moot Court Competition. It is the fifth largest qualifying round globally. The 3rd Bangladesh Qualifying Round 2019 was held at Independent University, Bangladesh from February 21-23.
International Law Students Association Bangladesh (ILSA) in association with the Office of Overseas Prosecutorial Development Assistance and Training (OPDAT) - US Department of Justice (DoJ), TEER- City Group, Independent University, Bangladesh, and Bangladesh Chapter of the Asian Society of International Law (AsianSIL Bangladesh), jointly organised the competition in Bangladesh.
The champion team from University of Dhaka bagged both the Best Mooter and Best Memorial award in the competition. On the other hand, BRAC University and Jagannath University were respectively awarded the Second Best Memorial and Third Best Memorial awards. North East University and Northern University were jointly recognised with the Spirit of the Jessup Award. Jahangirnagar University was announced the Best New Team.
The Attorney General for Bangladesh, Mahbubey Alam declared the competition open on 21st February held at the Amari Dhaka. Mahbubey Alam was the Chief Guest in the inauguration ceremony. The final rounds and closing of the competition were held on February 23.
Judges of the final round Mr. Justice Muhammad Imman Ali, Hon'ble Judge of the Appellate Division of the Supreme Court of Bangladesh, Mr. Justice Syed Refaat Ahmed and Mr. Justice Mamoon Rahman, Hon'ble Judges of the High Court Division of the Supreme Court of Bangladesh graced the closing ceremony. They were impressed with the performance demonstrated by the participants and all highly appreciated the noticeable participation of female law students in the competition.
In the closing ceremony, Mr. Eric Opanga, Resident Legal Advisor, US Department of Justice, OPDAT, US Embassy Dhaka; Mr. Md. Forhad Hossain, Head of Sales of City Group; and Professor M. Omar Rahman, Vice Chancellor, Independent University, Bangladesh were present. They commended the competition for providing a platform that helps the law students develop and harness their skills.
Mr. Nuran Chowdhury, National Coordinator, Bangladesh Chapter, ILSA greeted everyone in a video message. He shared how Jessup Competition had started in Bangladesh. Mr. A S M Sayem Ali Pathan, Advocate, Supreme Court of Bangladesh & National Administrator of Jessup Bangladesh National Round, 2019, declared the names of the award winning teams. The closing session was chaired by Professor Dr. Borhan Uddin Khan, Advisor, Department of Law, IUB and President, AsianSIL Bangladesh.
Jessup moot court competition gathers law students from more than 100 countries in the international round of Washington DC. The two finalist teams of the Bangladesh qualifying round will be participating in the international round of the 60th Philip C. Jessup International Law Moot Court Competition.
The event was covered by Raihan Rahman Rafid, a student of law, University of Dhaka.