After Mass Arrest: Sad faces dot court premises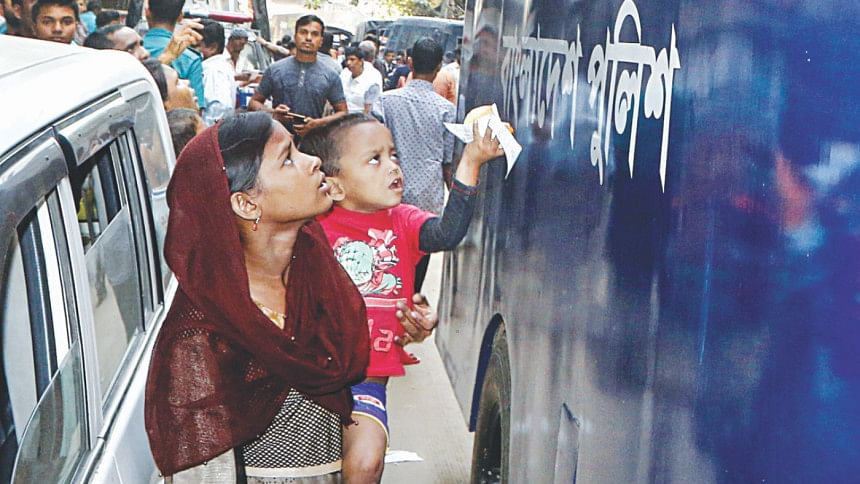 Around noon yesterday, prison vans entering the court premises rang alive with party slogans being shouted by those inside.
Between 11:30am to 2:00pm, five of these vehicles carrying 20-25 people each arrived.
Around 50 family members of the prisoners thronged the court premises hoping to spot them and speak to them.
The anxious faces all around contributed to the gloom that hung over the court premises.
Three-year-old Sohan (not his real name), was calling out to his father who was in one of the vehicles. Sohan offered him a piece of cake but the helpless father could do nothing but stare out at him.
Elsewhere, an exhausted 55-year-old mother Rowshan Ara was running after a prison van after spotting her son in it. Her efforts were in vain as the vehicle sped away before she could get a chance to speak to her son.
Meanwhile, Rana, a relative of an arrestee, claimed his family had been passing a terrible time for the last 18 days as his younger brother Jubayer Alam Reza, an organising secretary of Bangshal Thana unit Chhatra Dal, had gone missing.
Only yesterday morning, the family came to know about Reza's arrest after Wari police produced him before the court showing him arrested in a previous case. The court then sent him to jail.
The family alleged that Reza was picked up from Dhaka University's TSC area around 18 days back.
Contacted, Wari Police Officer-in-Charge Shah Azizur Rahman refused to comment on the matter over phone.
Like Reza, many others were also arrested in "political cases" filed between September and November. According to court sources, they were arrested in cases filed with 27 police stations in Dhaka on charges that include attacking police with brick chips, illegal assembly, creating obstacles to police duties, creating anarchy and attempt to murder.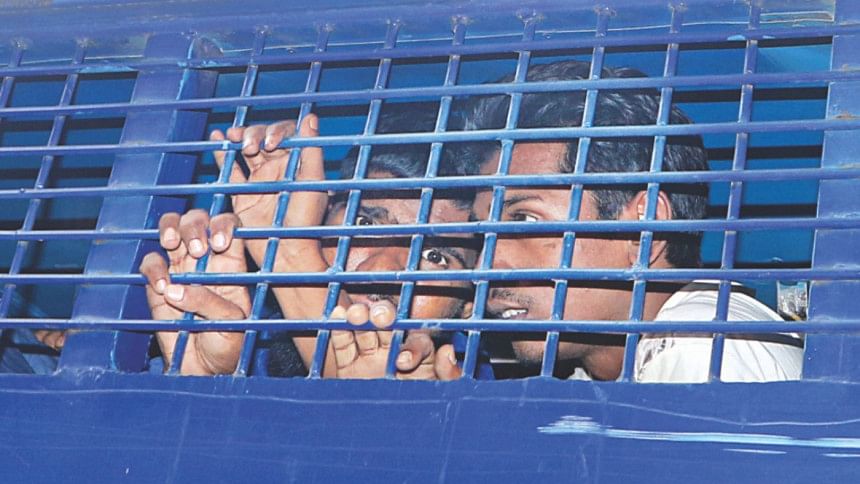 Despite the serious nature of these charges, no such incident was reported and no signs of such activities were found after visiting different places across the city.
At the hearings yesterday, people were produced before the courts after the end of their remand period while others were produced to be show arrested in previous cases, said family members and lawyers.
Juba Dal leaders Hasan Uddin Ahmed Sohel, Arifur Rahman Jane Alam, Jumman, and Chhatra Dal leader Sheikh Imran Khan were among the arrestees, for whom their lawyer Advocate Rafiqul Islam Khan was seeking bail.
Khan said that securing bail had become the toughest job to do now as people were being shown as arrested in previous cases before police produced them before the court.
Some family members said that also people with no political affiliations were being picked up.
Almas, 32, a garments worker, was picked up on the day of the Jatiya Oikya front rally. He was picked up from Jatrabari area while going to Mirpur with his mother for a medical check-up.
"Police told us that they found a banner with my brother [Almas]. He was never involved with politics. How did they [police] charge him in a political case?" asked Nurul Huq, Almas' younger brother.
The spree of arrests continued last week as police picked up BNP leaders and activists across the country despite assurance by the government that there would be no political arrests.
The police action has triggered panic among the BNP men as they have already been accused in different "political cases". The cases were being filed against those who held party posts or had distributed posters and banners of themselves.
On November 6, law enforcers picked up at least 372 people on different charges before and after the Oikyafront rally in the city's Suhrawardy Udyan. Many of them were put on remand after being produced before different Dhaka courts.