Partisan officials out to ensure AL win: BNP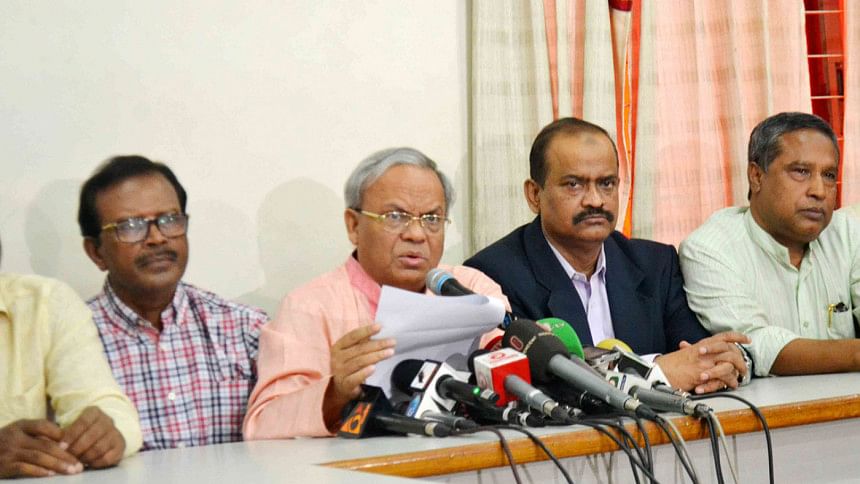 The BNP yesterday alleged that "partisan" and "controversial" officials of the police and civil administrations are regularly holding 'clandestine' meetings to ensure Awami League candidates' win in the upcoming general election.
"The officials of the police and civil administrations are conspiring to put unpopular Awami League in power again," said BNP Senior Joint Secretary General Ruhul Kabir Rizvi.
He came up with the allegation at a press conference at BNP's Nayapaltan central office.
The BNP leader said they came to know that police and admin officials held a secret meeting on Tuesday at the Officer's Club conference room for two and a half hours and reviewed the election engineering plan of the ruling party.
Rizvi claimed that Prime Minister's Office Secretary Sazzadul Hasan, Pubic Administration Secretary Faiz Ahmed, EC Secretary Helaluddin Ahmed, Water Resources Secretary Kabir Bin Anwar, Civil Aviation Secretary Mohibul Haque , Dhaka Divisional Commissioner and Dhaka city returning officer Ali Azam, PM's APS-1 Kazi Nishat Rasul and officials of police , Rab, DMP and counterterrorism unit were present at the meeting .
At the meeting, Rizvi alleged that the officials discussed that Awami League candidates' victory is certain in 33 seats while there will be strong fights in 60-65 seats. "But it won't be possible to ensure their victory in the rest of the seats without election engineering."
Under the circumstances, he said, they decided that the Election Commission would seriously refrain from extending cooperation to the BNP and Jatiya Oikyafront during the election without reshuffling the administration.
The BNP leader also claimed that the meeting chalked out a plan to create a situation by intensifying the drive against opposition leaders and activists and making some candidates disappeared so that BNP and its alliances are forced to stay away from the election.
Rizvi said the officials also made a plan to carry out serious repressive acts on opposition leaders and activists if Oikyafront remains there in the polls till the voting day so that the supporters of the 'Sheaf of Paddy' do not dare go to polling stations.
"They also made a plan to stage a coup through media if they fail to resist voters, and then take the situation brutally under their control," he added.
He said though they submitted a list of partisan officials to the EC and informed the Commission about their illegal activities, the Commission is yet to take any action against them.
The BNP leader renewed their party's demand for withdrawing the controversial officials from the election duties and different important posts.
Meanwhile, in response to a query on a BNP's claim that the EC secretary attended a secret meeting of Awami League, Rizvi said, "It's totally a false propaganda. I strongly condemn it."
In reply to another question whether the EC will take actions against this propaganda, he said, "I'll place it in tomorrow's [today] Election Commission meeting, and the commission will take decision."