JS passes Tk 46,516.11 crore supplementary budget for FY 2019-20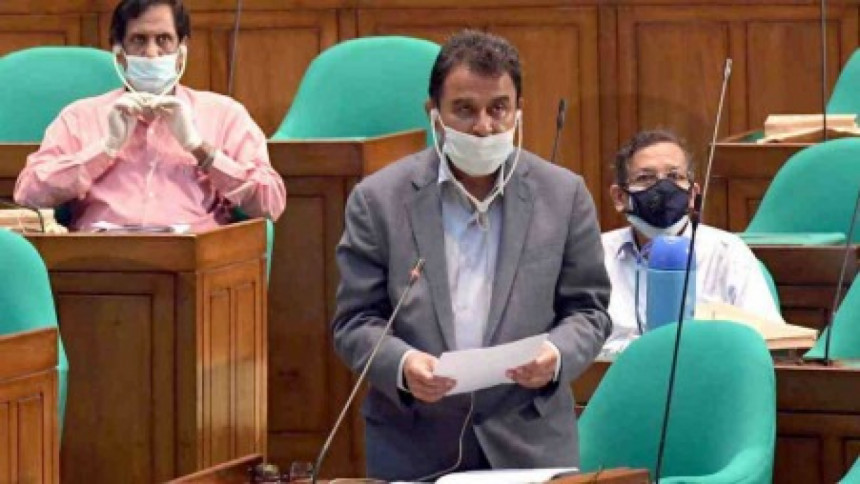 The Jatiya Sangsad today passed the supplementary budget of Tk 46,516.11 crore for the 2019-20 fiscal year to meet additional expenditures under different ministries and departments in the outgoing fiscal year.
Finance Minister AHM Mustafa Kamal placed the supplementary budget in parliament on June 11 along with the national budget for 2020-21 fiscal.
The finance minister today moved the supplementary budget to parliament following a general discussion on it.
A total of 167 cut motions were moved by 10 MPs. However, discussions were held only on two cut motions -- on Social Welfare Ministry and on Disaster Management and Relief Affairs Ministry -- as per the consent of the treasury and opposition bench MPs.
The cut motions were brought by Jatiya Party MPs Kazi Firoz Rashid, Mujibul Huq Chunnu, Pir Fazlur Rahman, Fakhrul Imam, Rowshan Ara Mannan, Shamim Haider Patwary and Liaquat Hossain Khoka; BNP MPs Harunur Rashid and Rumin Farhana, and Gonoforum MP Mukabbir Khan.
Those cut motions were, however, rejected by voice votes.
According to the budget document, Tk 523,190 crore was allocated in favour of 62 ministries and divisions for the 2019-20 fiscal.
However, in the supplementary budget, allocations for 26 ministries and divisions have been increased by Tk 46,516.11 crore while Tk 18,353.97 crore were reduced for 35 ministries and divisions.
The Finance Division got the highest allocation of Tk 36,356.45 crore while the CHT Affair Ministry the lowest Tk 1.54 crore.
In his concluding speech on the supplementary budget in parliament, AHM Mustafa Kamal today said in the wake of COVID-19 pandemic, the proposed budget for 2020-21 this time put the priority on saving people and their livelihood from this deadly virus.
Terming this budget as a budget for all, the finance minister said, "This is not only an economic budget but also a humanitarian budget. We'll have to save all."
Unlike previous years, he said that this time the government would spend first to save people and then think about the revenue collection.
The finance minister also urged all to come forward to implement the budget based on consensus.
About the supplementary budget, he said the government re-fixed the revenue collection, expenditure and deficit targets this year following the economic shock caused by global Covid-19 pandemic.
"We've revised the GDP growth estimate at 5.2 percent down from the target of 8.2 percent (in the outgoing fiscal year). Even if it (5.2 percent) is achieved, it will be the highest growth among the South Asian countries," he said.
The finance minister said additional Taka 3,605 crore was allocated against the Health Service sector, Disasters Management Ministry, Security Services Division and Defense Ministry to face the coronavirus disaster.