#Metoo in India: Akbar to testify before court on October 31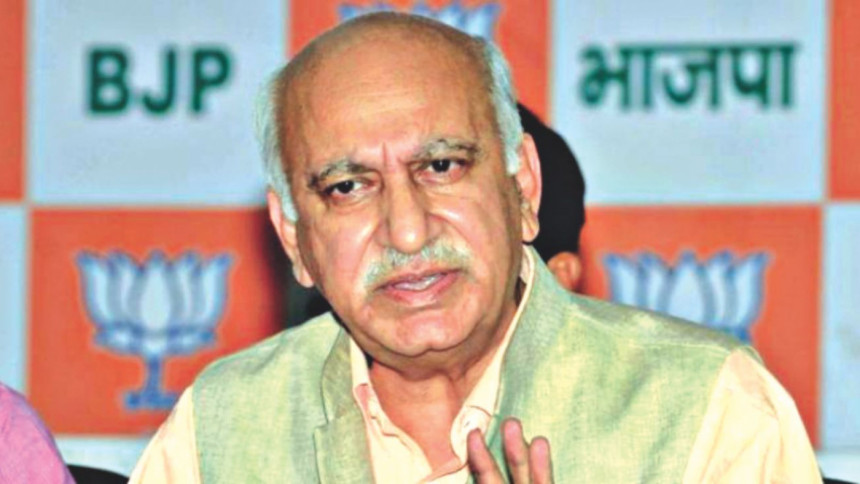 A Delhi court yesterday asked India's former junior minister for External Affairs M J Akbar to testify before it on October 31 in the criminal defamation complaint he filed against his former journalist-colleague Priya Ramani who has accused him of sexual misconduct around 20 years ago.
Additional Chief Metropolitan Magistrate Samar Vishal heard the submissions of senior advocate Geeta Luthra, representing Akbar, that the "controversial" tweets and similar social media posts of Ramani have cause irreparable loss to his reputation built over 40 years.
"Let the matter be fixed for examination of the complainant (Akbar) and his witnesses for October 31," the magistrate said.
Geeta referred to the sequence of events and said Akbar has resigned from the post of Minister of State for External Affairs due to these allegations and this showed the extent of damage caused to his reputation.
She also referred to Akbar's reputation as a journalist and sought judicial intervention in the matter by taking cognizance of his complaint.
As per the Code of Criminal Procedure (CrPC), the court would now record the pre-summoning evidence and statement of Akbar and other witnesses, referred to in the complaint, and would ask Ramani to face the trial if it is satisfied that there are prima-facie substance in the complaint.
Akbar on Wednesday had tendered his resignation after making it clear that he had filed the case in his "personal" capacity and would fight it out in the court of law.
"Since I have decided to seek justice in a court of law in my personal capacity, I deem it appropriate to step down from office and challenge false accusations levied against me, also in a personal capacity. I have, therefore, tendered my resignation from the office of Minister of State for External Affairs. Akbar said in his resignation letter.
 Akbar had on Monday had filed the criminal defamation complaint against Ramani alleging she "wilfully" and "maliciously" made imputations against him with the ulterior motive of maligning his reputation and political standing.
Expressing her readiness to fight the defamation allegations, Ramani had said, "rather than engage with the serious allegations that many women have made against him, he (Akbar) seeks to silence them through intimidation and harassment."
Akbar's plea had listed alleged defamatory imputations made by Ramani on social media and also referred to his "long and illustrious" career as a journalist while terming the allegations of Ramani as a "figment of her imagination".
It had claimed that the woman journalist "intentionally put forward malicious, fabricated, and salacious imputations to harm the reputation of the complainant".
If convicted of defamation under Section 500 of the Indian Penal Code , the law provides for two-year jail term or fine or both for the convict.
Akbar's name had cropped up in the social media campaign #Metoo against alleged sexual harassment when he was in Nigeria.
The 20 women who accused Akbar of sexual harassment, included Ghazala Wahab, Shuma Raha, Anju Bharti and Shutapa Paul.