Suicide 2nd highest cause of death in people aged 15-29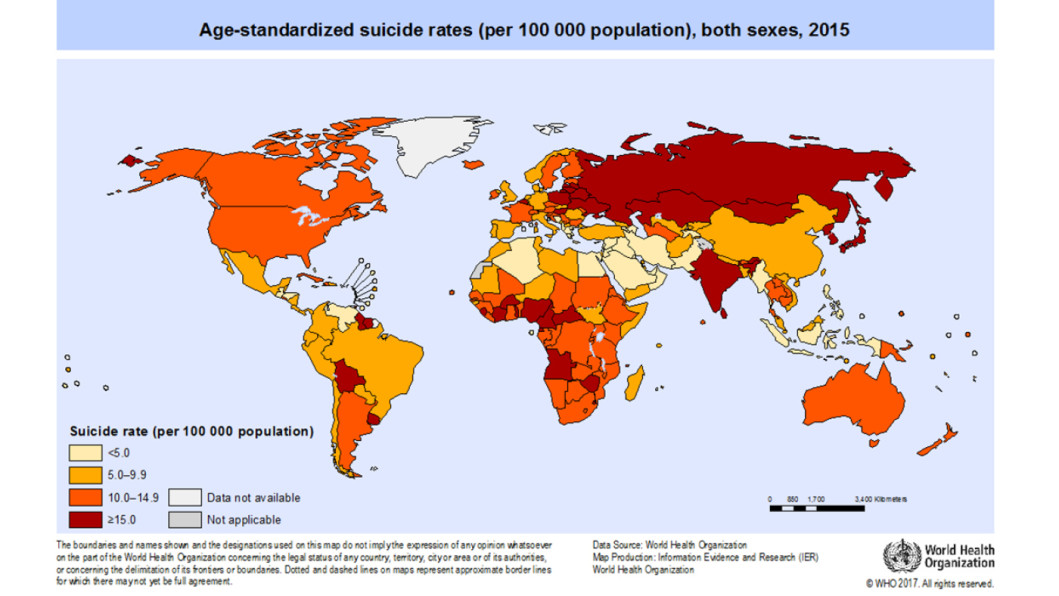 The recent deaths of fashion designer Kate Spade and celebrity chef Anthony Bourdain have cast a spotlight on a jarring spike in suicides worldwide and on the importance of confronting the issue.
More than 800,000 commit suicide annually around the world and suicide is listed as the second highest cause of death among people between the ages of 15 and 29, according to the World Health Organization (WHO).
In the United States, 45,000 people took their own lives in 2016, a worrisome increase of nearly 30 percent since 1999.
"It is difficult to explain, but this may be due in part to the opioid epidemic and economic factors that may have a stronger impact in the US than other developed countries because we do not have as comprehensive a protective health and social safety net as most European countries," said David Brent, a psychiatry professor at the University of Pittsburgh.
Richard Friedman, a professor of clinical psychiatry, said in an op-ed piece in the New York Times that "the prevalence of suicide has fluctuated over time, often rising during periods of social strife" as was the case in 1932, during the Great Depression.
"The real question is why our society has made so little progress in dealing with the public health crisis of suicide," he wrote. "In fact, the suicide rate last year - 13.7 per 100,000 people - was nearly the same as the rate a century earlier."
"We should declare war on suicide - just as we've done with other public health threats like HIV and heart disease - and give it the research and clinical funding needed to beat it," he added.
Developing countries most affected
Countries riven by conflict, such as Sri Lanka, are among the most affected, while South Korea and Japan are on the top of the list of industrialised countries dealing with high suicide rates.
Someone who has experienced war, a natural disaster, violence or sexual abuse has a higher likelihood of committing suicide, according to the World Health Organization.
In France, the suicide rate has plunged by 26 percent over the last 15 years to 10,000 a year, but remains one of the highest in Europe.
While the recent deaths of Spade and Bourdain have cast the spotlight on suicide in developed countries, the WHO says that more than three quarters of suicides take place in developing countries.
The majority of those who take their own life suffer from a mental health issue such as depression or anxiety, US health officials say, but other factors include loneliness, the loss of a job or a loved one and the breakup of a relationship.
All levels of society and age groups are affected, they add.
Young people, who can be influenced, are more vulnerable to copycat suicides, especially after a celebrity takes his or her own life.
People in certain professions, including the military and farming, are also more affected as are ethnic and racial minorities.
'Reached out for help'
Experts say that suicide is often not preceded by warnings and is a shock to families and loves ones who didn't see it coming.
Bourdain belonged to a "strong man doesn't ask for help generation," the actress Rose McGowan, who was friends with the chef and his girlfriend Asia Argento, said in an open letter following his death.
"I know before Anthony died he reached out for help, and yet he did not take the doctor's advice," she wrote.
Experts note that medical monitoring and psychotherapy often help in such cases.
The proper training of medical and emergency personnel is also essential, they note, as people who survive a suicide attempt are at high risk to try again.
"I think my mom has been the most consistent in coming to my rescue and helping me take steps to seek light," said Ben, a veteran who left the army nine years ago and has since been dealing with suicidal thoughts.
"I have also had direct access to a social worker at the Veterans Affairs for the past nine years and have exerted a lot of effort exploring and reaching positive outcomes with self-help and mindfulness practices."
The WHO has underlined that access to firearms has been associated with increased suicide rates.
Health officials in the United States say that suicide rates are significantly higher in areas where people own guns and that 22,000 suicides a year are related to firearms.