Remain independent in the activities of daily living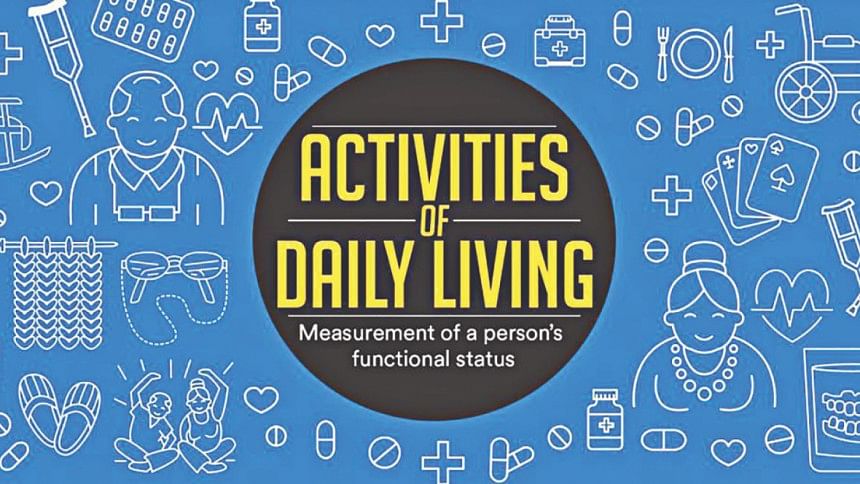 Activities of Daily Living (ADL) is very important for every person in their personal lives. There are three types of ADLs we do in our daily routine like i) self care, ii) productivity; and iii) leisure.
Self care: Self care means the activities of own self like dressing, eating, toileting etc.
Productivity: Productivity means job related work. Productivity varies from person to person like teacher, doctor, social worker and so on. Occupation is also varying from age to age. It is very important issue for every person.
Leisure: Leisure is an important thing for refreshing a person's mind. We cannot think about living without leisure. It also varies from person to person according to one's personality. Such as someone likes to collect stamp, someone likes to watch television or listening music. So, it can be different according to personal interest.
Occupational therapists are the only professionals who work to make a person independent in their day to day activities. They assess by using a Functional Independence Measure (FIM) scale.
Then occupational therapist analyses every activity like eating, dressing, grooming etc. According to assessment, therapists identify problems and make the treatment plan in collaboration with the patient and their caregivers. According to the treatment plan, therapists implement the treatment technique and evaluate the treatment.
Which patients have ADL problem?
Any person who can not fit mentally, physically, socially and environmentally having problem to do their daily activities are candidate for this treatment. There are many disorders where patients have problem in ADLs. These disorders are given below:
Neurological condition: Stroke, head injury, Spinal Cord Injury (SCI), GBS, Parkinson's disease etc.
Paediatric conditions: Cerebral palsy, autism, Attention Deficit Hyperactive Disorder (ADHD), Down syndrome, club feet, spina bifida, intellectual disability etc.
Musculoskeletal disorders: Fracture, arthritis, amputation, burn, low back pain, neck pain etc.
Psychiatric conditions: Anxiety, depression, schizophrenia, obsessive compulsive disorder, drug addiction etc.
What type of help patients get from an occupational therapist?
Occupational therapists can help in bathing/showering, toileting and toilet hygiene, dressing, eating/swallowing, feeding, functional mobility, personal device care, personal hygiene and grooming, care of others, child rearing, communication management, driving and community mobility, financial management, health management and maintenance, home establishment and maintenance, meal preparation and clean up, religious and spiritual activities and expressions, safety procedures and emergency responses, shopping, rest and sleep, education, work, play,  leisure, social participation etc.
Treatment process
Occupational therapists maintains a treatment process during treatment sessions. These include assessment, problem identification, treatment plan, treatment implementation and evaluation.
Treatment procedure may vary from settings to settings. Occupational therapists provide treatment with combination of physical, emotional and cognitive intervention. These treatments include:
Neuromuscular re-education
Manual therapy techniques
Therapeutic activities
Development of cognitive skills
Sensory integrative techniques
Self-care/home management training
Community reintegration training
Wheelchair management
Debridement of wounds
Assistive technology assessments
Development screening
Emotional/behavioural assessments
Occupational therapy is very important and scientifically effective for the patients. To make the patients functionally independent, occupational therapists play a great role. So, if you have any patient like this, then immediately contact with a qualified occupational therapist.
The writer is an occupational therapist at the department of Physical Medicine and Rehabilitation, National Institute of Neurosciences and Hospital (NINS&H), Dhaka. Email: [email protected]