Childhood tuberculosis getting more attention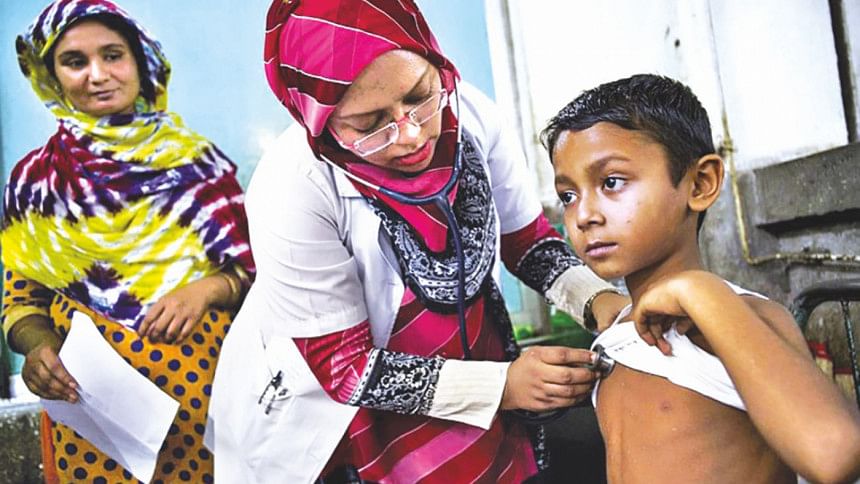 Tuberculosis (TB) in children is a neglected aspect of the TB epidemic. Even though TB is a preventable and curable disease, it continues to impact the lives and development potentials of millions of children.
According to the World Health Organisation (WHO), an estimated 1 million children became ill with TB globally in 2017 and out of these 35,000 were estimated to be in Bangladesh. In 2017 globally 233,000 children died of TB and about 96% of these deaths are in children who did not access any TB treatment. However, the actual burden of TB in children is likely to be higher given the challenge in diagnosing childhood TB.
Childhood TB still remains a major challenge for Bangladesh. The trend of missing cases is even more alarming in Bangladesh. According to the National TB Control Programme (NTP) statistics, 68% of the estimated child TB remained missing in 2018.
Infants and young children are more likely to develop life-threatening forms of TB than older children and adults due to their immature immune systems. Therefore, prompt diagnosis is extremely important. With funding from the United States Agency for International Development (USAID), the Challenge TB Project in Bangladesh is supporting the NTP in many areas of active urban TB management including special focus on childhood TB identification, diagnosis and treatment.
The Challenge TB Project provided technical support to NTP to establish few specialised centre for diagnosis and treatment of childhood TB at selected hospitals with funding support from USAID.
Setting up specialised shild TB centre was an overdue fundamental step to address the problem. These facilities have been performing active case finding activities among the children visiting the outpatient department of the centre using an android mobile phone-based electronic screening tool.
These child-friendly specialised facilities are well-equipped with efficient specimen collection procedures and trained staff for collection of specimens. The centres are linked with a dedicated child TB ward at the in-patient for admission of children who requires close treatment monitoring and also with in-house molecular diagnostic facility (called GeneXpert test) for TB. The GeneXpert test is a molecular test for TB, which diagnoses TB by detecting the presence of TB bacteria, as well as testing for resistance to the drug Rifampicin.
The availability of advanced diagnostic tests within the same hospital premises make diagnosis of childhood TB easier and foster identification of more childhood TB patients. Also, the facilities serve as a referral centre for other public and private facilities, which help in bringing more patients to this facility for improved diagnosis and management.
In the era of sustainable development, the renewed emphasis in health and development work of the government of Bangladesh is now to ensure the well-being and quality of life of all of its citizens including children. Thus, the National Strategic Plan for TB 2018-2022 for advancing WHO's End TB Goal by 2035 in Bangladesh has included the prevention and treatment of childhood TB as a national priority agenda.
Further, the United Nation's Sustainable Development Goals (SDGs) include not only 'reducing child mortality' but also 'achieving universal and equitable access to health care for all'. Specialised child TB centre will create an effective platform to support diagnosing and treating more missing children with TB. It is a crucial stride in tackling childhood TB burden in Bangladesh.