Black rice: the latest superfood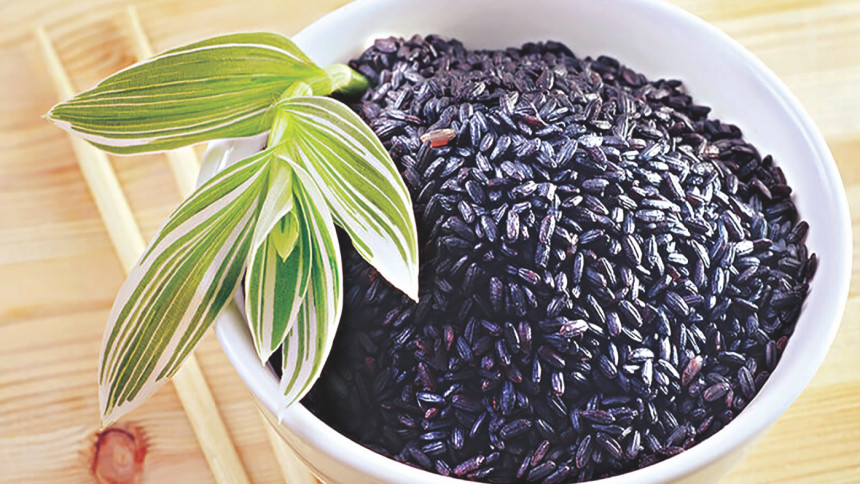 Black rice is being called a superfood for being rich in nutrients. It is also called forbidden rice or 'emperor's rice', because in ancient China this rice was secretly cultivated and was consumed only by the emperor to ensure his health and longevity, and the common people were forbidden from growing or consuming it for them, hence earning its name as the forbidden rice. However, it is no longer forbidden and for its health benefits, it has gained attention worldwide. It is now being cultivated in the district of Cumilla and many other parts of Bangladesh.
Black rice owes its dark colour to a range of naturally occurring compounds called 'anthocyanin' (the same agent found in blackberry and acai). Anthocyanins are a class of extraordinary beneficial agents that reduce the ageing of cells, stem inflammation, enhance eyesight, improve many aspects of cardiovascular health and brain function, and help to stabilise blood sugar. It is also a major antioxidant.
This superfood offers hope to those who wish to control their weight. Among the various anthocyanins in black rice, one known as Cyanidin-3-glucoside (C3G) demonstrates an appetite satisfying property by boosting adiponectin and decreasing blood levels of leptin which makes it a satisfying food. Japanese researchers have found that C3G also causes the body to burn stored fat.
Black rice has about 3 grams of fibre per half cup of serving. This fibre helps sugar (glucose) from the grain to be absorbed by the body over a longer duration of time (since fibre takes the longest time to digest), thereby maintaining consistent sugar levels and preventing the risk of diabetes. It also acts as a natural detoxifier.
It contains 8.5 grams of protein in every 100 grams of serving, while brown and red rice contains 8 grams and 7 grams of protein respectively for the same amount of serving. On the other hand, polished white rice contains only 6.8 grams of protein.
Nevertheless, eating black rice may also have a positive impact on your healthy cholesterol levels. The anthocyanins found in black rice reduces the low-density lipoprotein (LDL) cholesterol which is also known as the 'bad cholesterol', a common contributor to cardiovascular diseases. It also brings down the total cholesterol levels. Black rice has been proven to actively reduce atherosclerosis (hardening of the arteries) as well.
Various species of black rice have a delicate and nutty aroma when cooked, and offer a satisfying and complex flavour, making it more than just starch. However, the cooking process of this rice is not similar to the traditional rice; due to its stickiness, black rice requires more time to cook than white rice. Soaking the black rice overnight before cooking can cut down on the cooking time. As a good source of nutrients, Bangladesh should emphasise on the cultivation and production of black rice to eradicate malnutrition from the country.
The writer is a student of Pharmacy at Bangabandhu Sheikh Mujibur Rahman Science and Technology University. E-mail: tawhidislam2021@yahoo.com