Maternal mortality stalled!
It indicates improving quality of care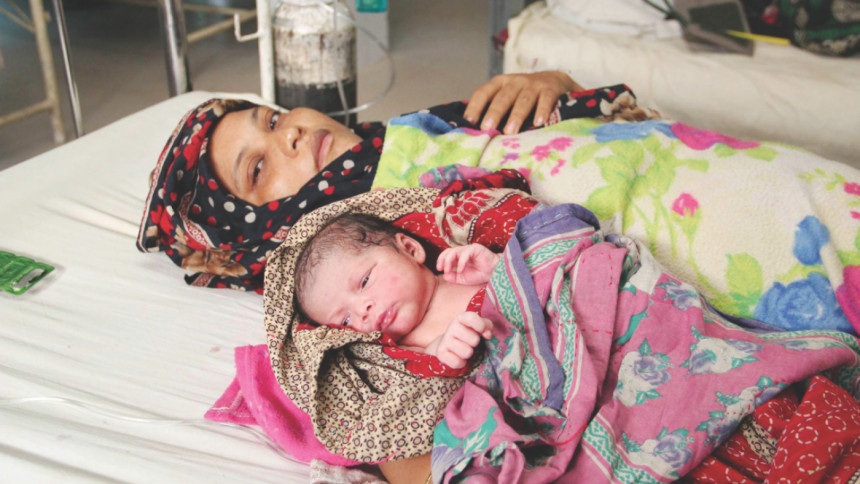 Bangladesh Maternal Mortality and Health Care Survey 2016 conducted by National Institute of Population Research and Training (NIPORT) with the support of Measure Evaluation, International Centre for Diarrhoeal Disease Research, Bangladesh (icddr,b), United States Agency for International Development (USAID), Department for International Development (DFID).
The survey report has presented some striking strengths and weaknesses of the health care delivery system in Bangladesh in their preliminary findings that generated sensation in the health and family welfare sector as a whole.
The findings posed challenges to the claims of the government in attainting successes in the health sector for which the Directorate General of Health Services (DGHS) has instantly contradicted some data as old and expressing their firm conviction that Bangladesh will achieve the targets of Sustainable Development Goals (SDG) 2030 within coming years.
The Maternal Mortality Rate (MMR) stalled during last few years arriving to 196/1000 live births in 2016, almost identical to the estimate of BMMS 2010.  Between BMMS 2001 and BMMS 2010, MMR declined from 322 to 194 per 1000 live births indicating a significant progress whereas since 2010, the findings of 2016 survey indicates a challenge to achieve the target of 105 by 2022 as planned by the 4th The Health Nutrition and Population Sector Program (HPNSP) 2017-2022 and SDG goal of reducing the MMR to 70/1000 live births by 2030. It is quite impossible to bring down the MMR from 196 to 70 by 2030 within next 13 years while facts tell the story of commercial attitude of facilities supported with money earning tendency of services providers.
Besides, delivery by cesarean section increased dramatically from 12% in 2010 to 31% in 2016 indicating to competition to earn money and profit by the facilities offering the opportunities. Cesarean section is becoming a common practice in private clinics accounting for 83% of the delivery whereas in government clinics, it is 35% only. At the same time, facility based care for maternal complications has increased from 29% in 2010 to 46% in 2016.
With this dismal scenario, one very encouraging finding is the remarkable increase of the medically trained personnel reaching to 50% of births are being attended by medically trained personnel in 2016 in comparison to 27% in 2010.
At the same time, the percentage of women receiving the complete continuum of maternity care (ANC, PNC and delivery care) has increased significantly from 19% in 2010 to 43% in 2016. It indicates a better quality of care being delivered in comparison to five years ago which is fundamental to improve maternal health outcomes.
But Bangladesh Health Facilities Survey of 2014 showed substantial deficiencies in the readiness of both public and private health facilities to provide high quality maternity care that contributed much to stall the MMR. Only 3% of the facilities had service readiness to provide quality normal delivery services. The study indicated that only 46% of Upazila and higher level public facilities and 20% private hospitals had at least one staff member who ever received training on Emergency Obstetric Care (EmOC).
Service readiness for maternal care is poorer in private facilities compared to district and Upazila level public facilities. In the urban areas, maternity care is available but beyond the reach of the poor segment of the society and slum dwellers.
With this scenario, it might be very much challenging to achieve the SDG goal 3 which is to ensure healthy lives and promote well-being at all ages with 9 targets to attain by 2030. This study in fact has indicated the government to review their strategy and get prepared much well ahead of time to achieve the targets of SDG goal 3 by 2030.
The writer is a former advisor to the caretaker government.
E-mail: dknath888@gmail.com