Lead, pesticides in milk
Finds govt survey; 96pc raw milk, 66-80pc packed milk do not fulfill standard safety criteria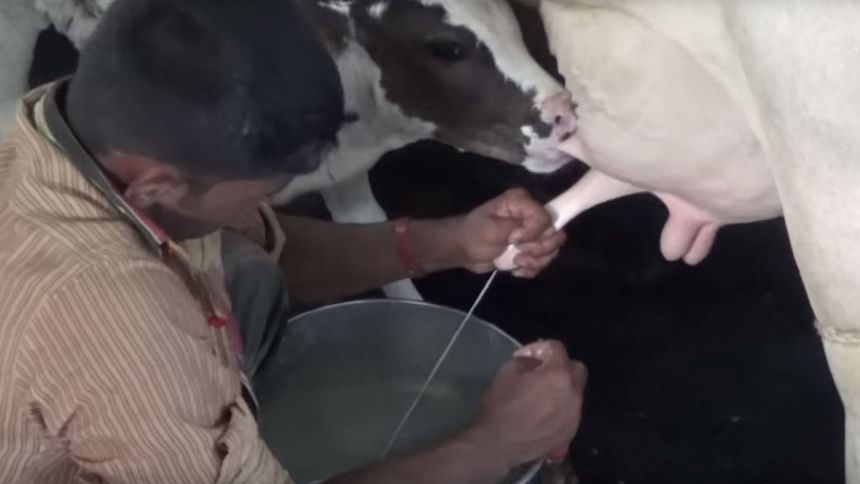 A government-commissioned study has found in raw cow milk excessive levels of lead, regular consumption of which is harmful to human health.
Conducted by the National Food Safety Laboratory of the Ministry of Health and Family Welfare, the study also detected high levels of chromium in cow feeds.
Besides, it found excessive presence of pesticide, antibiotic and bacteria in raw cow milk.
"Heavy metals found in milk basically came from cattle feeds, while pesticide is present because of its excessive use in grass and other agricultural feeds," Prof Shahnila Ferdousi, head of the National Food Safety Laboratory (NFSL), told The Daily Star.
"This happens mostly due to the lack of awareness among farmers and feed manufacturers," she said.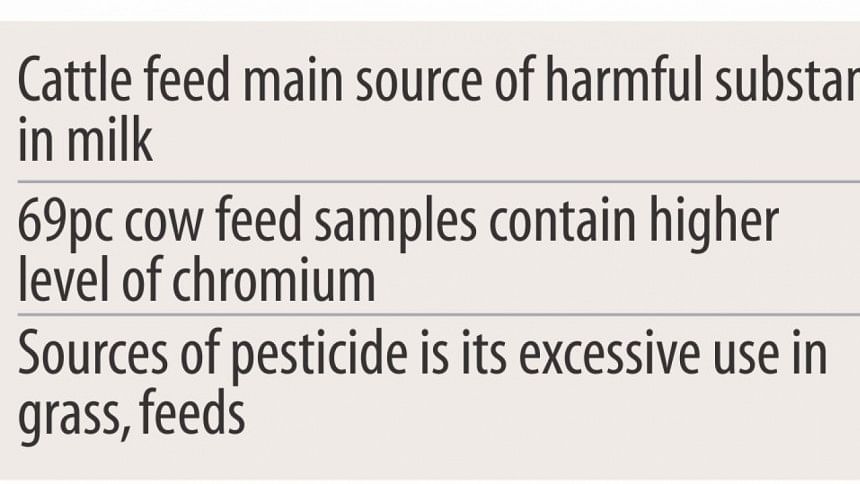 The study was conducted after collecting 96 samples of cow raw milk, 30 of cow feed, 33 of curd and 31 of packed milk -- randomly from 18 places in Dhaka, Gazipur and Narayanganj between August and December last year.
It was aimed at providing baseline data about the contaminants in milk and milk products and cow feed in the country and raising awareness among consumers and stakeholders and suggesting appropriate remedies.
Safety of milk is crucial as it is a major source of nutrients, vitamins and minerals for people of all ages, especially children. About 90 percent of the total milk consumed in the country comes from cow.
FINDINGS
A least 15 percent raw milk and 3 percent packed milk had high lead and alfatoxins (a family of toxins produced by certain fungi) higher than the maximum residue level (MRL) which is legally tolerated in food or feed.
Though lead above MRL was found in one curd sample, 51 percent of positive curd samples had higher levels of bacteria.
"What's alarming is that contamination was found in cow feed samples. Cow feeds could be the major source of milk contamination," said Dr Shahnila.
About 69 percent positive samples of cow feed had higher levels of chromium, 100 percent samples had drug residues, while excessive aflatoxins were found in 19 percent cow feeds.
Pesticide was found exceeding MRL in 100 samples and antibiotic above MRL in 13 percent raw milk, among the positive samples. 
About 96 percent raw milk had the presence of higher levels of bacteria. 
Bacteria was present in 66-80 percent samples of local and imported packed milk, while around 30 percent packed milk had antibiotic tetracycline above MRL.
"Besides, 60 to 80 percent local packed milk fails to meet the microbial safety parameters," said the NFSL chief.
Despite significant progress in the public health sector, food-borne diseases remain a major health concern in Bangladesh, experts say. 
They have suggested continuous quality assessment of milk and milk products, which can easily be contaminated, to prevent those diseases.
"Regular consumption of milk contaminated with pesticide residues may cause pancreatic cancer, breast cancer, leukaemia, skin sensitisation, allergic reaction and rash," said Mohidus Samad Khan, associate professor at Buet's chemical engineering department.
He also said excessive use of antibiotics like enrofloxacin and cyprosin in cattle feeds may cause antibiotic resistance, which reduces or eliminates the effectiveness of antibiotics on bacterial infection and diseases.
"Antibiotic resistance is one of the biggest threats to global health, food security and development today. Heavy metals in milk or any edible items may cause a wide range of health effects including cancer."
Dr Md Nurul Islam, dean of animal husbandry faculty at Bangladesh Agricultural University, said contaminated cow feed and excessive use of antibiotics are the main reasons for presence of heavy metals in milk.
Apart from this, unhygienic milking is another reason for the presence of bacteria in milk, he said.
"Milkmen should be trained on scientific and hygienic ways of milking while preservation of milk and cow feeds should be monitored strictly," he said.
The study suggested a close watch to check chemical and microbiological contamination, otherwise it can create serious health problems among the consumers in near future.
It also recommended promotion of good manufacturing practices to prevent microbial contamination.
Asked about finding heavy metals in cow milk and feed, Dr Md Giasuddin, principal scientific officer at Animal Health Research Division of Bangladesh Livestock Research Institute, ruled out any such possibility.
"Our dairy industry is yet to flourish and most of the cattle are reared on a small scale. So there is no scope of finding any heavy metal in milk," he said.