Dangerous toxins in food chain
Make the food safety authority effective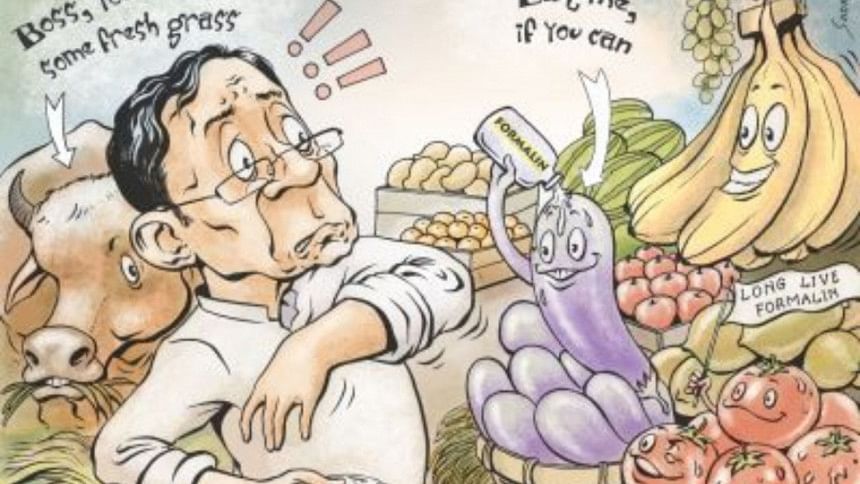 Fifteen major food commodities were tested at various stages of production over an eight-month period between November 1, 2015 and June 30, 2016 at the National Food Safety Laboratory. It was found that nine out of 15 foods tested contained dangerous levels of harmful chemicals. The test results are alarming because the most common foods we have on our plate are tainted with toxins that stay on in foods like cauliflower, brinjal, green chilli, tomato, bean, etc. So with pesticide residues, colouring agents and formaldehyde in fruits and vegetables, public health at large is under serious threat. And children in particular are more exposed to a very harmful toxin, aflatoxin.
This paper has always taken a tough stance against adulterators but when we find overuse of pesticides and other harmful chemicals at the production stage – we are obviously dealing with a much greater problem. Farmers, due to their lack of knowledge and prevalent belief that more is better, keep putting in more of everything as inputs when growing their produce. In order to protect public health, the Food Safety Act, 2013 was finally passed that year. And to enforce that Act, Bangladesh Food Safety Authority was formed by the government in February, 2015. This regulatory body remains a regulator on paper only, as requisite manpower has not been made available for it to carry out its task, i.e. safeguarding the public against adulteration of foods. 
Today, we fight an increasingly uphill battle against contamination of the food chain and it is essential that the BSFA is given the resources to play its role effectively.