Dos and don'ts after bypass surgery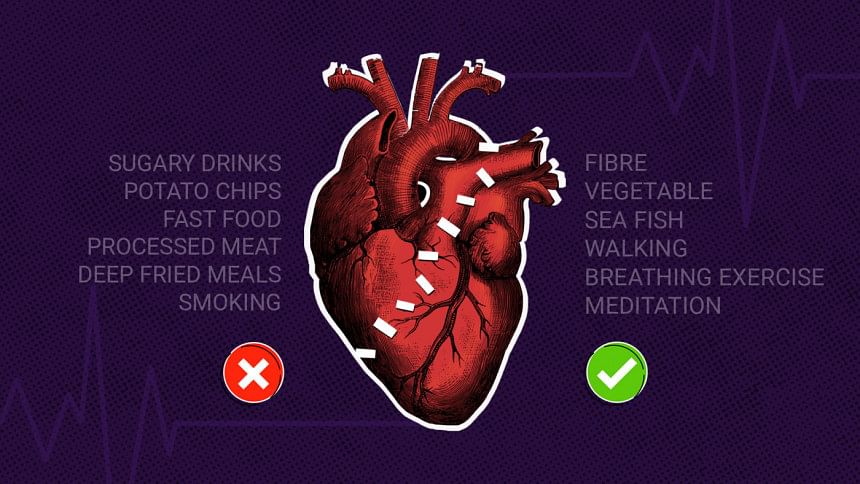 Coronary artery bypass surgery, commonly referred to as "bypass surgery", is very common nowadays -- with thousands of patients undergoing this procedure every year in Bangladesh.
The surgery is needed when coronary arteries are blocked by plaques (calcium and fatty deposits), reducing blood flow to the heart, said Dr Syed Tanvir Ahmad, assistant professor at Ibrahim Cardiac Hospital and Research Institute.
Blood vessels from other parts of body (chest, leg or arm) are removed and used to bypass the blocked coronary arteries to restore blood flow. "So, it is actually not a curative surgery," he said.
"It is important for such patients to know that the disease is still there and they must continue medicines to prevent its progression," Dr Tanvir said.
The patients are given medicines like a blood thinner (aspirin), a statin (cholesterol lowering drug) and a beta blocker (reduce heart rate and blood pressure). Other medications depend on individual patients, Dr Tanvir further said.
If there are no post-surgical complications, patients need 8-12 weeks for full recovery but they are advised to visit cardiologists twice a year, the doctor said.
Healthy diet with low cholesterol and unsaturated fat, little carbohydrate with adequate protein and fibre are good for the heart -- slowing the progression of coronary disease, Dr Tanvir said.
Moderate exercise prevents progression of the disease. Walking is the best form of exercise for post bypass patients, Dr Tanvir said.
Talking to The Daily Star, Dr Istiaq Ahmed, associate professor and head of the department of cardiac surgery at Dhaka Medical College Hospital, said that generally, bypass surgery is not routinely performed unless the person fits a criterion such as after a heart attack, chest pain (angina pectoris) and when coronary stenting fails.
Dr Istiaq said a post bypass patient has to limit strenuous exercise or work, avoid lifting more than 5 pounds for first three months and limit extra salt with food. "If the patient is a smoker, he/she must stop smoking," the doctor said.
"The patient should never stop medications without consulting the surgeons," Dr Istiaq said.
The patient should be careful even after full recovery and must visit the surgeon if s/he suffers chest pain or breathlessness, palpitations, blackouts or syncope.
The cardiologists suggested that a disciplined lifestyle and healthy diet with regular exercise and follow up ensure a normal life for post bypass patients.