Tangail general hospital: Lone X-ray machine inoperative for 5yrs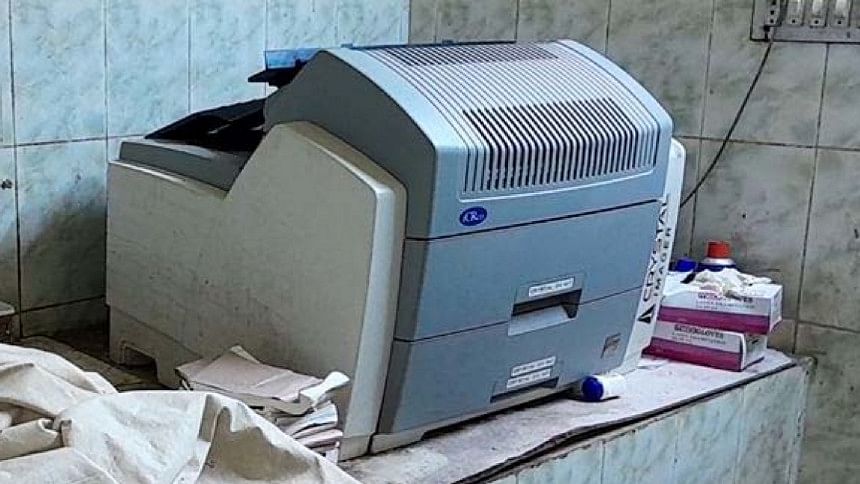 The only digital X-ray machine at 250-bed Tangail General Hospital has been lying inoperative for over five years, depriving patients of its service.
As a result, treatment seekers have to pay extra and spend more time getting their X-rays done outside the government hospital.
The hospital authorities, however, claimed that though the digital X-ray machine is lying idle, there is an analogue X-ray machine which is currently operational.
During a recent visit to the hospital, this correspondent saw the X-ray room at the radiology department itself is in a dilapidated condition as plasters of its wall are falling off in many places.
Moreover, as the X-ray machine has not been used for a long time the costly device has been gathering dust inside the worn-out room, depriving service seekers of treatment.
Kabir Hossain, a medical technologist at the Radiology Department of the hospital, said Bengal Scientific and Surgical Company, a medical equipment supplier, installed the digital X-ray machine, funded by the Ministry of Health and Family Welfare, in August 2017.
However, the digital machine was operational for only six months after its installation and it has remained inoperative since then, Kabir said.
Dr Lutfar Rahman Azad, resident medical officer (RMO) at the hospital, said though the digital X-ray machine is not working, they are conducting the X-rays with the analogue machine.
Lawmaker from Tangail-5 (Sadar upazila) constituency Sanoar Hossain, also president of the hospital management committee, said the digital X-ray machine is lying idle because the X-ray papers of the device are not available in our country.
"We have informed the company concerned of the matter on several occasions. We are yet to get any response," he added.