Osteoporosis: a silent killer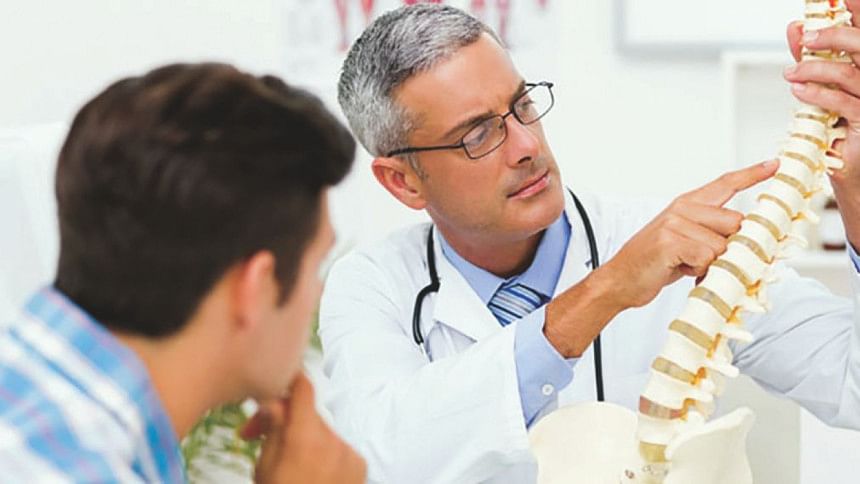 World Osteoporosis Day takes place on October 20 each year dedicated to raising global awareness of the prevention, diagnosis and treatment of osteoporosis and related bone diseases. It aims to put osteoporosis and fracture prevention on the global health agenda and reaches out to healthcare professionals, media, policy makers and the public at large. The theme of the day for this year is 'Love your bones - Protect your future'.
Osteoporosis is a bone disease that occurs when the body loses too much bone, makes too little bone or both. As a result, bones become weak and may break from a fall or, in serious cases, from sneezing or minor bumps. The 2017 World Osteoporosis Day campaign aimed to:
♦ Promote worldwide awareness of osteoporosis and understanding of the heavy toll the disease can take on an individual's future if left undiagnosed and untreated.
♦ Improve understanding of the link between osteoporosis and fractures — which can be a major cause of disability and early death in older adults.
♦ Encourage individuals to recognise risk factors, including first fractures, and to seek testing and treatment if required in order to protect their longer term future.
♦ Promote bone-healthy nutrition and exercise as essential to good bone health, as well as awareness of the role of calcium, good nutrition, and regular exercise during childhood and adolescence when bones are developing.
♦ Enable healthcare professionals and health authorities to close the persistent 'care gap' by addressing critical issues such as under-diagnosis and under-treatment, lack of Fracture Liaison Services to systematically identify and treat high risk patients, and poor adherence to treatment.
Fractures from osteoporosis are more common than heart attack, stroke and breast cancer combined. Due to its prevalence worldwide, osteoporosis is considered a serious public health concern. Currently it is estimated that over 200 million people worldwide suffer from this disease. At least 40% of these women and 15-30% of men will sustain one or more fragility fractures in their remaining lifetime. Ageing of populations worldwide will be responsible for a major increase in the incidence of osteoporosis in postmenopausal women.
Osteoporosis itself has no symptoms; its main consequence is the increased risk of bone fractures. Osteoporotic fractures occur in situations where healthy people would not normally break a bone; they are therefore regarded as fragility fractures. Typical fragility fractures occur in the vertebral column, rib, hip and wrist.
Risk factors
The most important risk factors for osteoporosis are advanced age and female sex; oestrogen deficiency following menopause or surgical removal of the ovaries is correlated with a rapid reduction in bone mineral density, while in men, a decrease in testosterone levels has a comparable effect.
Vitamin D deficiency, tobacco smoking, malnutrition, underweight/inactive, soft drinks, excess consumption of alcohol etc. is potentially modifiable risk factors. Certain medications have been associated with an increase in osteoporosis risk.
Diagnosis
The diagnosis of osteoporosis can be made using conventional radiography and by measuring the bone mineral density (BMD). The most popular method of measuring BMD is dual-energy X-ray absorptiometry.
Prevention
Lifestyle prevention of osteoporosis is in many aspects the inverse of the potentially modifiable risk factors. As tobacco smoking and high alcohol intake have been linked with osteoporosis, smoking cessation and moderation of alcohol intake are commonly recommended as ways to help prevent it. Proper nutrition and physical exercise are very much protective to bone loss.
Management
Weight-bearing endurance exercise and/or exercises to strengthen muscles improve bone strength in those with osteoporosis.
Medications
Bisphosphonates are useful in decreasing the risk of future fractures in those who have already sustained a fracture due to osteoporosis.
The writer is an Assistant Professor at the Department of Endocrinology, Bangabandhu Sheikh Mujib Medical University (BSMMU).

Email: [email protected]