Still no robust policy to control Aedes mosquitoes
This year's dengue cases cross 5,000 mark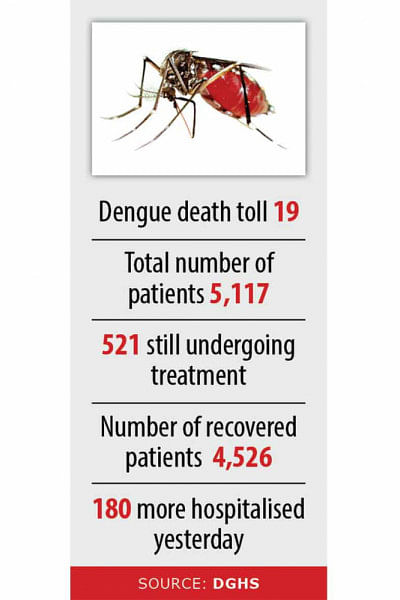 Three years have passed since the country witnessed over one lakh dengue patients in a year.
However, even after that crisis, the initiative taken to prepare a policy to control vectors like Aedes mosquitoes is still in the drafting process.
Such initiatives have now become a dire necessity, as dengue cases crossed the 5,000 mark yesterday.
Aedes mosquitoes are vectors of dengue and Chikungunya viruses. Experts said as dengue has become endemic in the country and has already spread at the district level, a comprehensive policy or separate vector-control cell is crucial.
According to Directorate General of Health Services (DGHS), 5,117 patients were admitted to different hospitals till yesterday. This year's death toll is 19 so far.
Local Government and Rural Development Minister Md Tazul Islam said the situation in Bangladesh is still better than in other tropical countries, including Singapore, Thailand, Malaysia, Indonesia and Vietnam.
He said they are still working on forming a comprehensive policy. A team from Australia experienced in vector management has shown interest to help in this regard.
Local Government Division Additional Secretary Mustakim Billah Faruqui said they are working to finalise the initiative taken in 2020.
Authorities are now seeking opinions from DGHS, experts and different city corporations to form a cell, he said.
Entomologist of Jahangirnagar University Prof Kabirul Bashar said he first proposed a vector-control cell to the government in 2019 and gave an outline.
A committee was formed in this regard at that time, but the cell is yet to be formed, he said.
Bashar said such a cell is essential, as dengue has already spread across different cities and even districts.
"This year, Cox's Bazar became a hotspot for dengue. Ten dengue patients have already died there. But there is no institution or agency to control Aedes mosquitoes," he said.
Researching mosquito-borne diseases on the national level are crucial, he said. A separate institution is needed for this, he added.
This institution will also provide different city corporations guidelines on proper insecticide use, he said. It will also purchase suitable insecticides.
"City corporations and municipalities will be the implementing agencies, but the institution will be the central organisation," he added.
Echoing Bashar, entomologist GM Saifur Rahman of Bangladesh National University said the district authorities do not know how to control mosquito-borne diseases.
So, if there were a comprehensive policy, the officials would have a guideline to take proper steps, said Saifur.
"Research, surveillance and training at the district level are very important. Finding out which serotype of Aedes virus is prevalent is also essential," he said.
By identifying the serotype, it is possible to say whether the country will face a dengue epidemic. Authorities will then be able to take necessary steps, he added.