Soybean oil officially up Tk 7-9 a litre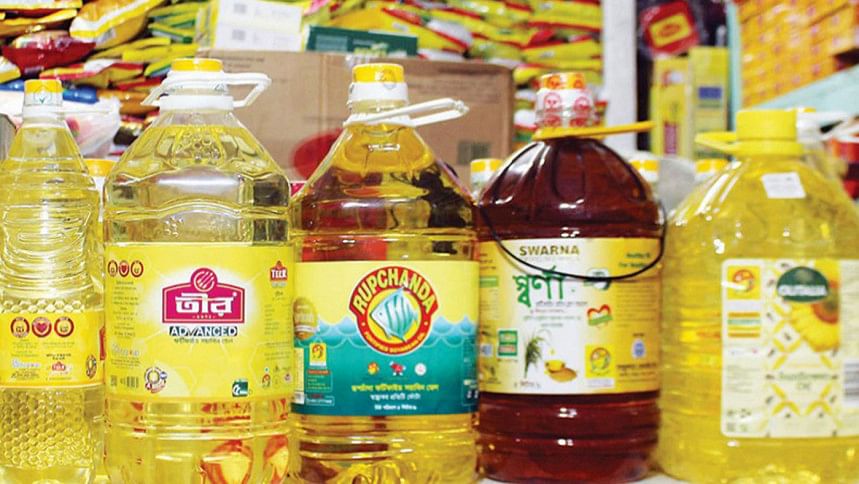 The government yesterday hiked the price of soybean oil for the fourth time this year even though the price of the product in the international market held steady in the past month.
Now, each litre of bottled soybean oil will cost Tk 192, up from Tk 185. Loose soybean oil will cost Tk 9 more at Tk 175 a litre.
The new prices come after the refiners sought a price adjustment due to the stronger dollar.
Subsequently, on August 17, the commerce ministry and the Bangladesh Trade and Tariff Commission fixed the new maximum retail price, said a notification of the Bangladesh Vegetable oil Refinery' and Vanaspani Manufacturers' Association, a platform of refiners and marketing companies.
At the same time, the palm oil price was revised downwards to Tk 145 per litre from Tk 152.
Biswajit Saha, director for corporate and regulatory affairs of City Group, one of the leading commodities players, admits that the price of soybean oil is stable in the international market.
This month, the soybean oil price ranged from $1,446 to $1,502 per tonne in the international market, according to Indexmundi. In June, it had gone up to $1,920 a tonne.
"But the dollar price has increased 15 to 20 percent," Saha said, adding that the refiners have to pay for the edible oil at the current dollar rate and not the rate prevailing at the time of opening the letter of credit for the import.
The prices of every essential have gone up on excuse of the dollar rate and the increased fuel price, said Abdur Rahman, who works at a non-governmental organisation in Chattogram.
"But no one has any idea what will happen to the common people. The salaries of limited income people are not rising," he added.
More than 5.48 lakh tonnes of palm oil and soybean oil worth Tk 7,845.6 crore were imported between July 1 and August 23 through the Chattogram and Mongla ports, according to the National Board of Revenue.