Fuel price cut by Tk 5 was not needed
Says Tawfiq-e-Elahi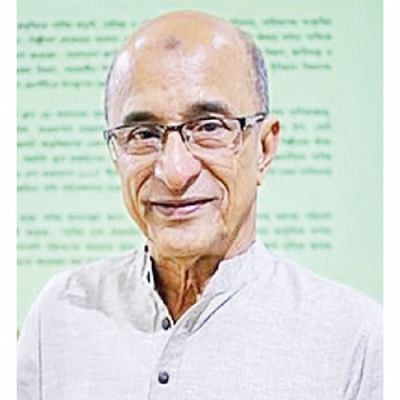 The fuel price should have been left as it is instead of the Tk 5 cut per litre, which is unlikely to have any visible impact, said Tawfiq-e-Elahi Chowdhury, energy adviser to the prime minister.
"Increasing or reducing the fuel price by Tk 5 has no impact," he said at a press conference yesterday in the Prime Minister's Office called to share experiences of his recent trip to the US, during which he met with Jose W Fernandez, the US under secretary of state for economic growth, energy and the environment.
Given the current volatility in the global economy arising out of the Russia-Ukraine war, the fuel prices should have been left unchanged.
"We don't know what the situation will be going forward. No one knows whether the price of fuel will increase or decrease in the global market."
Besides, the fuel prices in Bangladesh are reasonable in the current context.
"I asked for the fuel price everywhere I went and found our price is much less than the other countries. Even in Dubai, an oil hub, the diesel price was about Tk 114."
On Monday, the government trimmed the fuel prices by Tk 5 per litre in line with the 11.25 percentage point slash in the import duty of diesel by the National Board of Revenue.
The price adjustment of 3.7 to 4.39 percent came 23 days after the government went for a record fuel price hike of 42.5 to 42.7 percent.
When asked whether the record hike would have been necessary had the NBR slashed the import duty then, Chowdhury said: "The price of fuel is bound to come down if the NBR withdraws the duties and taxes. But from where will NBR get the revenue? How will the development works take place if there is no revenue?"
Asked about the criticism of the power plants' capacity charges, Chowdhury said such payments exist everywhere in the world and are necessary to ensure electricity at peak hours and in the case of additional demand.
He also said the country will not fall afoul of the US, Bangladesh's single largest export destination, for buying discounted crude oil from sanctioned Russia.
"The US has not imposed sanctions on food, fertilisers and fuel. I don't think the US will have any objection if fuel is sourced from Russia or any other source."
However, it cannot be said that the ongoing energy problem will be solved if the Russian oil arrives as it is yet to be known what the price will be.
"The ongoing fuel crisis is a global crisis."
He, however, dismissed the experts' claims that the country has not done enough to explore the country's gas reserves, which could have cushioned the country now.
"It should not be said that we were not drilling enough as 34 new wells were drilled in the last five years and the production also increased."