Price hike of essentials: Crooked traders to blame
Says commerce minister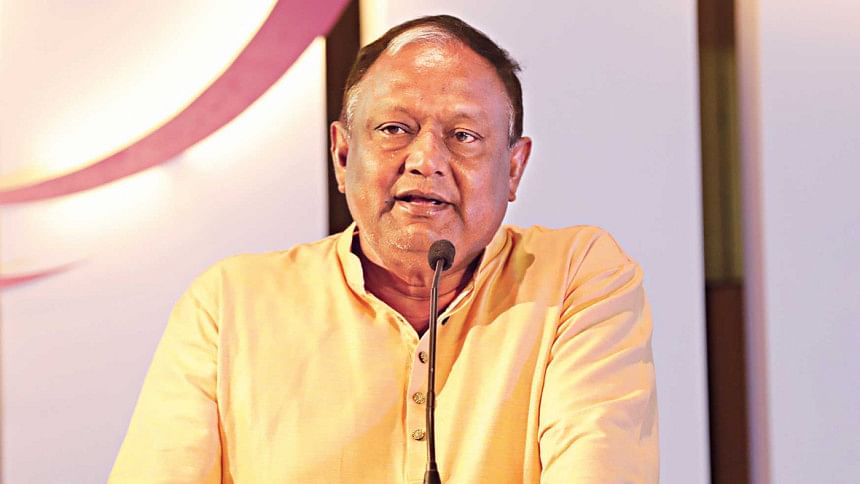 When businessmen exploit a situation, they go for the maximum.
Unscrupulous traders are using the price hike of fuel as an excuse for increasing the prices of daily essentials, Commerce Minister Tipu Munshi yesterday said.
Criticising the traders heavily, he cited the example of rice prices.
"Due to the increase in fuel price, rice price should increase by Tk 0.50 per kg. But it has increased by Tk 4 per kg. Is there any logic behind this? But they took the advantage," he said at a press conference at the Secretariat.
Citing the soaring price of eggs, he said, "If the price of eggs can be reduced by importing, we can do that too, if necessary. But it is not possible overnight."
Tipu said his ministry was monitoring the market. He hoped that the prices of essentials would be under control by October.
Responding to a query on hiking edible oil prices, he said no decision had been made. Globally edible oil prices are falling but the US dollar has become costlier here. The price would be fixed considering both the issues, he said.
At another press conference, Information and Broadcasting Minister Hasan Mahmud warned that the government would take stern action if prices of essentials and transport fares are raised unnecessarily.
Echoing the commerce minister, he said some unscrupulous traders increased the prices of goods and transport costs to enhance their profits.
The government has been trying to cool down the overheated prices of essentials in the wake of the record fuel price hike earlier this month.
Yesterday's meeting of the cabinet committee on purchase, chaired by Finance Minister AHM Mustafa Kamal, decided to buy 1.25 crore litres of edible oil and 5,000 tonnes of lentils from local suppliers for sale at subsidised rates under the Family Card programme of the Trading Corporation of Bangladesh.
Of the 1.25 crore litres of soybean oil, 40 lakh litres would be bought from Super Oil Refinery at Tk 173.95 a litre, according to Abdul Barik, additional secretary to the cabinet division.
The remaining 85 lakh litres would be provided by Shun Shing Edible Oil, a subsidiary of Bangladesh Edible Oil Ltd; Bashundhara; and Sena Edible Oil Industry, a concern of Sena Kalyan Sangstha Bangladesh for Tk 171 a litre.
The government would buy the 5,000 tonnes of lentils at Tk 111 a kg, Barik said.
The TCB would be selling 2 litres of soybean oil, 2 kgs of lentils, 1 kg of sugar, and 2 kgs of onions to each of the one crore family card holders. Each litre of soybean oil would cost Tk 110, sugar Tk 55 a kg, lentils Tk 65 a kg, and onions Tk 20 a kg.
Meanwhile, Tipu during his press conference yesterday objected to Transparency International Bangladesh's report on the Family Card programme and said it was not prepared with the correct information.
Of the one crore beneficiaries of the programme, 39.5 percent have not received the cards, the TIB had said.
"TIB can publish reports on any matter but that must be based on correct information. They have conducted the study on just 1,047 recipients out of one crore. You cannot get the true picture with such a small sample," he told reporters at a briefing yesterday.
The list of cardholders was prepared in collaboration with public representatives and local administration and is reflective of their financial condition.
The issue of duplication has been solved by the use of QR codes. "No one can purchase the same product twice."