Shortage of drug: Black-fungus patient left without treatment at CMCH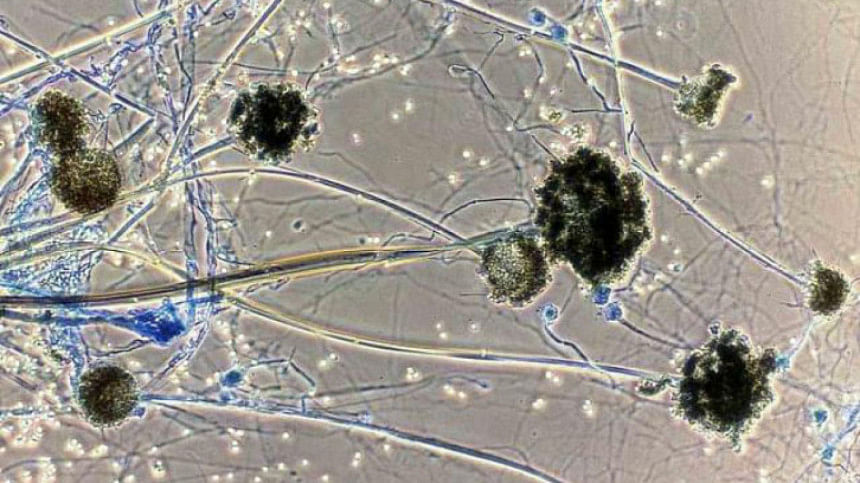 A patient diagnosed with black fungus (Mucormycosis) at Chattogram Medical College Hospital is not getting proper treatment due to lack of an essential drug necessary for the treatment, say family members of the patient.
According to family, the anti-fungal drug Liposomal Amphotericin B, which the doctors advised for the patient's treatment, is now in short supply in the local market. The family have tried to get the medicine for the last three days in Chattogram and Dhaka markets but in vain.
The family has sought assistance from media as well. The patient is Ferdous Begum (60), hailing from Patiya upazila of Chattogram.
She tested positive for Covid-19 in the middle of June and got admitted to a private hospital where she was given steroids for treatment.
She recovered from Covid-19 on July 13 but on July 15, she started to have tooth-ache.
"First, we thought it was a dental problem and visited a dentist who suggested some tests," said Tahmina Begum, daughter of Ferdous, adding, "After seeing the report, the doctor suspected it to be black fungus infection."
She was later admitted to CMCH.
"After a biopsy report, doctors confirmed it as black fungus infection and advised her for Liposomal Amphotericin B injection but we cannot get it in local market," said Tahmina.
"We tried to get it in Dhaka but in vain. We have contacted the officials of Beacon Pharmaceuticals which produces the drug in the country. At first, they assured us to supply the injection but later they said the drug is short in stock," she said, adding, "Doctors said the drug is a must to treat my mother. Now from where will we get it? We request the media people to help us to save my mother's life."
Contacted, Shamim Miah, area manager of Beacon Pharmaceuticals in south Chattogram area, said his company produces the drug but currently it has gone short in market.
Asked whether any other company in Bangladesh produces the drug, Shamim said he had no idea about it.
Asked about the unavailability of the drug in local market, Prof Dr Sujat Paul, head of medicine and Covid-19 ward at CMCH, said he did not know about it.
"I am looking into it," said Dr Paul.