Hospitalised dengue patients near 50k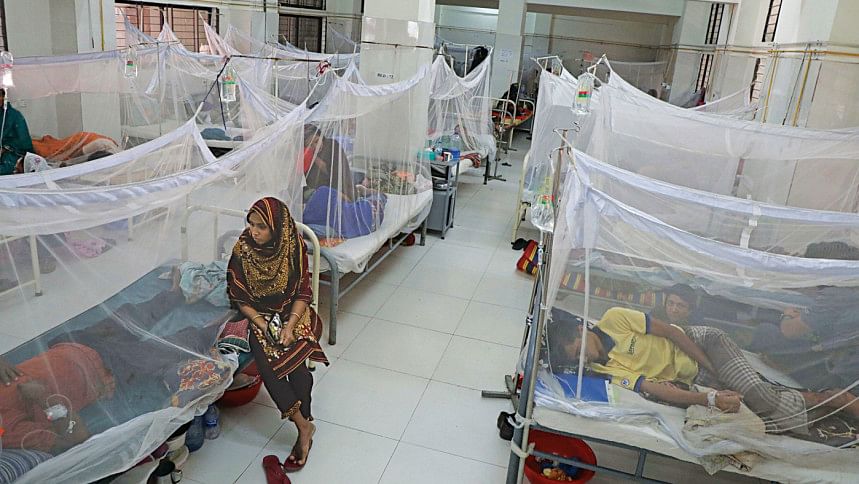 The number of dengue patients hospitalised across the country this year is almost 50,000, the second time this has happened in Bangladesh. 
This figure, however, would be far more as many cases go unreported. The Directorate General of Health Services (DGHS) has information only from 125 hospitals.
The last time hospitalised dengue patients number was higher than this was in 2019. According to the DGHS, 101,354 dengue cases had then been recorded and the death toll was 179. 
According to the DGHS, eight more patients died and 692 others were admitted to hospitals in 24 hours till yesterday morning. With them, the number of cases rose to 49,992 and the death toll stood at 213.
HM Nazmul Ahsan, associate professor at Shaheed Suhrawardy Medical College Hospital, said, "Many dengue cases go unrecorded as most of the patients are not hospitalised. Of the dengue patients treated by me at the hospital, I advise one in every 10 patients to be hospitalised."
He said the number of actual dengue patients would be five to 10 times higher.
Nazmul said DGHS collects data of dengue cases from a certain number of hospitals across the country.
"Due to unreported cases, we are not getting the accurate figure of dengue patients as well as deaths from the mosquito-borne disease," he said.
The documentation system in Bangladesh is very poor, which is the main reason for the unrecorded cases, he said.
A DGHS official said they collect data from 20 government and autonomous hospitals and 33 private hospitals in the capital and 72 district and divisional hospitals across the country.
According to the DGHS, the number of private hospitals, clinics, diagnostic centres and blood banks across the country are around 16,000, of which about 1,600 are in the capital.
Besides, there are 37 government medical college hospitals, 68 district hospitals and 495 upazila health complexes.
Mentioning the number would be 20 times higher than the official figure, entomologist Manzur A Chowdhury said according to a study of the Lancet, a weekly peer-reviewed general medical journal, the dengue cases were around 20 times higher than the actual figure in 2019.
"Considering that study, we can say the total number of dengue patients might be nine to 10 lakh so far."
Apart from the patients hospitalised, many other patients are asymptomatic, which means that they do not know that they are infected with dengue virus, Manzur said.
"The authorities are claiming that the number of cases is still less than that in many other countries like Singapore. But the reality is that every dengue case in Singapore is reported," he said, adding that a comprehensive documentation system should be developed.
The dengue case this year has already reached its peak and now it will start to decline. But the authorities will have to take necessary steps to control Aedes mosquitoes, he said.
"If cases go unreported, the authorities will give less attention and provide less resources. If people know the actual figure, they will be more careful," he said.
None of the city corporations follow the standard procedures to control Aedes mosquitoes, carrier of dengue virus, which is the main cause for failure to control dengue, he said.
Prof MA Faiz, former director general of DGHS, said any hospital, diagnostic centre or clinic can easily send information to the authorities through texts or phone or email them. "Our surveillance system is very poor."
Ekramul Haque, deputy programme manager of malaria and ATD control programme at the DGHS, said they only get the information of admitted patients from a certain number of hospitals. They are working to get information from more hospitals.
"100 percent data collection is not possible for anyone for the diseases like dengue, but they are trying to record as many cases as they can."