Dengue cases hit all-time high
Number of deaths also surpasses all previous records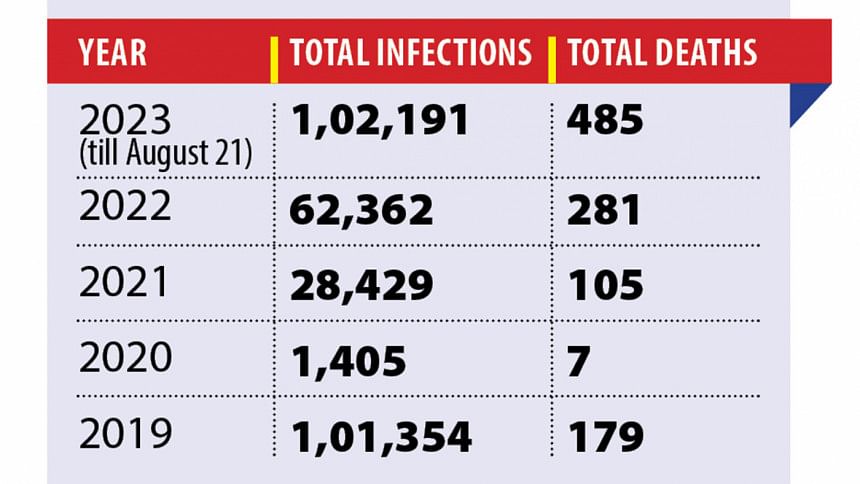 With 2,192 new patients admitted to hospitals yesterday, dengue cases hit a record high since its first official outbreak in 2000, crossing the 1,00,000-threshold in eight months this year.
The total number of dengue cases reached 1,02,197 till yesterday this year, according to the Directorate General of Health Services (DGHS). The previous highest number of cases in a year was 1,01,354 in 2019.
The number of fatalities also reached the highest mark this year as nine patients died from the mosquito-borne disease in the last 24 hours, taking the death toll to 485. Of the dead, 363 are reported in Dhaka.
Experts blamed the casual approach of the authorities concerned for the rise in the number of dengue cases and deaths this year.
"The city corporations' casual approach early in the season contributed to increased breeding of the Aedes population, carrier of the dengue virus," said entomologist GM Saifur Rahman.
"When the Aedes population declined after October last year, no initiative was taken to contain the rest, for which it has started spreading again. Then again, we didn't try to detect the virus-spreading mosquitoes at the beginning of this year," he stressed.
Entomologist Kabirul Bashar, a professor at Jahangirnagar University, said the impact of climate change has also made Bangladesh dengue-prone throughout the year.
"A temperature between 20 and 30 degrees Celsius is required for Aedes mosquitoes to breed. Temperature in our country is 20 degrees even in winter …"
The month of August could see the peak of dengue cases this year and it may start coming down slowly from September, Bashar predicted.
"We have observed that dengue cases are decreasing and this downward trend will continue," he said.
However, the number of dengue cases outside Dhaka will come down very slowly due to a dearth of anti-mosquito drives and a lack of awareness among people in those areas, he added.
Bashar suggested immediate management of dengue hotspots and more involvement of public representatives in creating awareness among the public.
Talking about how to combat the spread of dengue, GM Saifur said continuous adulticiding -- applying pesticides to kill mosquitoes -- is a must to address the current situation.
"There is no alternative to killing adult mosquitoes in the places where people are being infected with dengue," he said, recommending that the breeding sources be destroyed.
Outside Dhaka, the government will have to take necessary measures to conduct proper anti-mosquito drives, said Saifur.
When the country first reported the official outbreak of dengue in 2000, the number of deaths was 93 while 5,551 were hospitalised. In the last 22 years, dengue cases peaked in the month of September nine times and in August eight times, according to DGHS data.
This year, August is likely to see the highest number of patients admitted to the hospitals.
DEATHS NEARING 500
August also saw the highest number of deaths -- 234 -- this year. It was 204 in July.
Doctors attributed this year's unusually high death rate to late hospitalisation, patients getting infected multiple times, co-infections, high-risk group patients and the presence of dengue strains Den-2.
HM Nazmul Ahsan, associate professor at Shaheed Suhrawardy Medical College Hospital, said second-time dengue infection with a different strain is one of the reasons for the increasing number of deaths this year.
He said among those admitted to the hospital, a large number of patients are already suffering from dengue shock -- a critical stage of the disease.
There are many who cannot tell that they are having the symptoms and so they do not go to the hospital. These patients are most likely to go into shock, he added.
Death rate is also high among patients of high-risk groups like obese and aged people, pregnant women, and infants and comorbidity patients, he said.
Prof Nazmul said severe stomach aches, breathing difficulties, severe weakness, bleeding from gums or nose, and vomiting are the signs for which a patient needs to be hospitalised immediately.
"If a patient is not hospitalised within 24 hours, they may go to the stage of dengue shock syndrome," he said.
There are two types of dengue shocks -- compensated shocks and decompensated shocks. If a patient is hospitalised immediately after their compensated shock, they don't reach the stage of decompensated shock, where the chance to be cured is only 50 percent, he said.
"The patient's blood pressure may remain normal during a compensated shock, which is why many don't realise it. Some of the signs of compensated shock may include a drop in body temperature, increased heart rate, and rapid breathing," Prof Nazmul added.
There are four types of dengue strains: Den-1, Den-2, Den-3, and Den-4. Of them, Den-2 is mostly active this year and the severity of this type is high. This is also a reason for so many deaths this year, he added.