Over 66 lakh shots given
Special Covid vaccination drive marks Hasina's 75th birthday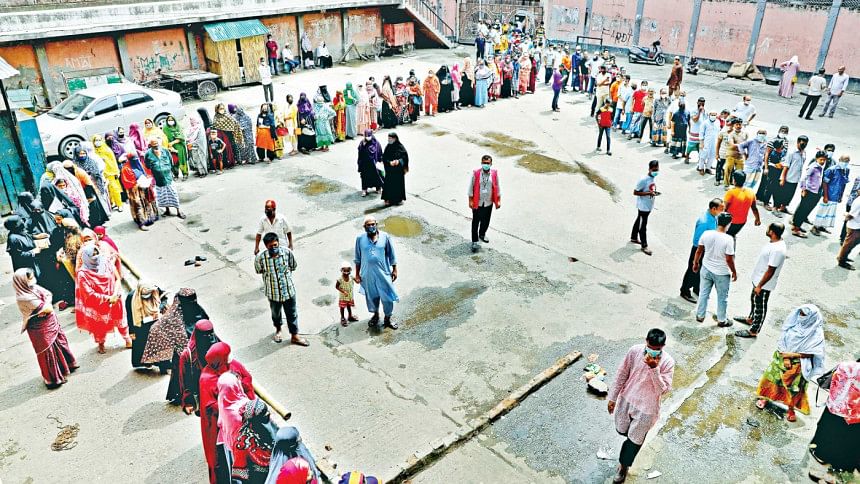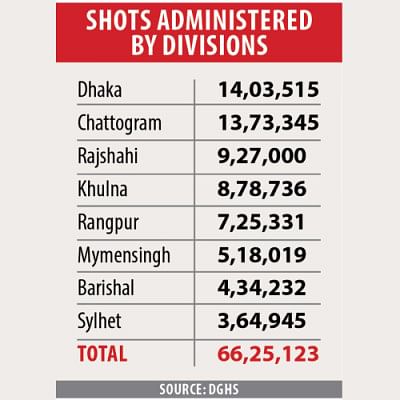 The country more than doubled its previous record of single-day vaccinations as the government inoculated more than 66 lakh people against Covid-19 yesterday.
Yesterday's special drive, to implement the government's aim of inoculating 75 lakh people to mark Prime Minister Sheikh Hasina's 75th birthday, produced numbers that nearly reached the ambitious target.
People turned out in droves, braving inclement weather even.
Across eight divisions, 66,25,123 people were vaccinated, according to the Directorate General of Health Services. The previous single-day vaccination record was around 29 lakh on August 7 this year.
Much of the campaign ran smoothly, but there were stray incidents of non-registered people showing up, some centres facing a shortage of doses and, in a Munshiganj centre, a fight breaking out over the dearth of vaccines.
Upon visiting a vaccination centre in Dhaka, PM's Principal Secretary Ahmad Kaikaus told journalists that the special vaccination campaign will continue in places where the target has not been met.
During regular vaccination, three to four lakh doses are administered each day, which means yesterday's number was between 15 and 20 times higher.
The previous six-day special campaign from August 7-12 saw overwhelming response from people who stood in queues about a kilometre in length and people crowding vaccination centres. Many returned home without a jab.
This time, however, those incidents were few.
In areas under the Dhaka North City Corporation, the special vaccination drive began around 2:30pm, while it began in the morning in Dhaka South City Corporation areas.
Health officials said although they targeted administering 75 lakh doses yesterday, that target was not met due to rough weather and other reasons.
The mass vaccination campaign against Covid-19 started on February 7 this year for people aged 65 and above. In phases, the government eventually lowered the age bar to 18 years to include university students.
The country has suffered frequent hiccups in its regular mass inoculation campaigns, mainly due to shortage of doses caused by a yawning gap between supply commitments and actual delivery.
The vaccination campaign remained suspended for around a month earlier this year due to the sudden suspension of supply from Serum Institute of India, which manufactures the Oxford-AstraZeneca vaccine.
Besides, the government also did not get a quarter of the 6.8 crore doses by June this year, as promised by Covax, a global vaccine alliance. Covax has committed to supply all the doses by December this year.
It also could not continue the special vaccination drive that started on August 7 because of a shortage of doses. Gradually, however, the situation improved with supplies coming in from the US, China and Japan.
Around 2.48 crore people have got their first dose while around 1.65 crore people got both doses.
In Pirojpur, defying inclement weather, people started arriving to the vaccination centres in the morning.
"People are getting jabbed without any hassle. This time, the vaccination centres are close to their homes so there are no problems [reaching the centres]," said Md Nazrul Islam Sikder, a councillor of Pirojpur municipality.
In Barishal district, the presence of people seeking to get vaccinated was thin due to inclement weather.
Shyamal Krishna Mandal, assistant director of the divisional health office, said, "We have set an initial target of administering 5.10 lakh doses, but the target may not be achieved due to the weather."
He said in some places the turnout of vaccine seekers was good. The vaccination rate is better in rural areas than urban areas.
At Gazipur Community Clinic in Chadpasha union of Babuganj Upazila of Barishal district, our Barishal correspondent found that some vaccine seekers had come despite not registering for inoculation.
Although there were two assistants to register them, the registration rate was very slow due to server connectivity issues.
Anisur Rahman Sabuj, chairman of the Chadpasha union parishad, said 1,500 vaccine doses were allotted but 300 people were vaccinated till noon.
Visiting BM School in the city, it has been seen that only 30 people got their jabs till 1:00pm. A target of 500 shots was set at this centre.
In Munshiganj, hundreds of people thronged the vaccination centres, many without having registered, which created chaos in some places.
"Although 1,500 people were supposed to be vaccinated, about 3,000 people showed up. Many started fights to get vaccinated without following the serial numbers allotted to them. Police were then called in to bring the situation under control," Taniya Tamanna, secretary of the Mohakali union parishad in Munshiganj Sadar, said.
The situation was pretty similar in Balurchar union in Sirajdikhan upazila as around 5,000 people gathered at a centre where only 1,500 people were supposed to get the vaccine.
Abul kalam Azad, civil surgeon of the district, said, "All centres were overcrowded and people were eager to get jabs."
[Our correspondents in Pirojpur, Barishal and Munshiganj contributed to this report]