Brazil to fight Zika by sterilizing mosquitoes with gamma rays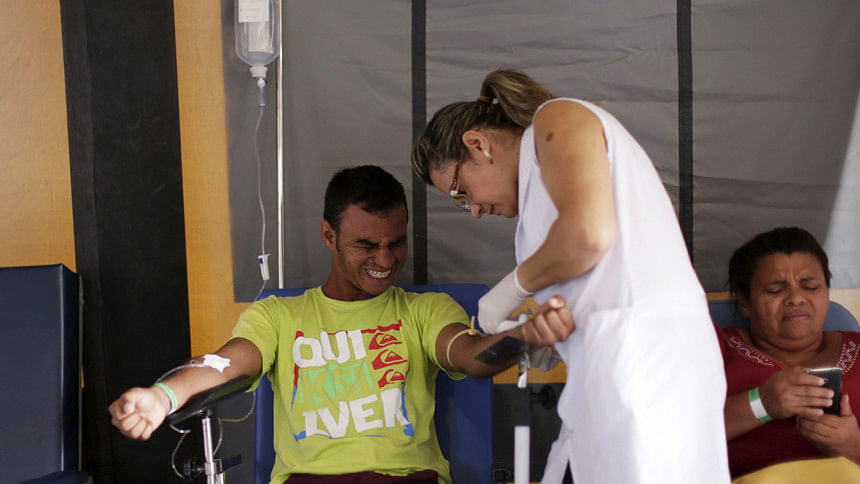 Brazil is planning to fight the Zika virus by zapping millions of male mosquitoes with gamma rays to sterilize them and stop the spread of the virus linked to thousands of birth defects.
Called an irradiator, the device has been used to control fruit flies on the Portuguese island of Madeira. The International Atomic Energy Agency said on Monday it will pay to ship the device to Juazeiro, in the northeastern state of Bahia, as soon as the Brazilian government issues an import permit.
"It's a birth control method, the equivalent of family planning for humans," said Kostas Bourtzis, a molecular biologist with the IAEA's insect pest control laboratory.
Brazil is scrambling to eradicate the Aedes mosquito that has caused an epidemic of dengue and more recently an outbreak of Zika, a virus associated with an alarming surge in cases of babies born with abnormally small heads.
The new epidemic threatens to scare visitors away from the Rio 2016 Olympic Games in August.
A Brazilian non-profit called Moscamed will breed up to 12 million male mosquitoes a week and then sterilize them with the cobalt-60 irradiator, produced by Canadian company MDS Nordion, Bourtzis said.
The sterile males will be released into target areas to mate with wild females who will lay eggs that produce no offspring, he said during an IAEA meeting of mosquito control experts.
After an initial program in a dozen towns near Juazeiro, the Brazilian government would have to decide on scaling up the sterile mosquito production with more funding for use in cities, where they would be released from the air, possibly from drones, Bourtzis said.
With no cure or vaccine available for Zika, which has spread to more than 30 countries, mostly in the Americas, the only way to contain the virus is to reduce the mosquito population.
Brazilian researchers are also experimenting with radiation. The Fiocruz biomedical research institute based in Recife has released 30,000 sterile mosquitoes on Fernando de Noronha, a island 350 km (217 miles) off the coast of northeast Brazil.
The pilot project seeks to replicate lab results in which 70 percent of the eggs laid by the females were sterile, Fiocruz researcher Alice Varjal said. Initial results are expected in May, she said
Varjal said the sterile insect technique using small doses of radiation was the safest way to fight the mosquito because nothing toxic gets released into the environment. She said it was more cost-effective than using transgenic mosquitoes.
Another experiment underway in Brazil involves a mosquito genetically modified so their offspring will die before reaching adulthood and being able to reproduce, developed by Oxitec, the British subsidiary of Intrexon.
Much remains unknown about Zika, including whether the virus actually causes microcephaly. Brazil said it has confirmed more than 500 cases of microcephaly, and considers most of them to be related to Zika infections in the mothers. Brazil is investigating more than 3,900 additional suspected cases of microcephaly.