Withdraw all cases
35 noted citizens call for a halt to smear campaign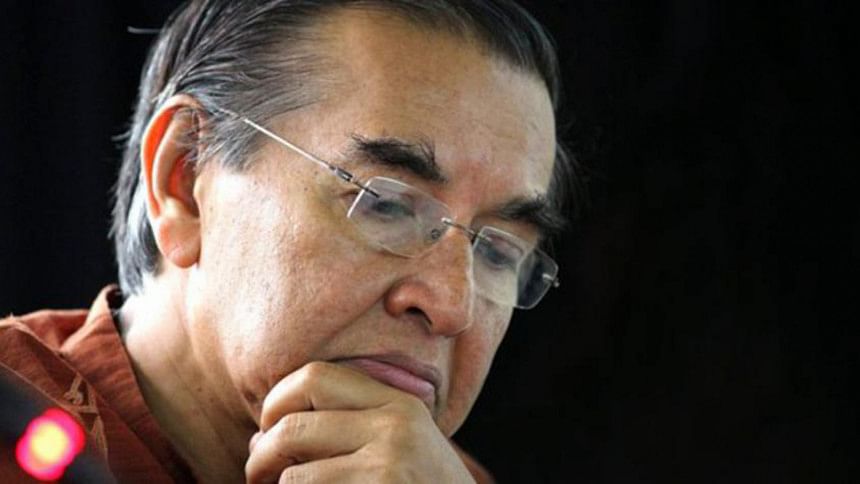 Thirty-five eminent citizens yesterday condemned the recent barrage of cases against The Daily Star Editor Mahfuz Anam and demanded immediate withdrawal of those.
In a statement, they also called for an end to the smear campaign against Anam.
They said the Star editor should have been commended for a rare display of professional values after he had regretted "publishing without verification a few stories based on information provided by a state intelligence agency during the military-backed caretaker government rule in 2007".
Instead, he is being harassed, which is sad, unexpected and frustrating, they said, adding that the present scenario would discourage journalists and even others from spontaneously admitting their mistakes in future and would give rise to falsehood in society.
The eminent persons also called for a constructive discussion on what legal and administrative actions should be taken to stop interference of the state intelligence agencies in the functioning of the free media.
"We think the rationale for the news media often publishing unverified confessions apparently given in the custody of intelligence agencies and police should also come under the discussion," the statement read.  
The signatories are: M Hafiz Uddin Khan, Akbar Ali Khan, Barrister Rafique-ul Huq, ATM Shamsul Huda, Hamida Hossain, Prof Syed Anwar Husain, Hossain Zillur Rahman, Shahdeen Malik, Zafrullah Chowdhury, Iftekharuzzaman, Brig Gen (retd) M Shakhawat Hussain, Badiul Alam Majumdar, Barrister Manzoor Hasan, Nur Khan, Sadaf Nur, Prof Firdous Azim, Swapan Adnan, Masud Khan, Syed Abul Maksud, Dr Tofail Ahmed, Syeda Rizwana Hasan, Khushi Kabir, Barrister Sara Hossain, CR Abrar, Shirin Haq, Shahnaz Huda, Ahmed Kamal, Asif Nazrul, Ruby Ghaznavi, Lubna Mariam, Farida Akhter, Maj (retd) Akter Ahmed Bir Pratik, Anusheh Anadil, Naila Zaman Khan, and Zakir Hossain.
They said the defamation cases filed claiming crores of taka in compensation were a glaring example of using the legal and judicial system in narrow, personal interest.
They expressed concern over the "attempt to use the legal and judicial system as a political tool and strategy".
Such activities against Mahfuz Anam will prompt the international community to critically question the freedom of speech in Bangladesh and will cause irreparable damage to the country's image, the citizens noted.
The statement was sent by Badiul Alam Majumdar and sent by Shahdeen Malik.