Vietnam keen to boost ties with Bangladesh
President Tran Dai Quang tells The Daily Star ahead of his 3-day visit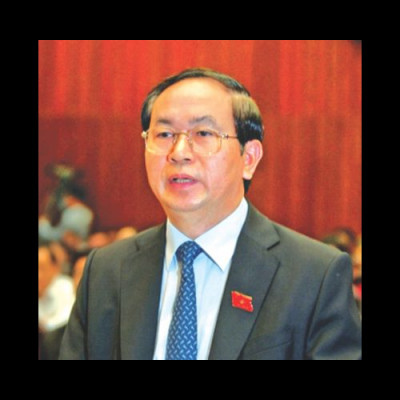 Vietnam President Tran Dai Quang has said his country always treasures ties with Bangladesh and seeks to step up cooperation in areas of economy, trade, investment, agriculture, defence and security.
"Vietnam and Bangladesh enjoy an excellent traditional friendship on the basis of historical similarities and the shared values of independence, peace, cooperation and development," he said ahead of his three-day official visit to Bangladesh beginning tomorrow.
In an exclusive interview with The Daily Star, the president said the leaders and people of the two countries have always cherished and preserved the precious tradition for strengthening cooperation to advance bilateral relations.
He said cooperation in economy, trade, defence, security, agriculture, education and training have seen encouraging results. In particular, bilateral trade turnover in the last year saw a dramatic growth, exceeding $900 million, up 50 percent year-on-year.
Vietnam and Bangladesh also share common positions on various regional and international issues, and are working closely and supporting each other at international forums and the United Nations, he added.
The high level visit from Vietnam is taking place after a long gap since the tour of then president Tran Duc Luong to Bangladesh in 2004. Dhaka is all set to welcome the Vietnamese president who is scheduled to arrive here at 4:00pm tomorrow from New Delhi.
The exclusive interview was based on a set of questions sent to the president's office in Hanoi through the Vietnam embassy in Bangladesh.
About the prospective areas that Vietnam could expand cooperation with Bangladesh, Tran Dai Quang said Bangladesh is a nation with a long history and endowed with many cultural heritages.
The country has a favourable geography, young population and a potential market, and is a success story in poverty reduction, the promotion of social equality and justice and sustained economic growth, he said.
Bangladesh is realising the goal of graduating to the group of middle-income countries with a view to becoming a digitalised and technologically advanced country. Vietnam can learn from Bangladesh's success in a number of areas, such as microcredit programme and education policies, the president observed.
"The two countries share many similarities in economic, cultural and social background, and are located at two vital locations in South East Asia and South Asia respectively, and are the bridge between the Asia-Pacific and the South Asia-Indian Ocean regions."
On economic, trade and investment cooperation, he said the two countries could work towards furthering the growth of two-way trade and investment.
"We should enable the trade in the commodities in which each side has an advantage, and enable the business community to strengthen engagement, information sharing and market connectivity. Air connectivity is also a possible area to promote the flow of investment, trade and tourism."
The president hoped to strengthen investment in Bangladesh, especially in potential areas for cooperation such as telecommunication, information technology, agriculture, food processing, textile, oil and gas, consumer goods, infrastructure development and services.
About agriculture, animal husbandry and aquaculture sectors, Tran Dai Quang said the two countries should continue to step up complementary cooperation. The two sides should look into forming joint ventures, associations, production chains, and apply advanced technology in cultivation and husbandry, production and preservation to generate greater export value.
On education and training, the president said his country welcome Bangladesh sending officials and students to Vietnam to study and exchange experience on administrative management, economic development, agriculture, aquaculture and environmental management.
"We welcome the close cooperation between the Vietnamese National Academy of Public Administration and the Bangladesh Public Administration Training Center on training and professional capacity building for Bangladeshi public servants in Vietnam."
On defence and security, he said the two countries needed to further look into each other's capacity and need for cooperation. In the short term this means logistics, military medicine and participation in United Nations Peacekeeping Operations.
"Our two sides should also strengthen information sharing, experience exchange and cooperation in combating organised and transnational crime and international terrorism, among others, to ensure peace and security in the region and the world," he said.
"It is our desire and belief that our two countries' competent authorities will be able to tap into the above-mentioned potentials and strengths in seeking suitable measures to expand, enhance and deepen our bilateral relations, so as to live up to the aspirations and interests of our two countries' leaders and people," said the president.
People-to-people and cultural exchanges have been also continually strengthened, said Tran Dai Quang, adding that he was deeply moved to learn that recently (in June 2017) the book "Uncle Ho Writing His Will" was translated into Bengali. "This is indeed an expression of the deep affection of the people of Bangladesh towards president Ho Chi Minh."
It may be mentioned that Vietnam was among the first countries to recognise independent Bangladesh in 1971. Bangladesh was also one of the first Asian countries to recognise and establish diplomatic relations with the Provisional Revolutionary Government of the Republic of South Vietnam immediately after the signing of the Paris Peace Accords.
The two countries established diplomatic relations on February 17, 1973. Since then, the bilateral friendship and cooperation have been enhanced in a wide range of areas, especially economy and trade.
Former prime minister Khaleda Zia was the first Bangladeshi head of government to visit Vietnam in May 2004.
Prime Minister Sheikh Hasina toured the country in November 2012, President Abdul Hamid in August 2015 and Jatiya Sangshad Speaker Shirin Sharmin Chaudhury in July last year.