US wants 2 defence deals with Bangladesh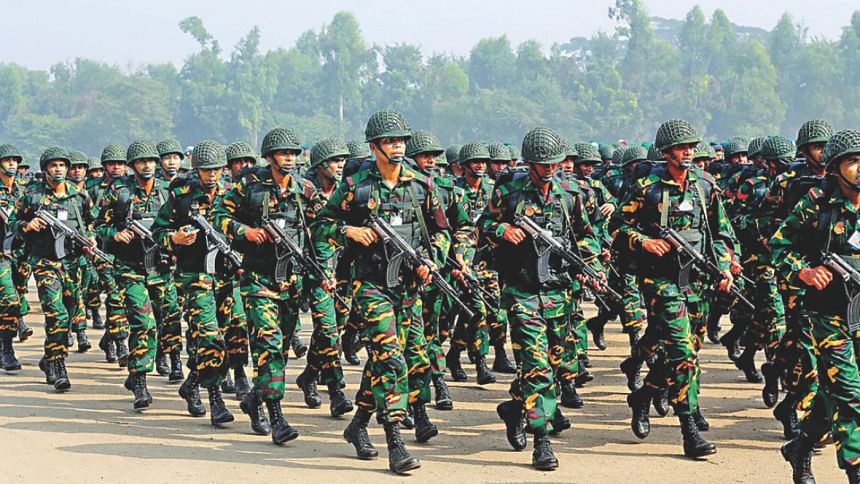 The US wants to sign two defence agreements with Bangladesh as the latter is seeking to buy advanced equipment from the US as part of its goal to modernise the military by 2030.
The agreements are General Security of Military Information Agreement (GSOMIA) and the Acquisition Cross-Servicing Agreement (ACSA). 
US officials termed them "foundational agreements" meant to strengthen defence relationship between two countries.
The move comes as Bangladesh last year sought to buy advanced military equipment, said US officials during a media briefing in the city yesterday.
 "We are currently working with the government of Bangladesh to conclude certain foundational defence agreements … these are essential to enabling a close relationship, expanding opportunities for defence trade, information sharing, and military-to-military cooperation between our two countries," said a US official wishing not to be named. 
According to the official, GSOMIA is a foundational government-to-government agreement that permits greater collaboration. 
"It's a reciprocal legally-binding agreement that ensures governments understand and commit to protecting classified military information," said an official.  
The GSOMIA does not obligate governments to share classified information or material. It ensures protection of the information shared by partner governments, the official said.
The US has GSOMIA agreements with 76 countries, including some countries in South Asia. 
"As our relationship continues to grow with Bangladesh, GSOMIA is essential to enabling the cooperation we both seek," the official added. 
For foreign military sales or GSOMIA, US security authorities will work closely with Bangladesh's security authorities to develop a plan and standard operating procedure to implement required measures for making sure classified information will be protected in Bangladesh.
"It's two way. We also commit the same kind of protection of Bangladesh's military information."
Explaining the ACSA agreement, a US official said its purpose was to allow US and partner nations' forces procure and pay for common types of supplies and services. 
It could cover everything from food, water, clothing, transportation, training, petroleum, ammunition, maintenance to medical services. 
For example, the US official said, if a US ship arrived at Chattogram and needed fuel, it could buy it from Bangladesh government and pay in cash. The US ship could also pay through similar amount in fuel to a Bangladeshi ship in other parts of the world.
"Its purpose is to make it easy for our militaries to have better cooperation. ... It's to make things easy," the official said.
It could facilitate transfer of fuel from Bangladesh military to visiting US ship participating in annual exercise. It could also improve US's ability to respond to any potential humanitarian or natural disaster and facilitate the transfer of fuel from US military to Bangladeshi naval ships outside normal geographical area, an official added. 
"The agreement does not in anyway commit a partner nation to military action nor does it authorise stationing of ships, aircraft or military personnel in foreign countries. It only serves to simplify procurement agreement, logistic support, supplies, and services between partner forces," the official added. 
For practical purposes, the US has ACSA agreement with over a hundred countries throughout the globe, including India and Sri Lanka. 
Asked if the defence agreements were meant to promote Indo-Pacific Strategy (IPS) or counter China, the US official said it was not about IPS or countering China and that they were trying to respond to the requests from Bangladesh.
US and Bangladesh have military cooperation, including that for training of Bangladeshi peacekeepers, counter-terrorism exercises, disaster response, and exchange of trainings. 
Last year, the US provided $5.3 million to cover the total cost of procurement and delivery of five Metal Shark boats to support the maritime security objectives of Bangladesh Navy.  
The US also provided $3.3 million last year to send 233 members of the Bangladesh military to attend various military professionalisation courses within the US and the wider Indo-Pacific region, another US official said.
"We desire to support the Bangladesh Military Forces Goal 2030, as Bangladesh seeks to modernise its military equipment."