They come home, dead
23 bodies of plane crash victims brought from Kathmandu, handed over to families after janaza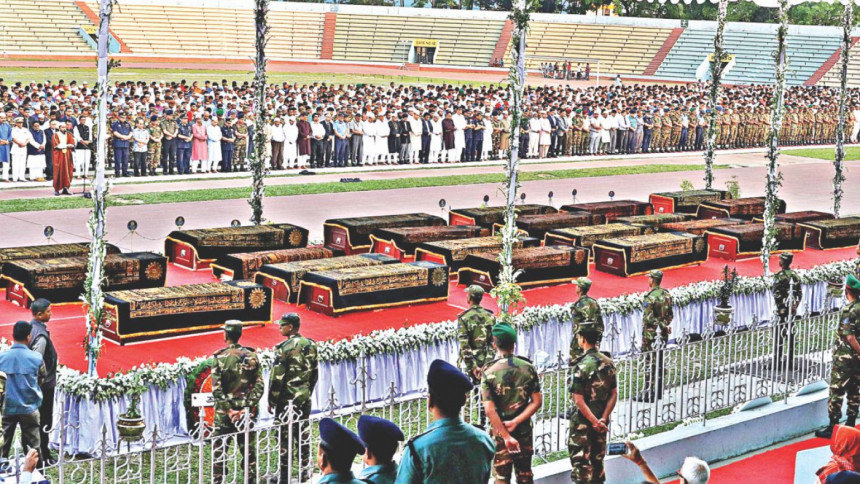 A small dot appeared in the sky above Dhaka and it gradually got larger. The plane carrying the bodies of Bangladeshi victims of last week's crash in Kathmandu arrived around
4:00pm
yesterday.
Twenty-three coffins were lowered to the tarmac from the Bangladesh Air Force plane at the VVIP terminal of Shahjalal International Airport.
It was a moment of calm.
The hearses left the tarmac one after another for the Army Stadium, where the distraught family members of the victims had been waiting since noon.
At the western edge of the stadium, there was a large platform wrapped in red carpet and decked with white flowers. Two banners, hanging on the top of the platform, read, "We deeply mourn the deaths in the plane crash in Nepal."
The hearses reached the stadium around 5:00pm. Carried by soldiers and draped in cloths, the coffins were taken inside the stadium and put on the platform one by one.
The nation paid tribute to the victims of the tragic crash that claimed 26 Bangladeshi lives, destroying and devastating families.
The families were in the gallery, around 50 yards from the platform. Some of them cried inconsolably while others fought back tears. Some counted prayer beads and some only had blank looks.
Verses of the Holy Quran came from the loudspeakers.
The air was heavy.
Just a week ago, their loved ones boarded the US-Bangla plane for the land of the Everest promising to come back soon.
"O beta [son], o beta, what did you say to me? You told me that '[I] will be back within four to five days.' Where are you now? ... Allah, what have you done to me?" cried Selina Parvin Jhorna, mother of Rokibul Hasan, 28, a software engineer, who was travelling with his wife Emrana Kabir Hashi.
"He [Rokibul] was my everything: my son, my life. I don't have anything else. And that too was taken from me," said Selina, who lost her husband nine years ago.
She lived with Rokibul in Mirpur.
Her daughter-in-law Hashi is undergoing treatment in Singapore. She is in critical condition.
Prithula Rashid, the first officer of the flight, promised her mother Rafeja Begum that she would have a meal with her once she returned home from Nepal.
"I opened the door and saw her leave in the morning. The last time I spoke to her over the phone was before her departure for Kathmandu. She told me that she was busy and would have food with me once she returned to Dhaka.
"But that was not to be," said Rafeja.
While waiting for her only child's body at the stadium, Rafeja was trying to read from a miniature prayer book, but the tears in her eyes did not let her. Her husband, Anisur Rashid, was trying to console her.
"My daughter was passionate about becoming a pilot. I also wanted her to be a pilot. She was very polite and gentle in nature. She was the best child," Rafeja said.
The cries of sisters -- Naznin Akhtar Kakon and Nargis Akhtar Konok -- made everyone at the stadium teary.
None could console them.
They lost their father, Nazrul Islam, a freedom fighter and retired senior principal officer of Bangladesh Development Bank Ltd, and mother Akhtara Begum, a retired physical training instructor of Rajshahi Govt Mohila College.
"After going to retirement, my father and mother wanted to fulfil their long-cherished wish to go on holiday in Nepal. It was their first time in a plane … and it was their last," a sobbing Nargis said.
Nargis, a final-year student of Uttara Women's Medical College, said her father called her moments before boarding and said, "Ma, we are okay. They aircraft will depart now. You all stay well and take care of yourself."
"Those were his last words with me," she added.
The sisters could not take both the bodies. Only their mother's body arrived. Their father's body was yet to be identified and still in Kathmandu.  
Crash survivor Mehedi Hasan, who returned to Dhaka on Friday, was at Army Stadium to pay tribute to his cousin FH Priok and three-year-old niece Tamara Prionmoyee.
He went there from Dhaka Medical College Hospital with a cannula attached to a hand and wearing a neck brace. The hospital gave him a few hours for the visit.
The male members of families joined the namaz-e-janaza around 5:25pm. Some female members stood up in the gallery to take a glimpse of the coffins.
On behalf of President Abdul Hamid, his military secretary Maj Gen Md Sarwar Hossain paid tribute to the victims by placing floral wreaths.
On behalf of Prime Minister Sheikh Hasina, Road Transport and Bridges Minister Obaidul Quader placed wreaths followed by Speaker Shirin Sharmin Chaudhury.
The AL, the BNP and other organisations also paid tribute to the victims.
The bodies were then handed over to the families as the light started to fade.
Names of the deceased were being called through the loudspeakers and the families walked in silence towards the coffins.
Some of them were wailing grabbing the coffins while others tried to console them.
Monika Parveen, the mother of a victim, went to the Army Stadium in the hope of getting her son's body.
The body of her son Molla Alifuzzaman, a student of Political Science in Khulna BL College, is yet to be identified.
"Honourable prime minister, please bring my son back. I just want to see him for one last time and want to bury him in my country," she said.
Her brother, SM Shahbur Rahman, went to Nepal to identify Alifuzzaman's body. Unable to identify him, Shahbur returned yesterday.
Earlier in the morning, the bodies of the 23 were taken to Bangladesh mission in Kathmandu where a namaz-e-janaza was held.
Meanwhile, relatives of the victims who went to Kathmandu after the crash returned in a flight chartered by US-Bangla.
Kabir Hossain, a survivor, returned with them. He was taken to Dhaka Medical College Hospital's burn unit.
The crash of US-Bangla flight BS211 at Tribhuvan International Airport in Kathmandu killed 51 people, 26 of them were Bangladeshis. The bodies of three Bangladeshis could not be identified. Those would require DNA tests for identification.
At least 20 people survived the crash, 10 of them Bangladeshis.