Crash survivor Kabir on life support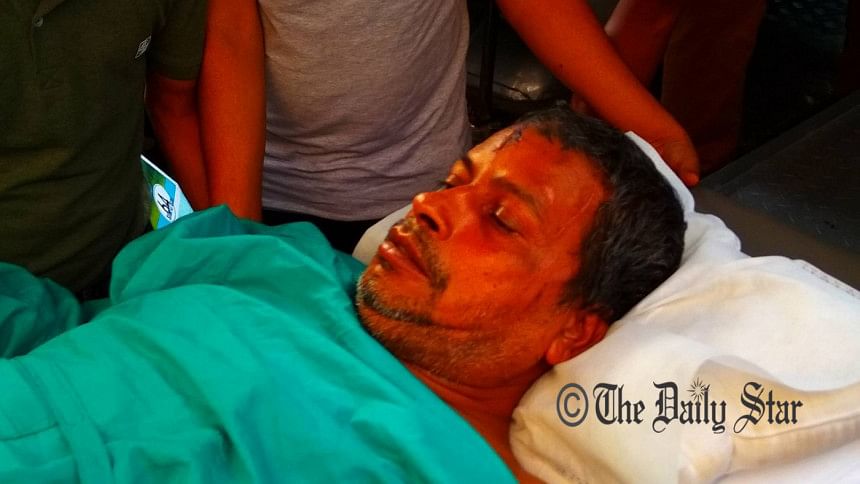 The US-Bangla plane crash survivor Kabir Hossain, who is undergoing treatment at Dhaka Medical College Hospital (DMCH), has been kept on life support as his health condition deteriorated, doctors say.
Kabir was given life support around 10:30pm, the patient's niece Jamil Hossain told The Daily Star quoting doctors.
"His condition has deteriorated as his respiratory complexities have increased," Samanta Lal Sen, national coordinator at National Institute of Burn and Plastic Surgery, DMCH, told The Daily Star earlier today.
The doctor is leading a 13-member board that is overseeing the treatment of the seven Bangladeshis, who survived the US-Bangla plane crash at Tribhuvan International Airport in Kathmandu.
Replying to a question whether Kabir will be sent abroad for his better treatment, Dr Lal Sen said the medical board will decide it in the future.
Dr Lal Sen also said the physical condition of another survivor Shahin Bepari has deteriorated.
Kabir's son Al Helal Sawon told The Daily Star that, since this morning, his father could not talk to others. He even lost the capacity to take any food himself.
Kabir Hossain, 53, a cosmetic trader by profession, was brought back to Dhaka on March 19.
From the Dhaka airport, he was first taken to the burn unit of the DMCH directly and shifted to its Intensive Care Unit (ICU) on March 20 as his physical condition deteriorated.
Hailing from Shibchar of Madaripur district, Kabir was going to Nepal by the US-Bangla flight BS211 on March 12 to buy cosmetic goods. He suffered from severe pain in his two legs and chest during the plane crash.
Besides, six other survivors -- Mehedi and his wife Shwarna, Almunnahar Annie, Sheikh Rashed Rubayet, Shahreen Ahmed and Shahin Bepari-- are undergoing treatment at the DMCH's burn unit.
Of them, survivors Shahreen Ahmed and Shahin Bepari underwent successful surgeries at the DMCH on March 21.
Another survivor Imrana Kabir Hashi, who suffered injuries with 30 percent burns, was flown to Singapore on March 18 from Norvic International Hospital in Kathmandu for better treatment.
At least 51 people were killed as the US-Bangla Airlines aircraft crashed and burst into flames while landing at the Kathmandu airport in Nepal on March 12. Twenty-six Bangladeshis were among the dead.